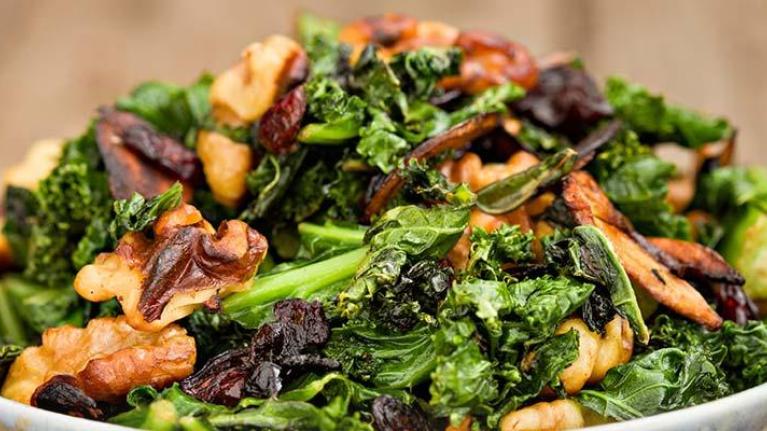 Nutrition, Health & Wellness
11 Ways to Profit From the Healthier Eating Trend
October 19, 2015
Adding "superfoods" and other Nutrition, Health & Wellness favorites are a recipe for increased profits. Patrons are looking to eat healthy, even away from home. Here's how to deliver what they want.
It's easy to offer a fresh, healthy menu with a brand new menu or a display cooking kitchen, but there are other ways to address customer demands for nutrition. 
First Things First: Many consumers still incorrectly think that healthy food is bland. Nutripro recipes and other health, nutrition, and wellness resources from Nestlé Professional will help you prove them wrong.
Get yourself some "superfood" – Foods like berries, pomegranate, salmon, quinoa, kale, and Greek yogurt have wide popularity as superfoods with health-giving special properties. Put an item on the menu with one or more of these ingredients in it (like a Greek yogurt and blueberry breakfast parfait or a sautéed kale and quinoa side dish) and you've got a wellness specialty.

Add a little transparency – Today's consumer tends to group qualities like freshness and knowing where their food comes from under the healthy halo, so it pays to be more transparent in these areas. Calling out farm names or local producers and using terms such as made-to-order, local, and seasonal on menus—assuming you are doing any of these things—is an extremely easy way to satisfy that consumer need.

Menu a grain bowl – Whether it's Mixed Grain Porridge for breakfast or Chicken + Mushrooms over heirloom rice at dinner, grain bowls are all about healthy ingredients, and contrasting tastes and textures. They're a natural for a customizable menu platform, and a great cross-utilization for existing ingredients. 
Get Started: Whole grain products from Stouffer's® and Lean Cuisine® are delicious as is, or as a building block for bowls and other specialties.
Health is in the details – There's nothing wrong with selecting a concept that addresses a specific health concern, as in the Vitamin D break offered at The Riviera Palm Springs. Foods that meet the body's Vitamin D needs—such as salmon or tuna, yogurt, or fortified juice—can be especially welcome in the winter, when there is often a shortage of sunshine. On the protein front, Applebee's new healthy Pub Diet offers classic "packed with protein" bar-and-grill fare centered on steak, chicken, and salmon.

Think gluten free – So many consumers are following gluten free dietary patterns now (and not necessarily because of celiac disease or intolerance) that it pays to offer and identify menu items that contain no wheat, soy, and other gluten-containing foods. This is especially true of popular menu items like pizza and sandwiches, where gluten free crust and bread options are increasingly available.
Did You Know: Nestlé Professional offers many gluten free products, including many Minor's® bases sauces, and flavor concentrates, as well as Stouffer's Alfredo and Alfredo Parmigiana sauces.
Remember it's not all about calories – Depending on a number of factors, including demographics, not everyone equates healthy with dieting.  Emphasizing positive attributes like vitamins, fiber, fresh produce and grains, balanced indulgence, and even flavor remind diners to sacrifice nothing as they pursue a healthy lifestyle.

Think small – Offering half portions of a popular menu item or a selection of small plates that can be offered in lieu of an entrée will address the concerns of snackers and lighter eaters, including children or older diners as well as those who have made resolutions about their diets.
Did You Know? Nestlé Professional has a new selection of reduced- and low-sodium options, including Minor's Low Sodium Chicken Base and a relaunched line of Trio® products.
Menu an ethnic item or two – Many global cuisines are naturally very healthy, including Asian, Indian, and Latin specialties, with their emphasis on grains and vegetables. They're also flavorful and on-trend, and even tend to carry lower food costs. 
Get Started: Minor's Latin and Asian flavor concentrates and sauces make it easy to add ethnic flair to menus, with such products as Fire Roasted Poblano Flavor Concentrate and Chile Garlic Sauce Ready-to-Use Sauce.
Be seasonal – Foods and menu items that are fresh in season (like citrus fruits in the winter and tomatoes and corn in the summer) not only have healthy connotations, but are also usually more flavorful as well as more affordable. Consider adding more seasonally based side dishes and accompaniments to existing center-of-plate standards—such as a fruit salsa to grilled fish in the summer, roasted sweet potatoes in the cold weather—or weekly/monthly specials that tap into whatever's freshest on the market.
Tip: For more ideas about what's healthy in today's marketplace, download this free report from Food Genius (registration required).
Pay attention to prep methods – Foods that are grilled, roasted, poached, seared, smoked, and steamed tend to be lower in fat, as well as packed with flavor, and many consumers are now sophisticated enough about cooking methods to make that translation themselves. Add a few such selections to the menu, and if you already have them make sure the menu says so.

Offer vegetarian items – Consumers eschew meat and other animal products for reasons other than social consciousness; in fact, they may choose meatless offerings because they're viewed as healthier, lighter, or simply because they sound good. Running specials is a good way to test the waters, but you can also offer meatless versions of popular items like salads, bowls, pasta, and pizza. Experiment with beans, nuts, eggs, cheese, and other alt-proteins.