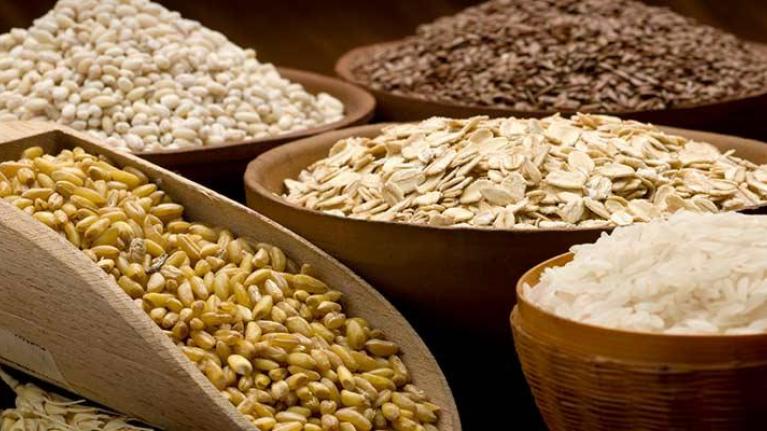 Whole Grains: Not Just for "Health Nuts"
February 5, 2015
Whole grains have gone mainstream. Learn how to satisfy consumer demand for these wholesome, tasty grains in traditional ways like oatmeal and creamy corn grits at breakfast, to soups, sides, and salads later in the day.
"Health nuts" may have sung the praises of grains for years, but now it seems that the rest of the world is catching on.
Today's healthy diets include lots of grains—not just in breads and baked goods, but in salads, side dishes, soups, breakfast specialties, entrées, and more. School lunch menus require them. The medical profession advocates them. And consumers love whole grains, not just for their nutrition profile, but also for their distinctive flavor and appealing texture.
Metz Culinary Management has added a whole grain initiative into its Live Well offerings for corporate, university, and healthcare accounts, including such recipes as Autumn Grain and Apple Salad and barley pilaf.
Meanwhile, the whole-grain pantry is growing, from familiar oatmeal and brown rice to more exotic and on-trend ingredients like freekeh and amaranth. Many of these new-to-us grains actually have a long history of consumption among native peoples, and today are considered super grains for their superior nutritional profiles. Perhaps the best part is that many of these grains are also gluten free.
And while some grains have a reputation for being time-consuming to cook (think of wheat berries), there are many that cook quite quickly, such as kasha and quinoa. Grains can also be batch-cooked ahead of time for adding to all sorts of recipes.
Oatmeal (and Other Breakfast Grains)
This comforting, old-fashioned breakfast food has been much in the news in recent years, as more restaurant chains add oatmeal to their menus. But don't stop there: Quinoa, millet, and farro are also delicious grains for breakfast. There's even an "artisanal porridge shop (PDF)" in Brooklyn, NY, that specializes not only in oatmeal but also amaranth and creamy corn grits with sweet and savory toppings.
Steal This Idea: Offer an oatmeal bar concept (either self-serve or via a menu) with a variety of different toppings and mix-ins, such as fresh and dried fruit, flavored butters and syrups, nuts, seeds, crumbled bacon, cheese, and more.
Sides and Salads
One of the easiest ways to incorporate more grains into the menu is by adding them to side dishes, using whole grains as you would potatoes or white rice. Barley has a nutty, easy-to-like flavor and hearty texture that makes it a perfect ingredient in risotto-like side dishes. Grains can also add body, flavor, and healthfulness to salads, including this Mediterranean Lemon Bulgar (a riff on tabbouleh, see below).
Other "gateway" dishes to try:
Kasha varnishkas are a traditional Jewish favorite that combine flavorful buckwheat groats with cooked bowtie noodles and sautéed onions; mushrooms or meat can be added to turn it into an entrée

Tabbouleh is a refreshing Middle Eastern salad traditionally made with cracked wheat, lemon, lots of parsley, and chopped vegetables, although other kinds of grains can be substituted
Pilafs can be made with a variety of different grains, such as quinoa, or a medley of grains, rice, and/or beans
Slip in Some Grains
Whole grains can be the secret (or even not-so-secret) ingredient in healthier menu items. Meet demand with delicious whole-grain breads and rolls, for instance, including not only whole wheat but also multigrain options that are as tasty and textural as they are nutritious. Many forward-thinking sandwich specialists have tapped into this trend by offering a variety of whole-grain breadstuffs; options at Le Pain Quotidien include whole wheat levain, spelt, and five-grain raisin. Other ways to sneak in grains:
Included in ground-meat mixtures for meatloaf or meatballs

Used instead of rice or noodles in soup

Baked into casseroles

Added to waffle and pancake batters

Formed into patties for a vegetarian "burger" or cutlet option