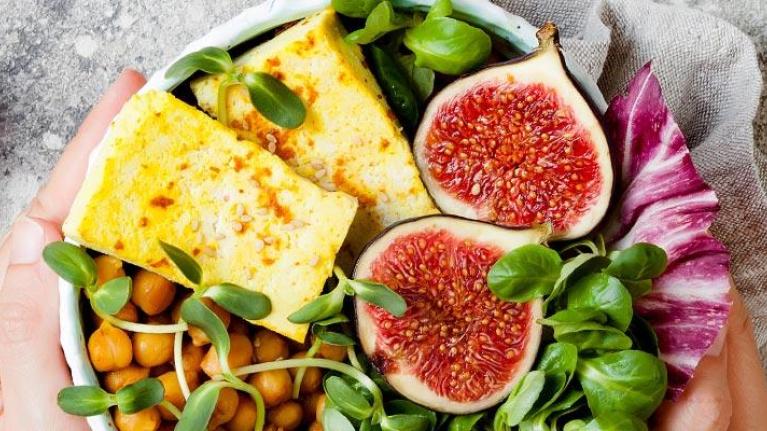 Bowls: The On-Trend Serving Option
October 19, 2019
Customization is key to many successful menus. Serving in bowls makes it easy for guests to build their own dish or for you to offer an endless selection of new combos.
Ditch the plate and grab a bowl. Far from being a flash in the pan, food served in bowls has grown to encompass all manner of menu concepts, from breakfast oatmeal and porridge to dinnertime Korean barbecue, from healthy grain bowls and salads to on-trend poke bowls and smoothie bowls. With the ascendancy of new fast-casual concepts designed to allow guests to custom-tailor their own meal experience, bowls are suddenly everywhere.
For the customer, bowls are fun, portable, and endlessly customizable. Bowls have the healthy halo of being appropriate for ingredients like fresh vegetables and whole grains. But they can also be comforting and indulgent, allowing for a little bit of every flavor, texture, color, and even temperature in every bite.
For the operator, bowls are a great solution to multiple menuing and operational challenges. They offer menu variety and back-of-the-house versatility in a format where the individual components can be prepped ahead and cross-utilized almost endlessly. The bowl strategy also allows for the appearance of infinite variety with a finite list of SKUs, many of which also work in menu category stalwarts like breakfast, sandwiches, salads, entrées, and even beverages.
For more information on bowls, see below.
It's easy for an operator to offer DIY bowls, salads, and sandwiches/wraps simply by changing out the carrier but keeping the proteins, toppings, veggies, and condiments across all the categories. Bowls can also be offered in a self-service format, similar to that of a salad bar.
For more chef-driven venues, bowls are a great vehicle for seasonality, local sourcing, housemade components like broths and sauces, and other culinary flourishes. And because they are so adaptable, bowls lend themselves to daypart-spanning builds that are perfectly suited to today's all-day menus.
Breakfast Bowls
Bowls filled with ingredients like eggs, grits or potatoes, breakfast meats, or oatmeal/porridge are ideal for breakfast service, offering a straightforward build that's almost as portable as a sandwich. This is especially useful for operations that do a lot of takeout or delivery at breakfast, offering an alternative that's both distinctive and customizable.
Build This:
Scrambled egg and hash brown bowl with sausage gravy
Oatmeal with DIY toppings
Deconstructed breakfast taco bowl (scrambled eggs, salsa, avocado, shredded cheese, charro beans, tortilla chips)
Greek yogurt layered with sliced apples, brown sugar, granola, and cinnamon
Power Bowls
Bowls are the perfect vehicle for making healthy ingredients more appealing, and many operations are touting better-for-you and "superfood" ingredients like salmon, quinoa, kale and other leafy greens, sweet potatoes, berries, and nuts and seeds like almonds, chia, and hemp.
Build This:
Vegan chia bowl with ginger, pumpkin seeds, cashews, Marcona almonds, goji berries, and blueberries
Harissa lentil bowl with roasted sweet potatoes and grape tomatoes, yogurt-cilantro pesto dressing
Turmeric hummus, sprouted beans, pickled beet, quinoa, butternut squash, tahini dressing
Quinoa and organic brown rice, sofrito, fresh kale, and spinach in soy-miso broth with a hard-boiled egg
Smoothie Bowls
Many juice and smoothie specialists are adding spoonable smoothie bowls that do double and triple duty as a better-for-you breakfast, substantial snack, and portable light lunch. With attention paid to the color and shapes of toppings, smoothie bowls are also a goldmine of Instagrammable free advertising.
Build This:
Passionfruit smoothie bowl (passionfruit juice, soy milk, strawberries, bananas, granola, and honey)
Pineapple, banana, and peach smoothie bowl (pineapple, banana, coconut water, and honey, topped with sliced peaches, blackberries, sunflower seeds, and puffed rice cereal)
Avocado and kale smoothie bowl (kale leaves, almond milk, banana, avocado, ice, and agave syrup, topped with raspberries, sliced banana, kiwi, chia seeds, and a drizzle of agave)
Date bowl (acai, strawberries, dates, bananas, and frozen peanut butter, topped with granola, bananas, peanut butter, cacao nibs)
Comfort Bowls
Anything that goes together on a plate can also be merchandised in a bowl, making entrées more portable, fun, and on-trend. In addition to hearty soups and stews, items like meat-and-two-veg, stir-fries, pasta and noodle specialties, and "blue plate special" favorites such as chicken and dumplings or macaroni and cheese adapt well to the bowl format.
Sources: Datassential SNAP! Bowl (2019); Datassential On the Menu, January 2017; Datassential Pulse, 2014 Topical
The information provided is based on a general industry overview, and is not specific to your business operation. Each business is unique and decisions related to your business should be made after consultation with appropriate experts.
GET STARTED
Learn how to cook ancient grains for bowls with this handy PDF guide
Nestlé Professional has a number of products that work for bowls, including ready-to-menu entrées, as well as sauces, gravies, and flavor builders such as bases and flavor concentrates
Sunsational beverage mixes and a variety of Nestlé branded juices are the starting point for on-trend smoothie bowls
DID YOU KNOW?
Bowls enjoy 32.6% menu penetration, up 16% over the past four years, and 10% since 2008
The four-year growth prognosis is strong, predicted to outperform 93% of all other foods, beverages, and ingredients over the next four years
22% of consumers have tried a smoothie bowl, and 45% are interested in trying one
42% of operators say customizable menu concepts are important or very important to their business