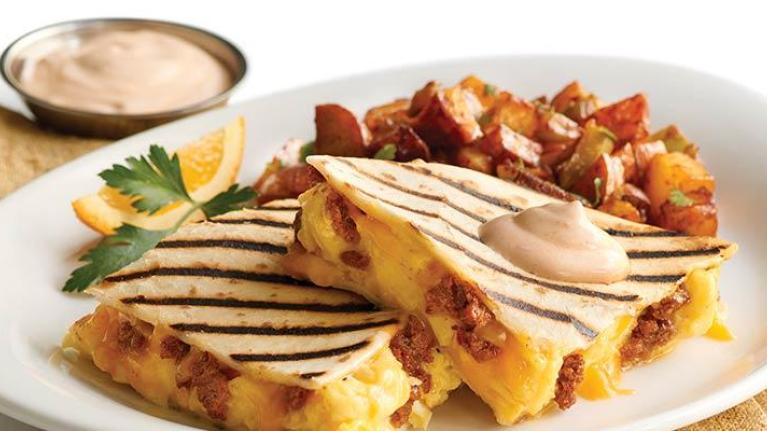 Breakfast Brings Home the Bacon
October 19, 2016
What's the hottest daypart? Here's an eye opener—recent studies say breakfast. Learn how to make the most of profit opportunities early in the day. We have trends, recipes, and suggestions that will wake up your profits!
The first meal of the day has been getting a lot of attention lately, from the fast food breakfast wars to the search for the best place to have brunch.
According to The NPD Group, restaurant visits at breakfast grew for the fourth consecutive year in 2013, even as lunch and dinner declined. And the morning meal continues to represent an important part of the noncommercial food service sector as well, fueling students, employees, and others as they start off the day.
What's the best way to move those eggs and bacon in your operation, especially since the daypart has its share of challenges? As much as some customers will always want nothing more than toast and coffee in the morning, there's the whole contingent that wants something special: a hearty made-to-order omelet, a healthy bowl of oatmeal with perfect fresh fruit, a one-of-a-kind brunch item, or an enticing selection of baked goods for a breakfast meeting.
Made-to-Order Magic
Nothing sells like the sizzle of the words "made to order," all the more so when it's done right in front of customers. Menu items that are cooked to the customer's specifications say "fresh," "exciting," and "customized," at any time of day. That's the reason so many breakfast buffets include omelet stations and other demonstration specialty concepts.
Apart from the usual omelets, however, there are many breakfast menu items that lend themselves well to a demonstration or self-service station. Offered for a limited time earlier this year, Denny's Build Your Own French Toast featured the customer's choice of three different breads (including whole grain and blueberry), six toppings (such as sliced bananas and white chocolate chips), and six sauces (from honey to cream cheese icing).
Or consider:
Hot Cereal: Top-to-order oatmeal, grits, porridge, farina, and polenta with mix-and-match toppings and mix-ins such as nuts and nut butters, fresh and dried fruit, syrups, cheese, veggies, sauces, and more
Try This: Sauces and condiments like Minor's® Hollandaise, Chef-mate® Country Sausage Gravy, specialty pesto (such as Minor's Sun Dried Tomato Pesto Flavor Concentrate Gluten Free), or cheese sauce (including new Chef-mate ¡Que Bueno!® White Queso Sauce) make wonderful savory additions to grits and polenta.
Toast Bar: A variety of sliced breads, muffins, bagels, and other breadstuffs, with plain and flavored butters, cream cheese, jams, jellies and preserves, peanut butter, yogurt, and so on
Belgian Waffles: Crisp-tender, made-to-order waffles accessorized with whipped cream, chocolate, fresh berries and cut fruit, sauces, and Nestlé® Dessert Ingredients as toppings
Get Started: An action station from Nestlé Professional can be set up to merchandise a number of different custom-made breakfast concepts, either self-serve or attended.
Upgrade the Continental
This classic light breakfast offering of juice, pastries or rolls, and coffee or tea may be simple but it needn't be boring. There are many ways to upgrade Continental breakfast but still keep it easy to serve, by adding or substituting:
Sliced or cubed deli meats, charcuterie, and cheese
Hardboiled eggs
An interesting juice blend or bottle specialty juice
Cottage cheese or yogurt
Peanut butter
Espresso-based coffee beverage such as latte or cappuccino
Tip: NESCAFÉ® offers a variety of products that make premium coffee service easy to achieve.
Sliced tomatoes
Basket of assorted and interesting baked goods
Fresh fruit
Cream cheese or mascarpone
Artisanal honeys, jams, and preserves (or housemade)
Oatmeal or granola
Did You Know? Many experts believe that a good coffee program is essential to success in the breakfast daypart.
Batter Up
Pancakes, waffles, crepes … these batter-based breakfast items are versatile and appealing, and many operators are turning them into signatures. The Waffle in Hollywood, CA, for instance, appropriately features an entire menu section dedicated to waffles, including specialties like Sticky Bun and Cornmeal Jalapeño (served with fried boneless chicken, gravy, and even "old school greens with bacon").
Crepes and pancakes can also be made in sweet and savory versions, which helps them transition into lunch, late-night, and even light dinner fare. In Islamorada, FL, where vacationers and retirees live a life of relative leisure, Bitton Bistro is an all-day destination for its French-style crepes filled with both sweet and savory fillings, ranging from Nutella to the St-James, with baby leaf spinach, pesto, sun-dried tomatoes, and Swiss cheese. And scores of college food service operations serve pancakes, including Pancakes for Dinner options.
Get Started: Nestlé Professional has lots of batter-cake breakfast recipes, including this healthy Sweet Potato Pancakes and over-the-top Waffle Stack.
MORE IDEAS FOR BREAKFAST
Make breakfast more portable and fun with a bowl concept Incorporate healthy grains like quinoa into a superfood porridge For Example: Quinoa Pilaf

Make protein more easily available—customers are clamoring for it Have a pizza oven? Use it to make presentation-worthy frittatas and puffed omelets in iron skillets or casserole dishes (not to mention breakfast pizza). For Example: Italian Style Potato Frittata

Speaking of pizza, think of it as toast, to be topped with eggs, bacon, potatoes, and other breakfast foods. Experiment with Asian-inspired specialties like Korean-style bibimbop. Other global cuisines with a great tradition of breakfast include Mexican and Italian. Smoothies and enhanced juices can serve as a light A.M. meal as well as a beverage. For Example: Strawberry Smoothie.