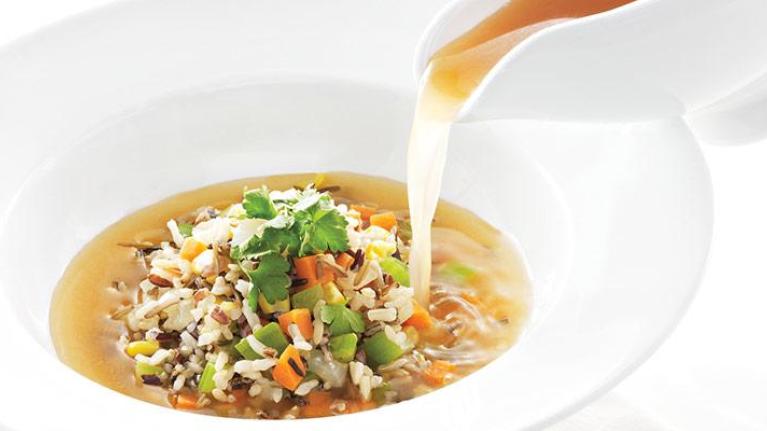 Build Your Sales with Soup
October 19, 2016
Learn how to put overproduction and trim to use in delicious, innovative soups. Not only can you cater to customer preferences (including vegetarians), but you'll improve your profitability. Nestlé Professional has the products and recipes to help you serve up souper profits.
Soup is so much more than just a bowl of broth with ingredients floating in it. Soup is an elemental comfort food that soothes and engages and nourishes, from the child's alphabet soup to the cold sufferer's chicken noodle.
As a category, soup is….
A true multi-tasker, equally adept as a first course or an entrée, at lunch or at dinner

A great value proposition for the customer

Good for food costs, especially when it's used as a vehicle for cross-utilization and daily specials that make use of things like trim, overproduction and well-priced seasonal produce

Operationally valuable because it can be prepared ahead of time, taking pressure off the line

A widely accepted means for introducing new flavors and ingredients, such as ethnic products

One of those foods that is easy to menu as a vegetarian or even vegan option

Very adaptable to take-out sales
Many food service operations are known and loved for their soup. The Big Salad, a growing franchise chain based in Michigan, may be known for its build-your-own salads, but the menu (PDF) also features more than a dozen different soups. Chicken noodle and tomato basil are standbys, and the rest rotate through such choices as Mexican Chicken Tortilla, minestrone, and clam chowder. Soups are available by the cup, bowl, or as a combo with salad or a sandwich, and can also be paired with "baby" salads and sandwiches for a lighter option.
Get Started: Minor's® line of bases include gluten free bases made with natural ingredients such as chicken, beef, and vegetable— part of a full selection of gluten free products.
Offer a Soup of the Day
The success of daily soup programs like the one at Hale and Hearty Soups is proof that a rotating selection of soups will bring customers back again and again to enjoy their favorites and sample new ones. Hale and Hearty, which has expanded to 32 stores in high-traffic locations like Rockefeller Center, even has features like email notification and online voting for favorites.
Even if it doesn't rotate on a weekly basis, a good soup selection will still include several different kinds of soup, including something hearty and/or creamy, a healthier broth-based soup, and a vegetarian selection. Of course seasonality sells: warming chili or beef barley in winter, refreshing cucumber soup in summer. And while exotic soups like Senegalese peanut curry or Moroccan chicken are growing in popularity, you just can't go wrong with standards like tomato, chicken noodle and clam chowder.
International Inspirations
Is there a culture in the world that doesn't enjoy soup? International and ethnic soups like Italian wedding, Mexican pozole and even Vietnamese pho have become increasingly mainstream, but there are many other traditional world soups to investigate.
Avgolemono – The chicken-rice soup of Greece is thickened with beaten egg and lemon juice.

Borscht – Whether served hot or cold, this Eastern European classic depends upon beets for its vivid color and earthy flavor.

Caldo verde – Dense with kale, potatoes, and sausage, this comforting soup hails from Portugal.

Gumbo – Originated in Louisiana, this versatile soup can contain anything from seafood to duck, and be thickened with okra or file powder.

Miso soup – Healthy and delicate, this standard from Japan is usually made with dashi broth and garnished with kombu (kelp) and tofu.

Mulligatawny – An Indian curried soup which means 'pepper water' in local dialect.

Scotch broth – A filling soup from Scotland made with barley, beef or lamb, carrots, turnips, cabbage and leeks.

Tom Kha Gai – This Thai classic is made with coconut milk and chicken, galangal, and lemon grass garnished with fried chilies.
Vegetarian Options
Soup is a natural for satisfying vegetarian and even vegan diners—for the latter, just make sure to omit animal products such as cream or butter, and of course meat-based broths.
Beans, tofu, and grains represent a familiar means to add protein, and the potential vegetable and even fruit inclusions to soup are many. Some of the great soups of the world, in fact, such as gazpacho and mushroom barley, are vegetarian. And produce-based soups are a perfect vehicle for introducing seasonality to a menu—to say nothing of cold soups like vichyssoise, cucumber, and fruit soups in summer.
Many operations routinely offer a meatless soup option as a quiet but all-inclusive way of catering to those that want a lighter or vegetarian/vegan meal. Such soups can also be priced to entice the more value-oriented diner who might not otherwise have a first course or eat lunch out.
Upgrade Soup Presentation
Like any menu category, soup sales respond when you add a few twists to the ingredients, presentation, and value. Soup is already popular, but it's easy to ramp up sales.
Offer soup in an optional bread bowl.

Accompany with a caddy of complementary garnishes or a cruet of olive oil or sherry so patrons can customize their soup.

Add a premium starch accompaniment, such as a fried pierogi, spicy cornbread, or garlic knot.

Build in a service component by ladling soup out of a tureen at the table, or pouring broth from a pot over a bowlful of ingredients.

Create a soup sampler of three demitasse portions of different soups, or by serving two or more soups in one bowl.

Don't forget chili, beef stew, and other soup-stew variations, especially during the colder months.
Get Started: Garnishes are an easy way to upgrade soups. Add an interesting crouton stand-in, for instance, such as everything bagel chips or seasoned popcorn. Swirl colorful pesto into a vegetable or tomato based soup. Add value with a hearty accompaniment like garlic-cheese toast. Even a presentation trick like serving soup in a clear glass mug will do the job of calling attention to your soup.
SOUP AND COST SAVINGS
Soup is excellent for food and labor costs, especially a soup-of-the-day program or rotating soup specials. It can almost always be made ahead, during regular prep time, and most soups taste even better served a day or two later. Soup is also very versatile:

- Almost any ingredient or flavoring works, allowing the operator to utilize overproduction, imperfect vegetables, trim, and other kitchen odds and ends.
- Broth or stock is a building block; chicken stock, for instance, can be turned into chicken rice, chicken and dumpling soup, chicken vegetable, egg drop, a hearty, full-meal Asian noodle soup, or a lightened-up version of onion soup.