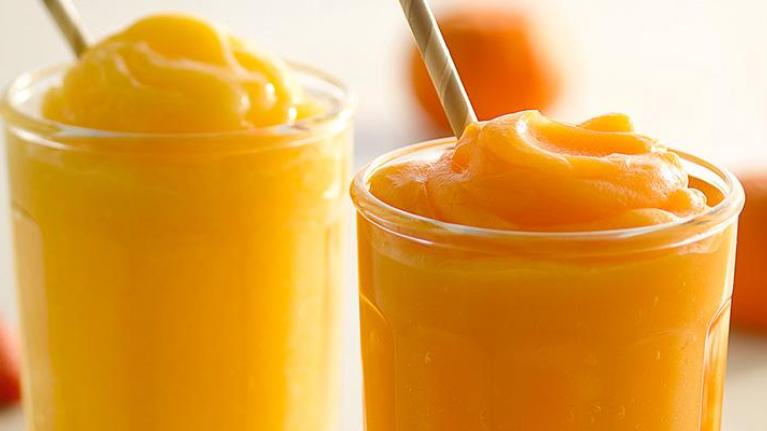 Check Out These New Blended Beverage Ideas
October 19, 2021
Blended beverages range from classic juice-based smoothies to frozen blended coffee and beyond. Find out some of the top trends in this ever-popular drink category.
Smoothies, juice blends, and other blended beverages represent a chance to offer patrons a signature refreshment option that goes beyond the usual nonalcoholic beverage selection.
For recipes and more ideas, see below.
What's New in Smoothies
According to Datassential, menu incidence of smoothies has been growing at about 13% a year, a slower pace than the beverage's heyday five years ago. But that doesn't mean operators can't blend up their own smoothie success story by building sales.
Smoothie bowls represent one avenue for making the most of the category. Like the name suggests, these extra-thick smoothies are served in a bowl and are meant to be eaten with a spoon, not unlike soft serve. Add-ins—ranging from fresh and dried fruit to nuts and/or nut milk, yogurt, vegetables like kale or carrots, avocado, chocolate, toasted coconut, granola, acai, goji berries, chia seeds, and more—make these bowls colorful and extra appealing. Smoothie bowls can also be customized by the patron, or even served as the centerpiece of a toppings bar, like frozen yogurt.
As such, a smoothie bowl can be offered as a breakfast specialty, snack, dessert, or even a light meal, making the concept suitable for all-day sales.
Some other ideas for building smoothie sales:
Offer a selection of "smoothie shots" that allow patrons to sample several different flavors
Blend two or more different smoothie mixes, such as strawberry and mango, to create a signature beverage
Create a Smoothie of the Day (or Week) promotion
Juicy and Delicious
Juices are another beverage category that responds well to tweaking, innovation, and promotion, particularly in the area of blends. Not only can juices be used to boost flavor in smoothies, they can also be mixed together to create new flavors.
In fact, mixing two or more juices together is a great way to cross-utilize an existing inventory of basic juices, such as orange or apple. And creating unusual combinations like pineapple-lemonade or orange-tomato (similar to the Mexican sangrita used as a tequila chaser but delicious on its own) makes for signature beverage offerings. Juices can also be made into "tonics" with the addition of herbs and on-trend ingredients such as chia seeds (for example, grapefruit juice, Thai basil, and chia), which make them more nutrient-dense.
More Ideas:
Encourage customers to craft their own blends from your juice list or dispensers
Implement an afternoon Juice Happy Hour, with reduced-price juices and/or complimentary snacks, such as fresh fruit and crudités
"Sneak" vegetable juices like carrot into sweet orange or apple to get kids and their parents on board
Frozen Blended Coffee
There's more to coffee than hot and iced. In fact, coffee is an ideal medium for creating refreshing blended beverages, in the form of frozen lattes, caffe shakeratos, and more. In fact, many coffee specialists have created their own branded versions of craveable frozen coffee beverages, complete with cult status and Instagram posts.
They're also remarkably easy to make. The simple caffe shakerato is made by combining espresso, a bit of sugar, and lots of ice, then shaking the combination vigorously until a froth forms when poured.
A frozen latte is nothing more than espresso, ice, sugar, and milk, blended at high speed, but mixing in a syrup or other flavoring, such as caramel, and topping it off with whipped cream makes the beverage even more special.
A coffee frappé, meanwhile, blends sweetened iced coffee with ice cream, ice, and milk for a thick indulgence.
Some tips to consider:
Starting with cold brew coffee simplifies the process of creating iced blended coffee beverages
Decaf coffee can be used just as successfully as caffeinated
Most of these beverages can be varied and customized with the addition of syrups, flavored creamers or other flavored ingredients to create signature iced blended coffee beverages
Sources: Datassential MenuTrends, 2017; Datassential Non-Alcoholic Beverages, May 18, 2017
The information provided is based on a general industry overview, and is not specific to your business operation. Each business is unique and decisions related to your business should be made after consultation with appropriate experts.
BLENDED BEVERAGES
TRY THIS
Citrus Tea
Orange Vanilla Latte
Hazelnut Shakerato
Frozen Chocolate-Coconut Chiller
BLENDED BEVERAGES
MORE IDEAS FOR BLENDED BEVERAGES
Slushes and freezes
Malts
Milkshakes
Nonalcoholic frozen mudslide
BLENDED BEVERAGES
DID YOU KNOW?
Coffee-mate® French Vanilla Iced Coffee Concentrate makes it easy to offer flavored iced coffee, alone or as part of a blended specialty.
NESCAFÉ® now offers an easy-to-use cold brew concentrate to capture this super-hot trend.