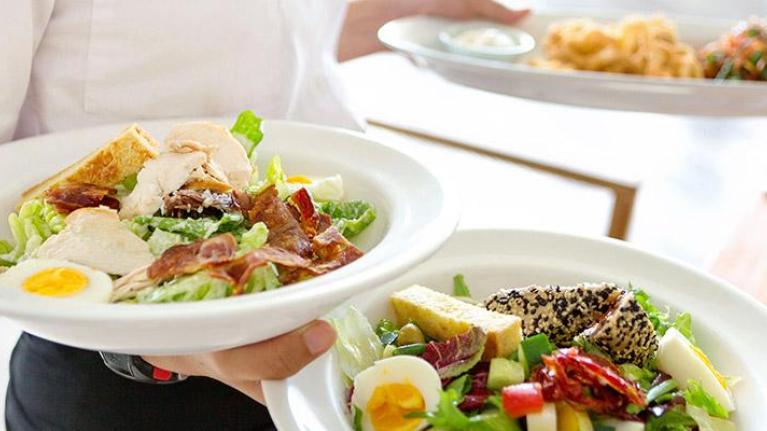 Cold Foods for Warm Weather
October 19, 2019
Summer approaches and it's time to think cold foods. Salads, cold soups, and chilled entrées are just the thing this season. Here are some ideas to amp up the cool appeal of your menu.
Seasonal menus present an unparalleled opportunity to showcase not only ingredients but also prep techniques. Winter brings hearty braises and roasts, while warmer weather makes grilling and poaching more appealing.
Summer is also a great time to highlight cold-food specialties, such as main course salads, chilled soups, and global favorites from hot-weather climates.
Note that many of these dishes can be marketed as plant-forward or vegetarian options.
For more on cold menu specialties, see below
Composed Salads
More entrée-worthy than a big tossed salad, classic composed salads showcase proteins, grains, vegetables, and other ingredients for an attention-getting presentation and an abundant value proposition.
Niçoise—The south of France contributed this elaborate showcase for tuna (grilled and chilled, or high-quality canned), string beans, new potatoes, olives, tomatoes, hard-boiled eggs, and more.
Tabbouleh—This flavorful Middle Eastern vegetable salad made with cracked wheat, chopped parsley, tomatoes, fresh mint, and cucumbers in a lemony dressing can be varied using other types of grains, such as farro or couscous.
Cobb Salad—The quintessential California salad features cubed poached chicken or turkey, hard-boiled eggs, crumbled bacon, avocado, tomatoes, and blue cheese on a bed of Romaine lettuce.
Bread Salad—Perfectly suited to cross-utilizing bread, panzanella (Italian) and fattoush (Middle Eastern) build a satisfying salad with the addition of chopped seasonal vegetables, fresh herbs, and a lively vinaigrette dressing.
Chilled Soups
Gazpacho may be the most well-known, but there are many other vegetable- and fruit-based soups that are designed to be served cold, offering customers a refreshing alternative to other lunch options and first-course selections.
Vichyssoise—This elegant leek-and-potato classic can be varied in many ways, with the addition or substitution of lemony watercress or sorrel, peppery radishes, colorful peppers, or summer's freshest corn; the base stock can be either chicken or vegetable.
Cucumber Soup—Tangy with buttermilk or yogurt, this summery soup can be topped with a dollop of crème fraiche and a verdant garnish of chives, dill, mint, tarragon, or other fresh herbs.
Cold Borscht—An equally colorful variant of the beet soup incorporates a bit of sugar and lemon juice or vinegar for an appetizing flavor profile. Some versions are topped with sliced cucumbers, hardboiled eggs, or even a warm boiled potato.
Pistou—This Provençal variant of minestrone is often served at room temperature, and showcases fresh seasonal vegetables such as green beans, zucchini, and tomatoes with olive oil and garlic, with a garnish of flavorful pesto.
Global Specialties
Look to the world's hottest climates as inspiration for other chilled menu innovations, including Asia, Mexico, and South America.
Cold Noodles—Sichuan-style Dan Dan Noodles, Korean naengmyeon, Japanese soba noodles, and Vietnamese bun translate beautifully to mainstream menus that court Millennial foodies and other adventurous diners.
Coctel de Mariscos—Think shrimp cocktail by way of Mexico for a zesty mix of cooked seafood (shrimp is standard but it can also include octopus, clams, lobster, and more) with avocado, tomato, cilantro, chiles, onion, and lime juice.
Ceviche and Tiradito—Peru is ground zero for these refreshing raw fish specialties; spicy Peruvian ceviches are often garnished with crunchy fried potatoes or corn kernels, while sashimi-like tiradito might be dressed with aji amarillo chile.
The information provided is based on a general industry overview, and is not specific to your business operation. Each business is unique and decisions related to your business should be made after consultation with appropriate experts.
GET STARTED
You can use Minor's® products in hot and cold applications without the added step of cooking. With the official launch of Minor's four-year, multimillion-dollar Ready to Flavor™ initiative, the bases, concentrates, and sauces long trusted by chefs are now tested ready-to-eat. That means that these products can be used for hot and cold applications without the added step of cooking. That means that they can be safely used in salads, dressings, and other uncooked foods.