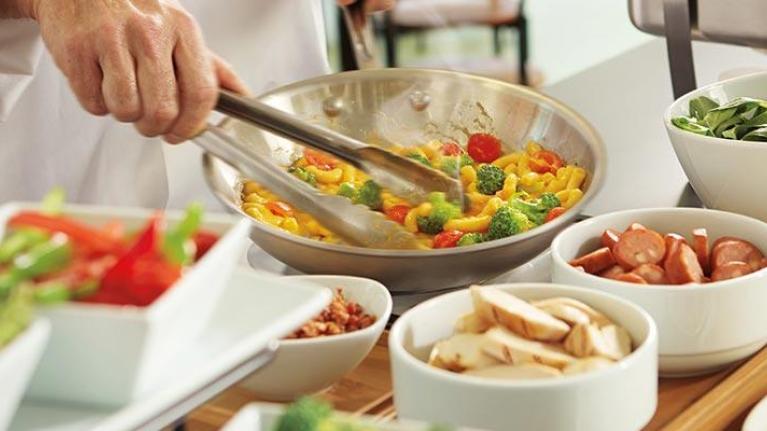 Customers Want to Customize, Let Them!
October 19, 2015
Have-It-Your-Way Cuisine is only getting bigger. Let customers customize orders and watch your profits soar. Find out how customization can work for you.
Call it Have-It-Your-Way Cuisine, the huge trend to allowing customers to choose how and when they will dine and exactly what they will order. Even McDonald's is getting in on the trend with the Create Your Taste menu test, which allows customers to build their own sandwich.
Today's patrons think of the ability to customize their order to be something of a birthright, but there are other important factors:
Customized orders meet growing demand for a variety of dietary restrictions such as vegan and gluten free

Apps and online ordering tools are making it easier for patrons to order one-of-a-kind choices

When allowed to make their own choices, many patrons will choose healthy, according to findings by the Center for Diet and Activity Research
Here's how it's being handled in various kinds of operations across the country:
The Little Beet, a popular chef-driven, quick-service restaurant with two locations in the New York City area, prides itself on "100% guiltin' free" food that's fresh, healthy, and locally sourced—and also gluten free. Although the menu includes lots of fresh salads, juices, baked goods, and breakfast specialties, the Create Your Plate platform allows patrons to choose a mix-and-match meal of sides, soup, protein, and salad in any combination. Items include chicken, tofu, salmon, and steak but the emphasis is on meatless specialties such as quinoa with beets and arugula; Chinese cabbage salad; charred kale with chili and lemon olive oil; and roasted sweet potatoes with smoked sea salt and pecorino cheese

Customization is a big trend on campus, with everything from build-to-order delis to action stations, according to Food Management magazine. For example, at Case Western Reserve University, in Cleveland, students can make it their own at such Bon Appétit-managed concepts as the 8TWENTY6 salad bar, Pinzas with its custom pasta bowls, and facilities for cook-to-order pho and Japanese noodle bars. Melt University offers a variety of grilled cheese sandwiches with such add-ons as bacon and sun-dried tomatoes, and Michelson and Morley features a restaurant-style menu of small plates and snacks, including flatbreads, sandwiches, and happy hour specialties

Good Food Catering Company in Tampa is known for its action stations and other innovative custom catering events. With dozens of different concepts to choose from, event guests can be engaged in everything from the "Southern Surf and Turf" Grits Bar or Pad Thai to a combination raw bar-seafood boil
Get in on the Action Stations: Nestlé Professional Action Stations represent the ultimate easy way to offer customized menu concepts to your customers, including International Soups & Street Food, Salads, Breakfast, and more.
In San Francisco, the new Brenda's Meat and Three taps squarely into the Southern tradition of offering customers a choice of different side dishes with their comfort food entrée, from braised short ribs and fried chicken to pan seared trout. Want biscuits, mashed potatoes, and cheddar grits with that? Go for it. Greens, beans, and brussels sprouts? Have at it. Vegetarians and vegans can have it their way, too, by selecting four sides
Try This: Bump up the flavor quotient on vegetables and other meatless items with Minor's® gluten free sauces and flavor concentrates, such as Chipotle Flavor Concentrate.
At Watertown (Wisconsin) Regional Medical Center, almost everything on the restaurant-style patient room-service menu is cooked to order, using fresh products from an onsite garden. This means that patients can enjoy not only seasonal produce but also healthier fare like soups, salads, and artisan sandwiches. The distinctive Build an Entrée feature offers a choice among proteins like salmon, steak, and cod; sides such as vegetarian risotto and barley lentil pilaf; and such market sides as grilled asparagus and roasted beets. In the facility's public Harvest Market Restaurant, meanwhile, employees and visitors enjoy items ranging from flatbreads to roast boar sandwiches, and each menu category features a Just Your Taste option that allows customers to specify their preferred ingredients
Did You Know? Stouffer's® and Lean Cuisine® offer a number of delicious whole grain specialties, including Stouffer's Vegetable Lasagna and Lean Cuisine Macaroni & Cheese. And Trio® has undertaken a low-sodium relaunch of its products.
HG Sply Co. in Dallas serves a paleo-style menu of specialties like Delmonico steak, brick chicken, and protein-forward salads, but the most unusual feature are the Build Your Own Bowls, which allow customers to put together an all-in-one feast of two vegetable base items (such as black beans, quinoa, or broccoli with bacon), a meat (Mexican pulled pork, seared ahi tuna), and a topping (salsa, garlic aioli), with or without the addition of two eggs, for a meal designed to fuel the day