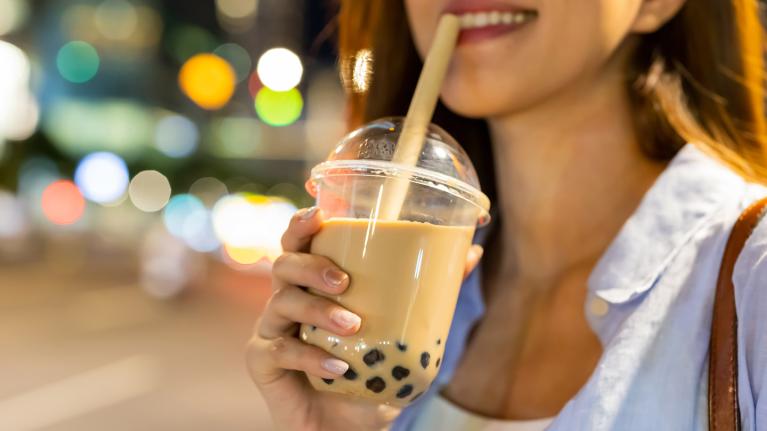 Discover Global Beverages. Your Patrons Have
September 1, 2022
Global drinks enhance the depth of menus, sooth patrons' search for adventure, and create positive connections with guests.
In this hyper-connected world, customers are always on the lookout for that next discovery to share on their social media feeds. Beverages from faraway lands and cultures are just that. And they especially appeal to younger guests. Global beverages can add an interesting spin to a college cafeteria menu, or that of any operator where younger customers frequent. But they are also broadly popular. Some 49% of consumers say they find the flavors exciting when they order globally influenced items.1
Introducing beverage specialties from other cultures can help set a beverage menu apart from the competition, helping to boost trial and sales and even support premium pricing.
Menuing these drinks reminds guests there is a lot to celebrate about the world today. As Datassential points out in its 2021 Global Flavors Keynote Report, "Food connects the world." And, in a country like the United States that is becoming more ethnically diverse, the appeal of such beverages only continues to grow.
It's for all these reasons that 37% of operators say they plan to increase globally influenced options on their menus.1
Here are some popular and up-and-coming beverages that will add that international touch to your menu.
Africa
The Next Culinary Capital? Almost 60% of consumers have never eaten cuisine from Africa. 1  One popular drink, the Chapman, stems from Nigeria and is described as an African-inspired spin on sangria. It is made with ice, orange soda, lemon-lime soda, slices of cucumber and lemon, grenadine or blackcurrant, and bitters. It's also not uncommon for bartenders in Nigeria to add rum or vodka.
Middle East
Tahini. A Middle Eastern condiment made from toasted ground hulled sesame seeds served by itself or as a major ingredient in hummus and baba ghanoush, tahini is now finding new menu placement in coffee drinks, says Technomic in its "Emerging Eats 2022" report. The addition of tahini adds nutty, earthy complexity to hot, iced and frozen beverages.
Latin America
Aguas Frescas. Combining fruit juices, cereals, flowers, or seeds blended with sugar and water, aguas frescas are light, refreshing nonalcoholic beverages. They are currently found on 2.3% of U.S. menus and are projected to grow 18.2% on menus over the next four years.2 
Cafézinho. A traditional beverage of welcome in Brazilian culture, it is made by boiling water with sugar, then adding ground espresso. The resulting mixture is then poured through a coffee filter and served like espresso.
Licuado (or batidos). Ubiquitous throughout Latin America, these colorful blended beverages are similar to smoothies, and are made with fruit juice diluted with milk or water, then blended with ice. Popular varieties include melon, pineapple, hibiscus, tangerine, and papaya.
Tereré. Paraguayans have been making ice-cold yerba mate-based drinks since pre-Columbian times. Terere, pronounced tay-ray-ray, mixes yerba mate leaves with ice-cold water in a large vessel or pitcher, creating a refreshing, low-calorie beverage to enjoy socially.
Asia/Pacific
Cà Phê Trứng (or Vietnamese egg coffee). Vietnamese Coffee is brewed strong and flavored with sweetened condensed milk. For a unique spin, serve it with an egg yolk to turn it into a cà phê trứng.    
Matcha Pandan Latte. Pandan is a vibrantly green tropical plant with an aromatic flavoring. Pandan syrup adds a sweet, tropical vanilla-like flavor to the matcha green tea. Japanese Matcha is on 3.7% of U.S. menus with strong 4-year-growth predicted to be +206.6%.2 
Yuzushu. This simple-to-prepare Japanese beverage is for those who prefer a more soury citrus profile. It is made from yuzu, a popular Japanese citrus fruit similar to a lemon. Yuzushu balances a tangy and tart taste that is said to go well with sashimi or other seafoods. It is described as light and refreshing.
Tibetan Butter Tea (po cha). In the cold high-altitude climate of Tibet, locals add a special ingredient to their tea to give it a rich flavor and caloric punch to fuel them through the day: yak butter. While it may be new to most U.S. consumers, the rise of keto-centric butter coffees and "fitness as a lifestyle" functional beverages may spark interest, says Datassential in its September 2021 "Trendspotting" report. 
Ipoh White Coffee. For a slightly less butter-rich option than Tibetan yak butter tea, try Malaysia's Ipoh white coffee, recommends Datassential in the same report. The research firm says this unique beverage is often considered one of the best coffees in Asia, and it all comes down to the roasting. The coffee is named after the capital city of the Malaysian state of Perak and is so famous for its white coffee that many travelers go out of their way just to visit the city and try the beverage. 
Bajigur Coffee. The flavors of coconut and ginger come together with pandan and palm sugar in Indonesia's bajigur coffee, a sweet beverage sold by street cart vendors in the freezing Javanese highlands. 
Jamu. Indonesian jamu is an eye-catching drink made with plenty of functional ingredients. At its simplest, jamu is made from fresh turmeric root (which gives it a bright orange color), ginger, lime juice, and honey, though visitors will find a range of jamu options in Indonesia, incorporating other roots, herbs, and flowers (one common option includes coconut milk and warming spices like cinnamon and cloves).   
Europe
Uzvar. Uzvar (which also goes by the names compote, kompote, or kompot) is a Ukrainian drink made from dried fruits like apples, pears, or plums, honey, and spices like cinnamon, nutmeg, and star anise. To make the drink, all the dried fruits are put in a pot of water that's brought to a boil. The drink is then simmered and set aside overnight to be served cold or at room temperature the next day.
Bicerin. This decadent, dessert-like coffee drink, which hails from Turin, Italy, consists of espresso, hot chocolate, and whipped milk or cream.
Caffè Shakerato. Also hailing from Italy, this caffeinated refresher consists of freshly made espresso, simple syrup, and lots of ice, shaken vigorously until a froth forms. It is usually strained while being poured into a martini glass or another stemmed glass.
Interesting Fact: 44% of U.S. consumers are interested in global nonalcoholic beverages3
Sources: 1. Datassential Global Flavors Keynote Report (October 2021). 2. Datassential SNAP! (June 2022). 3. Datassential Trendspotting Volume 46 (September 2021).
The information provided is based on a general industry overview, and is not specific to your business operation. Each business is unique and decisions related to your business should be made after consultation with appropriate experts.