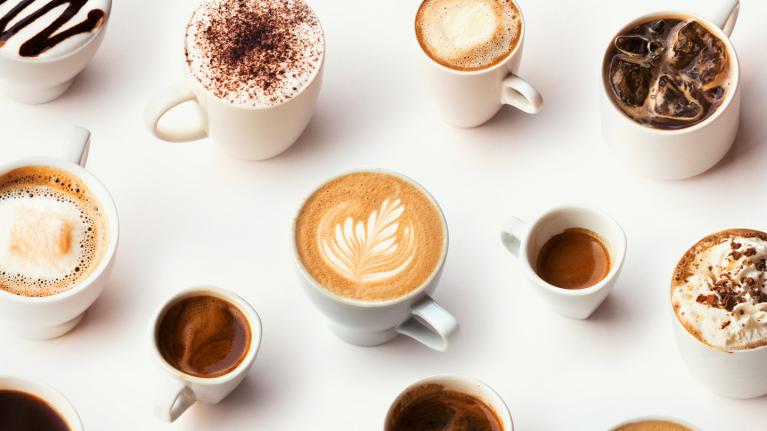 Demand for Innovative Beverages Explodes
April 29, 2022
Customers are in an adventurous mood, opening new opportunities for beverages. Here are some of the latest trends to help spark menu ideas, from the functional to the wildly indulgent.
Beverage menus are beginning to brim with all kinds of innovative creations as operators seek to attract customers looking for the novel and unexpected.
Datassential predicts in its recent State of the Menu report: "Pent-up demand post-lockdown will drive cravings (and foot traffic) as people look to foodservice to remedy more than a year of 'same-old' with craveable, imaginative fare that can only be found at the restaurants they love."1
In fact, according to Technomic, some 44% of consumers ages 18-34 say they want to try new and unique beverages at restaurants.2
Here are some on-trend beverage ideas that will help quench this thirst for refreshing and original menu options.
Elevate the Cocktail Experience
When it comes to cocktails, bold ingredients and flavor are some of the big trends as customers seek excitement. Take the "elevated" brunch cocktail, for instance. "A Bloody Mary can be made over-the-top and Instagram ready by adding in oversized skewers, mash-up entrées (shrimp and grits or chicken and waffles, for example) infused spirits (bacon bourbon, anyone?), and ethnic flavors," says Datassential, in its 2021 Future of Drink report.  
Speaking of brunch, the hot cocktail of the moment appears to be the espresso martini. Customers are enjoying them everywhere, from independent restaurants to chains. And any brunch beverage menu can be rounded out with other creative espresso-based coffees, such as a tasty Caramel Latte Macchiato or a Skinny Cappuccino for those guests who are watching their calories.
Also make way for fun serving ideas, such as tiki drinks brought out in treasure chests, boozy milkshakes with cupcake garnishes, and drinks served in test tubes. 
For a more functional spin, there are tea-infused cocktails with rooibos, matcha, and yerba mate, that also generate depth to a menu by adding a bit of a global flair.3  
And the cocktail of the moment? Many think it's ranch water, a West Texas staple that's spreading across the country through word of mouth and social media. It often features just three ingredients: lime juice, tequila, and mineral water.4 Though some have started to add other ingredients, like orange bitters or grapefruit peel, to add some extra layers of flavor.
Create Indulgent Treats
A "toppings boom" is underway, says Technomic. Over-the-top milkshakes are a driving force behind this trend, and fun spins on hot chocolate and ciders have also begun to trend. These hot beverages often feature candy, doughnuts, popcorn, and even cereal pieces as toppings. Toppings can be a profit driver as well, with consumers willing to pay 80 cents on average per topping.2
Expand Your Coffee, Tea, and Cocoa Menu
Among the coffee styles trending strongly today are cortado, Cuban, Turkish, Café De olla, flat white, and Mexican. In terms of preparation, nitro has shown 904% four-year growth on coffee menus, followed by cold brew with growth of 245%.5
Seasonal flavors remain a strong selling point. Some 64% of consumers who have tried pumpkin spice coffee or cocoa, for example, love it or like it. Eighty-five percent of consumers love or like apples, and 77% of consumers love or like maple.6
Styles of tea that continue to proliferate include boba and matcha. Boba tea saw U.S. menu penetration grow by 75% over the past four years. While the penetration of matcha-based lattes on menus increased by 215% over the past four years.7  
Offer On-Trend Plant-Based Milks
Plant-based dairy alternatives also continue to see strong growth. While almond milk is by far the most popular one, coming up fast is oat milk, which has seen an increase of 1,314% in menu penetration over the past four years.7  
Up next for plant-based milks? Taste and texture more on par with dairy milk, much like the recent trend with plant-based meats.7 
Also, the latest generation of spirits substitutes are plant-based. They are made with peas, rosemary, thyme, spearmint, allspice, cardamom, lemon peel, lemongrass, and ginger, and can take mocktails (non-alcohol cocktails) to a whole new level.8
Include New Functional Drinks
Emerging areas for functional beverages include nootropics with ingredients targeting cognition, and cosmetic, with ingredients like collagen that are said to promote skin health.
Fermented beverages containing probiotics, such as kombucha, tepache, and umeboshi, also continue to trend. Some 52% of consumers say they are interested in beverages with digestion support.2
One of the most popular functional ingredients is turmeric, which has seen its menu penetration increase by 129% over the past four years.7 Other on-trend functional ingredients include cardamom and mushroom varieties such as ashwagandha, chaga, and reishi, which happen to pair well with coffee, tea, and cocoa.2
Smoothies have long been a way to mask functional ingredients in a sweet treat, but now those added benefits are often being highlighted on menus, says Datassential.9  
Offer Popular Flavors
When it comes to flavors, hibiscus, rose, elderflower, and lavender have gone mainstream. New florals emerging include butterfly pea and hydrangea.2 Butterfly pea has become popular over the past few years because of its Instagram-worthy ability to change colors. Made from a Southeast Asian flower, its color changes depending on the pH of what ingredients it is mixed with. It usually starts out a vivid blue hue when brewed as tea, for example, and can change to purple when mixed with citrus.
Growing fastest on juice menus are watermelon, passion fruit, lemon juice, guava, peach, and raspberry.10 
And don't forget spicy. Customers can't get enough of it. Spicy ingredients are found on 70.2% of restaurant menus with jalapeño being the most popular spicy flavor on menus today.11   
And Finally, Think Globally
Asian influences can be seen in the adoption of cheese teas, a cold tea topped with a foamy layer of milk, sweet or salty cream cheese, and whipping cream sprinkled with sea salt. Such nontraditional food ingredients also hold high visual appeal.2
Technomic suggests being a leader in beverage innovation by keeping an eye on how global operators are enhancing their beverages. These worldly beverages make great LTOs to drive excitement and traffic. Since many of them are highly unique and visually appealing, it's a good idea to also showcase these offerings as much as possible on social media.
Sources: 1. Menu Trends, 2021, Datassential. 2. Beverage Innovation Update, Technomic. 3. Datassential: Future of Drink 2021. 4. Datassential Trendspotting Volume 84. 5. The World of Coffee, Datassential. 6. Datassential FLAVOR. 7. Trends in Alt Protein, Good Food Institute, 2022. 8. The New Sobriety, Datassential. 9. The World of Smoothies, Datassential. 10. The World of NA Beverages, Datassential. 11. The World of Spicy Flavors, Datassential.
The information provided is based on a general industry overview, and is not specific to your business operation. Each business is unique and decisions related to your business should be made after consultation with appropriate experts.