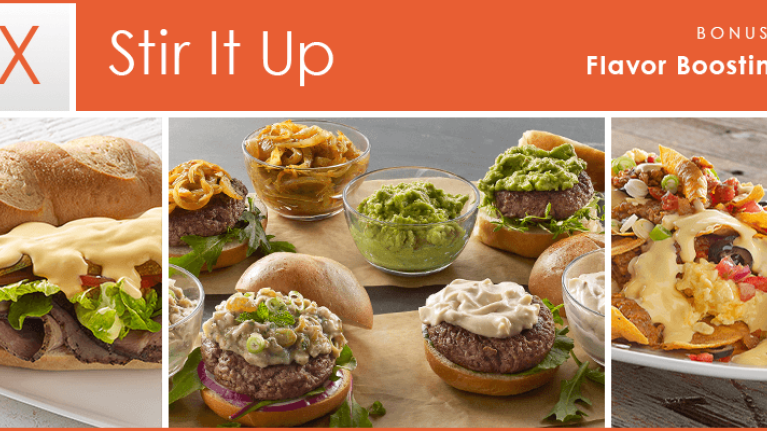 Distinctive Signatures Define Your Operation
October 20, 2017
FOURTH IN A SERIES: Signature menu items define your operation and offer customers a reason to return. Learn the 10 rules to signature success and make a super signature impression.
Having one or more signature dishes represents an important competitive advantage for food service operators in every segment, giving customers a reason to choose your establishment versus any number of other options, from skipping a meal or cooking at home to patronizing a competitor. Whether it's a better version of something guests can get elsewhere—such as a sandwich—or a unique, totally one-of-a-kind menu item that no other place sells, menu signatures are vital.
Make It Memorable – Job one is creating an item that customers remember and associate with your brand; when they find themselves wanting that item again (and they will), they become repeat customers, tell their friends, who become repeat customers . . . and on it goes. Developing unique, craveable flavors is part of the process of creating a successful signature item.
Get Started: The entire portfolio of Nestlé Professional brands is focused on creating flavor, including: Minor's® bases, sauces, gravies, and flavor concentrates; Maggi® Seasoning and Spicy Seasoning; Stouffer's® sauces and prepared entrées and sides; Trio® sauces and gravies; Hot Pockets® stuffed sandwiches; and Chef-mate® cheese sauces, gravy, and entrées.
Innovate Around the Familiar – Signature dishes don't stand a chance at success if customers won't try them. Consider starting with a food item that is already popular and familiar to your customer base, and then tweak it in ways that make it more distinctive. That's the rationale behind the seemingly unending parade of new comfort foods, burgers and sandwiches, fried chicken, and other well-established favorites.
Get Started: An item like macaroni and cheese is accessible enough to appeal to just about every kind of customer, from kids to sophisticated adults, and versatile enough to be "signaturized" with any number of mix-ins and toppings, such as stewed tomatoes, bacon, specialty cheeses, lobster or crab, and more.
Add Flavor at Every Turn – The most flavorful recipes often incorporate multiple flavor steps, from an initial marinade or brining with a seasoned liquid to a flavor-boosting sear on the grill to a topical seasoning blend added toward the end of the cooking process and the finishing touch of sauce or gravy. This approach creates deep, complex layers of flavor and boosts craveability.
Tip: To learn more about layering flavors, read this article. Specific flavor combinations are covered in this blog post from a Nestlé Professional chef.
Don't Forget the Umami – Umami is the fifth flavor (after salty, sweet, sour, and bitter), a deep, savory flavor component that will add that "certain something" that incomplete recipes are often lacking. If the flavor seems to need something, try adding an umami ingredient, like tomato paste, Parmesan cheese, bacon, or anchovy.
Did You Know? Maggi® Seasoning is umami, in easy-to-use liquid form. For a bit of heat, use Maggi Spicy Seasoning.
Let the Customer Create It – Nothing says craveable like an item customers create themselves, which is the reason so many successful menu concepts allow guests to customize their own meal or pick their own ingredients. Many fast-casual and casual concepts, as well as food bars and custom stations in retail settings, boast "do-it-yourself" selections, for example when guests choose among a variety of a mix-and-match seasoned proteins, sauces, and sides.
Get Started: Nestlé Professional Action Stations are designed to allow customers to build their own favorite menu items. Concepts can be self-service or attended, and include Snacking, Salads, Breakfast Bar, Street Food, Desserts, and International Soup and Noodles.
Leverage Brand Power – Well-known consumer brands are powerful indications of quality and familiarity on food service menus. Calling out a famous branded ingredient or flavor profile gives a signature item, an ice cream specialty or shake featuring a well-known candy marque. This strategy provides a leg up in customer appreciation. It also adds value, and can support premium pricing.
Did You Know? The Nestlé Professional branded dessert product line includes Libby's® 100% Pure Pumpkin, Nestlé® Carnation®, Nestlé® Toll House®, Butterfinger®, and Nestlé® Crunch®.
Make Sure It's Executable – A successful signature dish will drive significant sales volume, so make sure it's an item that the kitchen can execute consistently, day in and day out, without jamming up the rest of the production system. That means that it should fit in seamlessly with existing prep and food costs, not overwhelm an individual station, and use ingredients that can be cross-utilized in other items, among other issues.
Looks Count – Appearance is important when developing new signature item garnishes, because a signature will attract extra attention, including Instagram posts. Pay extra attention to presentation, including everything from the balance of color and shape in the recipe ingredients to the plate or servingware it's served on as well as the garnish.
Try This: A beautiful springtime asparagus soup recipe becomes even more attractive with a float of flavored whipped cream.
Merchandise It  – In order for a signature dish to develop its own reputation and word-of-mouth, customers may need a little help finding it. This can be achieved a number of different ways: by a well-designed point-of-sale, deli-case placard or menu board display; calling out signatures with an icon, box, or special menu section; adding positive customer remarks to the website; or by having the  service staff highlight this signature item during their initial contact with your patrons.
Remove a Signature with Care – Once a signature item is popular enough to become a signature, it should be kept available—nothing is more irritating to customers than to show up and find out that the item they specifically came in for is no longer being offered. If it must be removed (for reasons of food costs, ingredient availability, or other operational issue, for instance), consider adjusting the portion size, switching up the accompaniments, or even keeping the signature on a special-request-only basis.
Deli Bakery