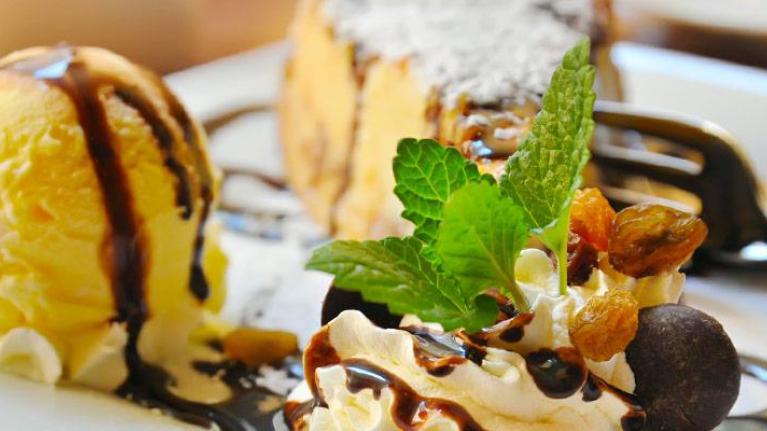 Chic Updates for Comfort Classics
October 19, 2016
Add excitement to comfort classics with a few easy twists. Learn how a new technique or ingredient can transform a traditional favorite into something new and modern.
Sometimes it seems like the more things change, the more they stay the same. This is certainly the case with comfort food.
Chocolate may replace vanilla and cauliflower may become the new Brussels sprouts, but there will always be room on the menu for the likes of chicken soup, macaroni and cheese, pasta, pizza, fried chicken, meatballs, steaks, and sandwiches. In fact, comfort foods like these provide much-needed continuity as well as a platform for creativity: Guests are much more likely to try new flavors in a familiar sandwich or bowl of soup than they are to go out on a limb for grilled octopus with garlic sauce.
Even straight-up diners—the ultimate ode to all-day breakfast, comfort food, and homemade pie—are making a comeback. Silver, a "new American brasserie" that represents the next generation for the 28-year-old Silver Diner chain, features a mix of traditional and elevated comfort fare, from tomato-basil soup and Truffle Bison Meatloaf to all-day brunch and vegan Teriyaki Glazed Portabello Mushrooms.
No operator wants their menu to slip into boring sameness, or fall behind the times. Happily, there are easy ways to turn popular comfort foods into signature recipes.
Add Simple Upgrades
Some foods just sell, and customers expect to see them on the menu, but you can set your versions apart with a few simple twists of flavor, technique, or accompaniments.
Replace spinach with kale for a more contemporary take on Creamed Spinach

Make a burger more memorable with a distinctive, delicious sauce

Serve calamari with Alfredo sauce for dipping, instead of the usual marinara

Make mac-and-cheese more interesting with mix-and-match toppings

Turn chicken salad on its ear with the addition of grains and mushrooms
Get Started: There's nothing you can't do with macaroni and cheese; get a head start with Stouffer's® Macaroni and Cheese, Macaroni and Cheese made with Whole Grains, or Lean Cuisine® Macaroni & Cheese.
Look to Regional Favorites
America is a land of comfort foods, from Yankee pot roast to Tex-Mex enchiladas and California-style avocado salad. Scour menus and cookbooks from other regions of the country to find some inspiration for new menu items.
New England-style baked beans with hot dogs and piccalilli relish

Mid-Atlantic crab cake sandwiches

Louisiana-style gumbo

Midwestern pierogies

Texas chicken fried steak

Southwestern King Ranch Casserole

Pacific Northwest cedar-planked salmon
Did You Know? Many comfort food classics include cheese and/or gravy. Chef-mate® makes eight different cheese sauces in a variety of flavor profiles, while the Trio® selection of seven gravy mixes covers all the bases.
Desserts Like Mom Used to Make
More than any other type of dessert, customers respond to classics like cakes, pies, rice pudding, ice cream sundaes, and all the other comforting sweets they grew up with. Even better, these desserts don't require a pastry chef because they are easy to make in-house or outsource to talented bakers.
Menu a seasonal cobbler, such as apple or pear in the winter, berries or peaches in the summer

Bring back old-fashioned favorites like carrot cake and tapioca

Serve comforting desserts like individual bread pudding or cheesecake in a Mason jar

Pile on the whipped cream and vanilla ice cream

Feature over-the-top sundaes like banana splits

Crepes are elegant yet light; so are Belgian waffles with fruit and crème Anglaise

Sauces like chocolate, butterscotch, dulce de leche, salted caramel, and more elevate simple favorites like brown butter pound cake or angel food

Never underestimate the appeal of warm cookies

Liquid desserts like hot cocoa, chocolate milkshake, or pumpkin smoothie also work as sweet snacks
Try This: Nestlé Professional dessert products include such brands as Libby's® 100% Pure Pumpkin®, Nestlé® Toll House®, Wonka® Nerds®, Butterfinger®, and Nestlé® Crunch®, as well Nestlé® Carnation® Evaporated Milk, and Nestlé® Carnation® Original Malt.