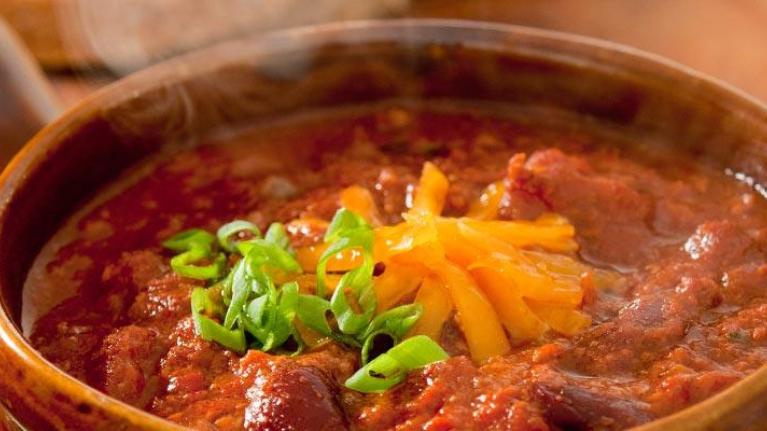 Get Your Menu Ready for Cooler Weather
August 6, 2015
Now's the time to get your menu ready for the cooler months ahead—time for soups, stews, roasts, and casseroles. Get up to date on the best-tasting, low-prep comfort recipes for a super winter sales season.
As much as we all love our summer sweet corn and heirloom tomatoes—ingredients that can truly shine by themselves—winter's cooler temperatures represent an opportunity for some serious cooking. Hearty soups and stews, comforting roasts and braises, satisfying pastas and casseroles: These are the things the best winter menus are made of.
Liquid Assets: Soups, Chili and Stews
It's no secret that customer interest in soup rises when the mercury drops. It's time for hearty soups, from traditional beef barley to distinctive Asian noodle specialties like pho and ramen.
Winterize a soup selection or soup of the day rotation by adding nourishing, protein-based soups, including vegetarian options like pasta fagioli made with flavor-building Minor's® Sautéed Vegetable Base (Mirepoix) or Gluten Free Vegetable Base Made with Natural Ingredients. 
Chili is a multi-purpose menu item that can be integrated into a soup rotation, menued on its own, or added to other specialties, as in a topping for baked potatoes or hot dogs. Chef-mate® has chili, both with and without beans, making this popular specialty an easy menu addition.
Grains represent another on-trend way to ramp up the comfort factor of cold weather soups. Replace rice in a standard soup recipe with hearty barley, wheat berries, or grain-like fregola, which also adds nutty flavor.
Nestlé Professional has Action Stations that include a popular International Soup and Noodle platform. Included are themed recipes that allow customers to enjoy variations on favorites like chicken noodle (from Mom's Best Chicken Broth to General Tso's Spicy Chicken Broth) and chowder (Manhattan clam to gingered cauliflower).
Stew is a winter staple that can benefit from an upgrade. Look to the global repertoire for ideas like:
Carbonnade de Boeuf – The famous Belgian beef stew gains savory sweetness from caramelized onions and beer

West African Chicken Stew – Fresh ginger, black-eyed peas, sweet potato, and peanut butter add earthy flavor to popular chicken

Irish Stew – Cubes of lamb, potatoes, onions, and carrots create a brothy but filling cold-weather specialty

Moqueca – This Brazilian seafood stew gets a boost from ginger, fresh cilantro, vinegar, and coconut milk, in addition to fish and shrimp
Get Started: Add flavor to foods of all kinds with Minor's Ready-to-Use (RTU) sauces and flavor concentrates, including Asian, Latin, and Mediterranean options. 
Low and Slow: Braises and Roasts
Braised specialties and roasted meats are the kind of long-cooking winter comforts that many customers no longer have time to make at home, but for operators they're great for a number of reasons:
Though they may take a while to cook, it's largely unattended, freeing up the kitchen to do other things

Slow cooking makes tender work of lower-cost proteins that would otherwise be tough, such as shanks, shoulders, and ribs, as well as winter root vegetables like parsnips and beets

By the time service rolls around, the labor's already done—just hold food safely warm or retherm to order

Braising and roasting are a sure bet for building deep, craveable flavor
As with stews, it's easy to add interest to a selection of braised menu items by adding some international inspiration, such as Red Cooked Short Ribs (China), Moroccan Lamb Shanks, and Coq au Vin (France).
Tip: Boost the flavor of braised meats by using Minor's Beef or Chicken Base in the cooking liquid. For an extra boost of umami, try a splash of Maggi Seasoning.
Twice the Satisfaction: Pasta Casseroles
Customers love pasta; they also love casseroles. Why not combine them? Lasagna, Baked Ziti, and Mac-and-Cheese are obvious examples of this success strategy. In fact, did you know that Food Genius called Macaroni and Cheese one of those food trends we will never outgrow?
Think of this cheesy pasta specialty as a building block for all kinds of specialties, with ingredients like smoked turkey or sautéed broccoli mixed in, layered with ground beef and tomatoes, or stuffed into vegetables like zucchini.
Get Started: Stouffer's® offers a number of mac-and-cheese options, including Traditional, Whole Grain, and Lean Cuisine®.
Here are some other baked pastas and pasta casseroles to consider:
Creamy Tuna Noodle Casserole
Pumpkin Lasagna
Baked Orzo with Spinach and Feta
Noodle Kugel
Manicotti and Meatballs
Did You Know: Whole grain pasta adds a healthy aura to pasta specialties, and there are several whole grain pasta products in the Stouffer's and Lean Cuisine lineup, including Vegetable Lasagna.