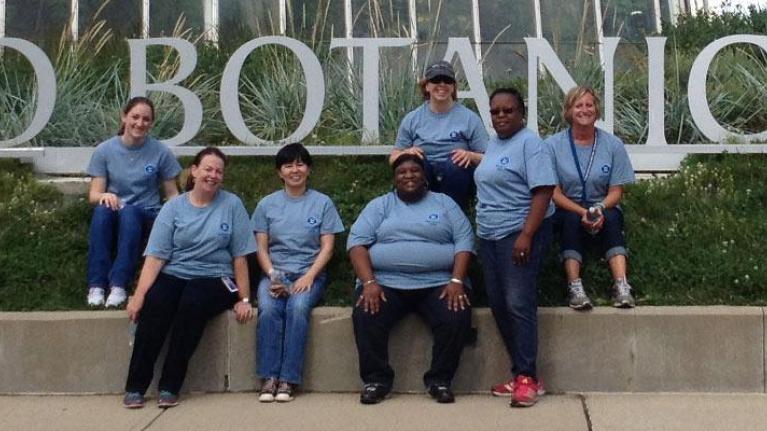 Giving Back to the Community
October 20, 2019
We believe in giving back to the community. Read about how volunteers from the Nestlé Professional Customer Innovation Campus recently spent a day living that commitment.
As a member of the global community, our parent company Nestle S.A. is committed to creating shared value through giving back. That's the premise behind the recent Nestlé Professional Team Day 2014, when employees at the Nestlé Professional Customer Innovation Campus (NPCIC) in Solon, OH, came together as One Company, One Agile Team to take part in volunteer projects throughout the Greater Cleveland area.
Employees from the NPCIC took part, volunteering at locations and foundations such as Hospice of the Western Reserve in Euclid, Cleveland Food Bank, Boys and Girls Club of Cleveland, Cleveland Botanical Garden, Ronald McDonald House of Cleveland, Rainbow Babies & Children's Hospital, and more.
For participants as well as community recipients, Nestlé Professional Team Day was an eye-opening experience. As Judy McVeigh, Nestlé Professional project manager, recalls: "The day before we arrived, Ronald McDonald House of Cleveland had just gotten a huge donation of breakfast bags from Nestlé for the residents. I spoke to one woman who told me what a relief it was to have breakfast ready for them on the day of her daughter's surgery."
Elizabeth Sellers, sales and marketing coordinator, gave her time to helping clean up a park that had recently been donated to Hospice of the Western Reserve—clearing pathways, edging and mulching beds, trimming shrubs, and staining a deck. The property is beautifully located on Lake Erie and adjacent to the hospice facility, but it had not been maintained.
"I had the opportunity to interact with a doctor and several nurses and was moved by the care they showed the patients," says Sellers. "It would be extremely difficult to provide end-of-life care on a daily basis, and I am grateful for those who choose this profession. 
"The best part of volunteering was actually making a difference," she continues. "The amount of work we were able to accomplish as a team in the two and a half hours we were there was significant."
All NPCIC campus employees were also invited to a barbecue celebration after the morning's volunteer activities, continuing the theme of fun, interaction, and team-building. It's events like these that characterize the charitable organizations and other community-driven programs supported by Nestlé in the United States.