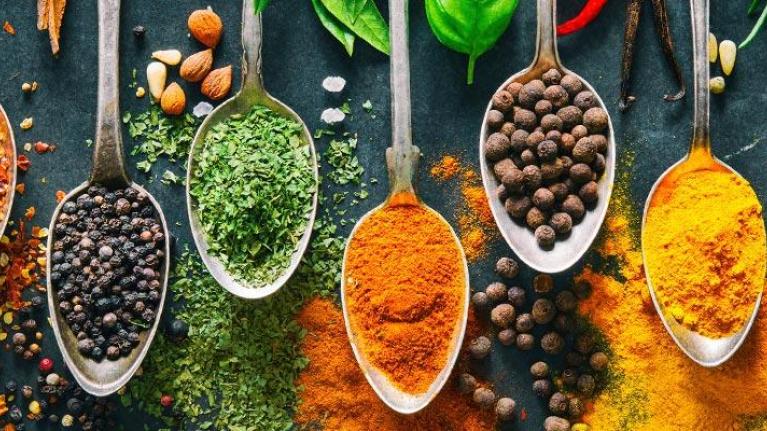 How to Leverage Indian Flavor Appeal
February 1, 2020
Indian cuisine is right on trend with its piquant flavors and plant-based emphasis. Learn how many operators incorporate this once-exotic fare into more mainstream menus.
Fragrant spices, fiery chutneys, cooling yogurt, comforting breads, and complex curries. These are the exciting Indian ingredients and specialties that are finding their way to mainstream menu concepts via a new spirit of cross-cultural global innovation.
According to Technomic, Indian foods and flavors—from curry dishes to spicy dips and sauces—are carving out a wider niche on menus, and 34% of consumers have tried Indian food and like it, thanks to its unique and exciting image.
In addition to providing variety and craveability, Indian cuisine embraces a long tradition of plant-based eating, relying upon ingredients that are identified with health and wellness (including fiber-rich pulses such as chickpeas and lentils and spices thought to confer functional benefits, for example, turmeric).
For many operators, leveraging this appeal is best accomplished by adapting some of India's more approachable products to familiar categories like appetizers, dressings, condiments, and sandwiches.
Here are some ideas:
Butter Chicken (menu mentions are up 38% since 2015, according to Datassential) – Cooked in mildly spiced tomato- and butter-based sauce flavored with cardamom, cumin, cloves, cinnamon, coriander, green chile, pepper, lemon, and fenugreek, this classic Indian comfort food is usually served with basmati rice.
Chaat (+3.3%) – The generic name for the savory street food snack popular all over India, chaat encompasses a variety of flavorful finger foods, but is often comprised of fried potato pieces, crisp fried bread, or chickpeas, with toppings such as coriander, onion, ginger, yogurt sauce, or chutney.
Chai (+24%) – In addition to its popularity in hot and iced specialty beverages, this sweet, spicy milk tea flavored with cardamom, cinnamon, ginger, and cloves can be used in smoothies as well as desserts such as ice cream and crème brûlée.
Chicken Tikka Masala (+1%) – First tenderized with yogurt in a marinade that also includes garlic, ginger, turmeric, garam masala, coriander, and cumin, the chicken is then cooked in a creamy sauce flavored with onion, tomatoes, cardamom, and chiles.
Dal (+10%) – Lentils cooked with onion, garlic, lime, ghee (clarified butter), and spices such as coriander, turmeric, cumin, and ginger are a popular side dish or accompaniment, or the basis for a vegetarian entrée.
Garam Masala (+47%) – This versatile blend of ground spices commonly used in Indian cooking usually includes black pepper, cumin, cinnamon, cloves, mace, coriander, and cardamom, and is used alone or with other seasonings to flavor protein, most often chicken but also lamb.
Lassi (+1%) – This yogurt-based beverage is most traditionally offered in a salted version that may be spiced with cumin, but sweet versions contain sugar and/or fruits; mango lassi is particularly popular in the United States.
Naan (+7%) – The most popular of a wide variety of Indian bread specialties, a soft Indian flatbread traditionally baked in a tandoori oven. It is served as a bread side with appetizers, combo meals, protein entrées, and as a base for sandwiches, but creative chefs have begun to expand naan's applications into burgers and pizzas.
Raita (+11%) – Made from yogurt and raw vegetables such as cucumber, this cooling condiment may also be flavored with coriander, cumin seeds, cayenne pepper, and other flavorings. It is often served alongside spicy dishes to offset the heat, or as a dip with flatbread or chaat.
Samosa (+13.8%) – These fried, stuffed pastries—popular in Indian and South Asian cuisine as an appetizer—are typically filled with spiced potatoes and peas, then deep-fried and served with a chutney such as mint or tamarind. Although vegetarian samosas are most common, minced meat and seafood fillings as well as sweet dessert fillings can also be used.
Sources: Technomic Inc., Ethnic Food & Beverage Consumer Trend Report (2018); Datassential SNAP!, Butter Chicken (2019); Datassential SNAP!, Chaat (2019); Datassential SNAP!, Chai (2019); Datassential SNAP!, Chicken Tikka Masala (2019); Datassential SNAP!, Dal (2019); Datassential SNAP!, Garam Masala (2019); Datassential SNAP!, Lassi (2019); Datassential SNAP!, Naan (2019); Datassential SNAP!, Raita (2019); Datassential SNAP!, Samosa (2019)
The information provided is based on a general industry overview, and is not specific to your business operation. Each business is unique and decisions related to your business should be made after consultation with appropriate experts.