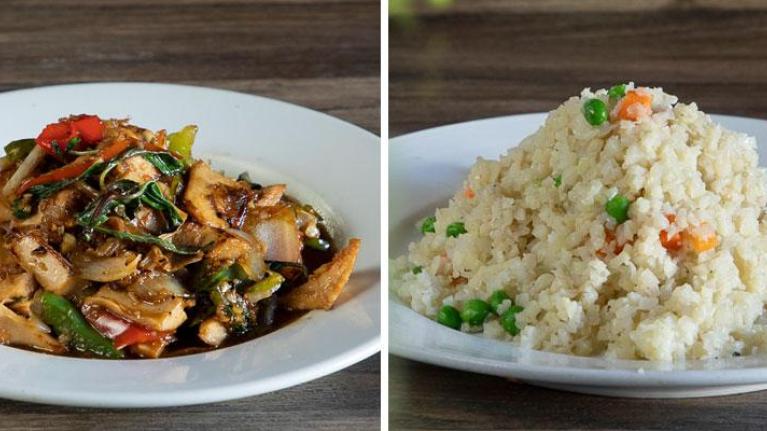 How One Thai Restaurant Survived the Shutdown
October 5, 2021
Emporium Thai in the Westwood district of Los Angeles puts extra emphasis on plant-based cooking with stellar results. That plus community outreach is key to their success.
Growing up in Thailand, John Sungkamee and his family ate a diet that was essentially plant-based. Today, at Emporium Thai in the Westwood district of Los Angeles, healthy vegan and vegetarian specialties are one of the things that set Sungkamee's 21-year-old Southern Thai restaurant apart.
"We are one of just a few restaurants in the area that serve Southern Thai food," says Sungkamee, who came to this country in 1990 from the province of Nakhon Si Thammarat, on the Gulf of Thailand.
Surrounded by oceans on both sides, he explains, this narrow mountainous region is blessed with seafood but also tropical vegetables and fruit trees including mango and coconut, which the family harvested on their own land. "We grew up with a vegetable-based style of eating."
The food of Southern Thailand is rich, distinctively spiced, and often laced with coconut milk—massaman curry is a typical specialty—and influenced by Malaysia and Indonesia, its neighbors to the south. When Sungkamee and his sister, Executive Chef Gina Sungkamee, opened Emporium Thai in March 2000, they were determined to introduce the food they grew up with to their new customers.
Proximity to UCLA, several hospitals, pharmaceutical companies, and Hollywood has meant a grateful and loyal customer base who are drawn to Emporium Thai's flavorful, vegetable-based cuisine. And now, with what John Sungkamee describes as a growing interest in flexitarian diets, 30%–40% of orders are vegan or vegetarian. During the pandemic, takeout and group orders have continued to favor plant-based options.
The Sungkamees have worked hard to create this situation. One challenge, however, was the cuisine's reliance on nam pla, a distinctively flavored fermented fish sauce that lends an umami pop to countless Southeast Asian dishes. Starting with special orders, they experimented with ways to reproduce those flavors without using fish or shellfish. What resulted was so successful that they were able to replace nam pla except as a table condiment throughout the menu. "The vegan fish sauce was a game changer for us," says Sungkamee. Not only is it vegan, but it is also lighter, healthier, and gluten- and allergen-free. "It lets us create truly vegan recipes, and it has also been important for our catering business, where many groups may include customers with dietary restrictions."
The sauce has allowed the team the flexibility to explore the vegan and vegetarian category more fully. A new Premium Healthy Choices vegan menu section features items such as Royal Veggie Pad Thai and Cauliflower Fried Rice, with double vegetables, half the noodles or rice, and optional choice of plant-based protein. In addition, popular customizable menu items such as Southern Curry can be made with plant-based protein rather than chicken or another animal protein.
In addition to tofu, Sungkamee recently began working with Sweet Earth plant-based products including Awesome Grounds and Mindful Chik'n. The restaurateur appreciates the fact that Sweet Earth has a texture and flavors that work well with his cuisine, perform similarly to their meat counterparts, and are non-GMO. He plans to take advantage of their versatility by making them available on any menu item where soft or crispy tofu is offered as an option. "This gives our customers more plant-based choices."
Feeding the Front Line
Like many restaurant operations, Emporium Thai has been put to the test during the pandemic. On what was to have been the restaurant's 20th anniversary last year, a mandatory shutdown came from the county, and business has been a roller coaster ever since.
One advantage Owner John Sungkamee had, however, was a loyal customer base and a location close to many hospitals and healthcare facilities. Providing meals for these front-line workers seemed like a logical pivot, and a shoutout from regular customer Jennifer Love Hewitt gave an added boost to a restaurant whose motto is "We Do Small Things with Great Love."
The successful Feeding the Front Line program encourages customers to buy meals for area healthcare workers, including multiple-meal packages to which the restaurant itself kicks in extra meals. Takeout boxes carry a sticker identifying who donated the meal, helping to knit the community together.
Sungkamee takes great pride in being able to give back, but in addition, "doing this has helped keep us stay afloat during our most challenging times," he says. "The support from our customers has been overwhelming." Serving more than 25,000 meals and counting to front-line workers and first responders has allowed Sungkamee to keep his back-of-house staff fully employed, and has gained him local news coverage and much good will. In addition, more potential customers have been introduced to the restaurant's distinctive Southern Thai cuisine, and Sungkamee plans to continue the effort moving forward. "This has been much more than just a token of our appreciation for the neighbors."
The information provided is based on a general industry overview, and is not specific to your business operation. Each business is unique and decisions related to your business should be made after consultation with appropriate experts.