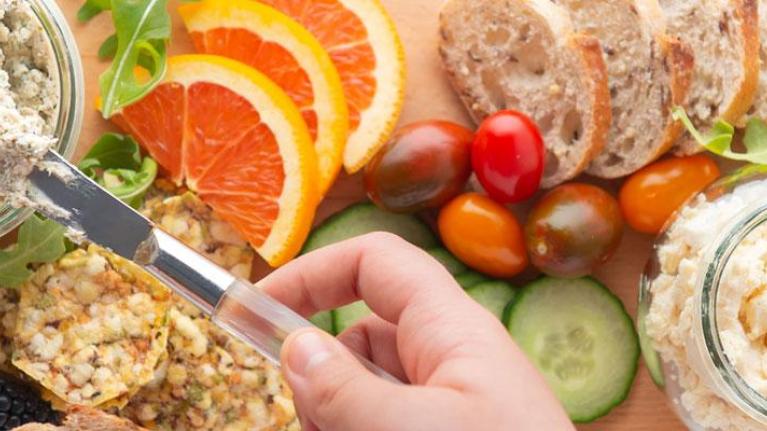 Vegan Cuisine Soaring in Popularity
September 1, 2020
Plant-based foods are hugely popular. Get ahead of the wave and feature vegan dishes—no animal products whatsoever. Its trend line is up 97% in the past four years!
Interest in vegan food is skyrocketing, and not just for ethical reasons. According to Datassential, vegan has grown 97.1% over the past four years, and now appears on 14.4% of U.S. menus, as more consumers embrace plant-based dining. Interest is particularly strong among younger consumers as well as females, and is strongly associated with health-and-wellness and sustainability/environmental preferences.
Used to signify a product that includes no animal products, the term vegan is regulated by Vegan Action on packaging. Although the Certified Vegan logo is not yet on every vegan product, it does currently appear on thousands of products manufactured by more than 1,000 companies.
Datassential reveals that 4% of consumers in a recent survey practiced a vegan diet, which proscribes not only meat but also eggs, milk and milk products, and honey. But it's equally important to these diners to consume food that's fresh, flavorful, authentic, and healthy.
Root vegetables such as beets, carrots, parsnips, celeriac, and potatoes add heft to vegan soups, stews, and other recipes
Look into vegan sauces such as salsas, vegetable coulis, nut sauces, and vinaigrettes and other dressings, as well as condiments including mustard, hot sauce (for example, harissa and sriracha), and infused oils to add flavor and premium appeal to vegan items
Pasta, pizza, and salads are naturals for plant-based recipe creativity, using plant-based cheese and meat analogs such as bacon if desired
Experiment with vegan cheese; there are many more plant-based varieties available now, from soft fresh cheese like herbed cream cheese to hard aged varieties similar to Parmesan
Deploy full-flavored ingredients like ginger, chiles, dried fruit, and plenty of herbs and spices to provide a peak experience
Mushrooms including not only the familiar white button variety but also portobellos, crimini, and shiitake mushrooms provide meatlike flavor, texture, and umami to vegan specialties
Investigate plant-based meat substitutes including burgers, crumbles, sausage, chicken, seafood, and other ready-to-use items
Beans and grains such as garbanzos, lentils, quinoa, and farro are two alternative (nonanimal) proteins that also fit with current plant-based dining trends
Ethnic fare—Indian, Syrian, regional Mexican—provides a wealth of authentic inspiration for vegan menu items
Use texture to add interest to vegan cooking, including nuts and seeds (which also contain protein), crispy raw vegetables, breadcrumbs, or cooking techniques like frying and searing, which create crusty surfaces
Unusual vegetable varieties like Lacinato kale, acorn squash, heirloom tomatoes, and Romano beans add interest as well as premium appeal
Add plant-based protein options (such as falafel, tofu, and meat analogs) to customizable platforms including salads, stir-fries, sandwiches, and bowls
Pickled, marinated, and fermented foods like pickled red onions, marinated tofu or mushrooms, and various kinds of kimchi add flavor and interest to vegan salads, sandwiches, and grain bowls
Consider meaty jackfruit as a plant-based substitute for carnitas in tacos and other Mexican menu items, or in barbecue specialties like pulled "pork"
Roast, sear, and grill plant-based ingredients to build flavor
Vegan ice cream can be used to create indulgent smoothies, shakes, and frozen desserts
Sources: Datassential SNAP! Vegan (2020); Datassential Keynote Report, The New Healthy (2019)

The information provided is based on a general industry overview, and is not specific to your business operation. Each business is unique and decisions related to your business should be made after consultation with appropriate experts.
DID YOU KNOW?
The four-year menu prognosis for vegan is very strong, and in fact is expected to outperform 100% of all other foods, beverages, and ingredients over the next four years
Retail dollar sales of vegan products grew 20% in 2018, with sales topping $3.3 billion, compared to growth of only 8% in 2017
Source: Datassential SNAP! Vegan (2020); Plant-Based Food Association/Nielsen (2018)
THE PREMIUM ANGLE
Datassential has found that consumers are willing to pay a premium for vegan menu items, in some instances quite significant. For example, a hot sandwich priced at an average of $8.50 could command $9.75 if it were made with vegan ingredients, while an entrée stew, soup, or chili could support a price upgrade from $9 to $12.50.
Source: Nestlé/Datassential, Plant-Based Eating (2018)