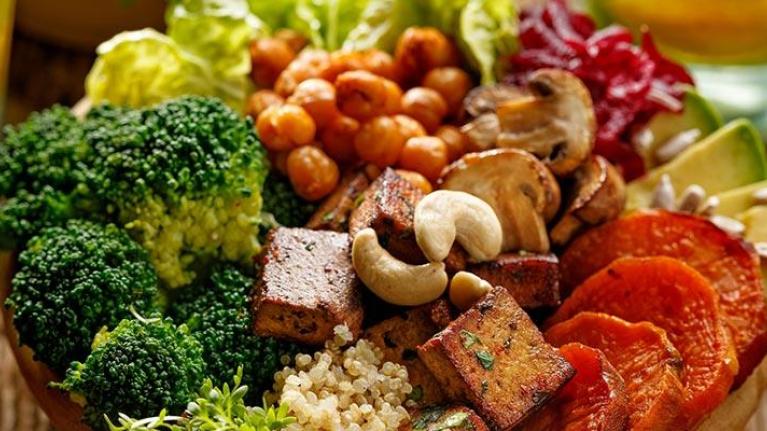 Nutrition, Health & Wellness
Keep Pace With the New Definition of Healthy Eating
October 19, 2018
The demand for healthful food is growing, but the trend has evolved. Find out how it's changed and how you can easily respond.
Healthy food sure isn't what it used to be. The consumer's definition of what's healthy is continually evolving, and food service operators must be innovative with their menus in order to keep pace with changing demands.
In fact, according to Technomic, 42% of consumers overall (and 51% of younger consumers) say their definition of health has changed over the past two years. They are increasingly taking a more individualized and holistic approach to health, including mental, emotional, and physical well-being. Larger issues of sustainability, environmental responsibility, and animal welfare also factor into the mix of what healthy means today.
The good news is that operators are being rewarded for their efforts: while food service occasions are often still viewed as an indulgence, 60% of those consumers surveyed by Technomic consider health when they make a dining decision, and 37% say they're more likely to visit a restaurant with healthy options, even if they don't order them.
The key, as always, is for operators to offer a balance of flavor, value, and healthier choices that appeal to consumers who are increasingly sophisticated about both food and well-being.
An emphasis on plant-based foods such as fruits, grains, and vegetables, as well as plant sources of protein (nuts and seeds, beans, legumes).
Ethically sourced animal proteins, such as grass-fed beef, humanely raised pork, cage-free eggs, and sustainable wild or farm-raised seafood.
Clean-label products and ingredients (generally described as natural, minimally processed, and "free from" additives such as artificial flavors).
Transparent sourcing and nutritional information, through menu callouts, website collateral, and server training.
Allergen-free options for those diners who are avoiding gluten, dairy, nuts, soy, and other foods.
Vegetarian and vegan options that offer the same flavor, satisfaction, and global excitement of other menu items.
Foods with specific health benefits, such as salmon (omega 3s), avocado (potassium and fiber), chia seeds (calcium), and kale (fiber, protein, and vitamins A, C, and K).
Seasonal and locally sourced foods.
Customizable platforms that allow patrons to set their own portion size and choose or avoid ingredients as they see fit, including salads and bowls.
Better-for-you beverages including juices, smoothies, tea, kombucha, and shakes, as well as responsibly sourced coffee.
Generous use of flavor via herbs and spices, healthy oils, chiles, vinaigrettes, broths, fermented foods, and condiments.
Lower-fat, high-impact cooking techniques including grilling, roasting, rotisserie, and searing.
Source: Technomic Inc. 2016 Healthy Eating Consumer Trend Report
The information provided is based on a general industry overview, and is not specific to your business operation. Each business is unique and decisions related to your business should be made after consultation with appropriate experts.
GET STARTED
Nestlé Professional offers a number of gluten free food and beverage products.
DID YOU KNOW?
Baby boomers are driving a rebound in interest for low-cholesterol and low-carb items, and are also especially likely to avoid high-sodium items. As these consumers' methods for maintaining vitality shift with age, they will increasingly focus on traditional health claims.