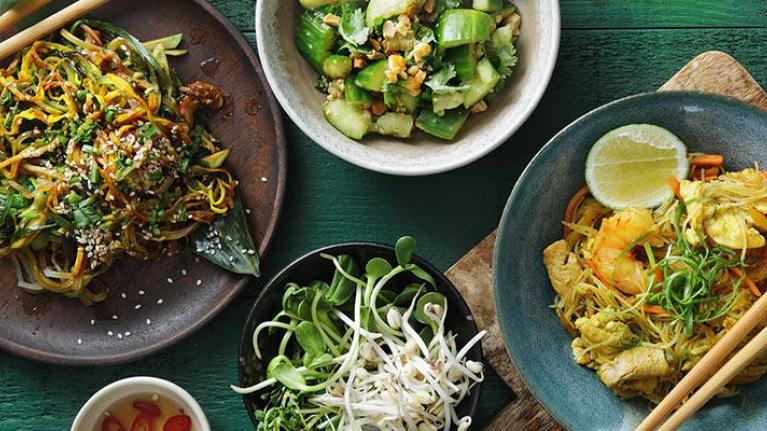 Menu Influences: Korea and Vietnam
December 1, 2019
Add new Asian excitement to your menu. Customers will love it. Interest in Korean and Vietnamese foods is soaring. They're up 35.7% and 24% respectively, since 2015. 
Looking for new ways to add global excitement to the menu? Look no further than Korean and Vietnamese flavors and ingredients.
In fact, according to Datassential, Korean is up 35.7% on U.S. menus since 2015, while Vietnamese advanced 24.1% in the same period. From high-impact products like condiments to approachable menu specialties, these Asian cuisines are trending big right now.
Korean on the Upswing
Korean mashup concepts have been on the radar since Roy Choi first introduced the Korean taco via his trendsetting Kogi BBQ food truck in 2008. Since then, the picture has expanded considerably.
Gochujang (+229.3%) – Made from fermented soybean powder, red pepper powder, and rice, this spicy-sweet paste is a condiment and seasoning in Korean cuisines, used for roasted meats, seafood, soup, and stews, but creative chefs are adding it wherever a signature flavor kick is desired.
Kimchi (+43.1%) – Cabbage and other vegetables fermented with chili powder, scallions, garlic, and ginger are ubiquitous as a side dish and recipe ingredient in Korean cuisine, but the spicy condiment now appears on everything from burgers to chicken wings.
Bulgogi (+41%) – The most popular of an entire group of Korean-style barbecued meats—marinated beef or pork that is grilled or pan-fried, often with garlic, onions, and green peppers—is making the transition to mainstream menus as a sandwich/taco filling, salad topping, and even a pizza ingredient.
Bibimbap (+23.9%) – It stands to reason that this popular meal-in-a-bowl of rice topped with meat, vegetables, fried egg, and customizable spicy condiments would become an easy crossover to trendy mainstream menus.
Vietnamese Goes Viral
The freshness and flavor of Vietnamese menu specialties have much to recommend them to health-oriented U.S. diners, especially Millennials and other adventurous food fans.
Banh Mi (49.1%) – The quintessential fusion sandwich via Vietnam's French Colonial history consists of a crisp baguette stuffed with various meats and quick-pickled vegetables, plus jalapeños and fresh cilantro.
Pho (36%) – Creating major craveability, this noodle soup can be topped with anything from various cuts of beef and meatballs to chicken to vegetables, but always comes with do-it-yourself add-ins such as fresh herbs, bean sprouts, sliced jalapeños, and lime wedges.
Noodle Salads – Bun (pronounced "boon") is the collective name for a group of dishes featuring chilled rice noodles topped with ingredients like shrimp, crispy shallots, julienned vegetables, peanuts, cilantro, and mint, and other fresh ingredients in a lively dressing.
Goi Cuon (29.8%) – Wrapped in translucent softened rice paper and never fried, Vietnamese spring rolls hold fresh veggies and shrimp or another protein and are served with a peanut dipping sauce that's often flavored with hoisin sauce.
 
Sources: Datassential SNAP!, Korean (2019); Datassential SNAP!, Vietnamese (2019); Datassential SNAP!, Gochujang (2019); Datassential SNAP!, Kimchi (2019); Datassential SNAP!, Bulgogi (2019); Datassential SNAP!, Bibimbap (2019); Datassential SNAP!, Banh Mi (2019); Datassential SNAP!, Pho (2019); Datassential SNAP!, Goi Cuon (2019)
The information provided is based on a general industry overview, and is not specific to your business operation. Each business is unique and decisions related to your business should be made after consultation with appropriate experts.
KOREAN MENU IDEAS
TRY THIS
Use fries as a platform for Korean condiments like chili spice, gochujang ketchup, or kimchi aioli

Menu a burger topped with kimchi and a fried egg

Add bibimbap to the menu as a Korean Rice Bowl
VIETNAMESE MENU IDEAS
TRY THIS
Serve spring rolls as a shareable do-it-yourself platter with rice paper and various fillings with dipping sauces, so patrons can roll and flavor their own
Menu a breakfast banh mi using scrambled eggs as the protein component
Add a Vietnamese cold noodle bowl to a customizable bowl platform