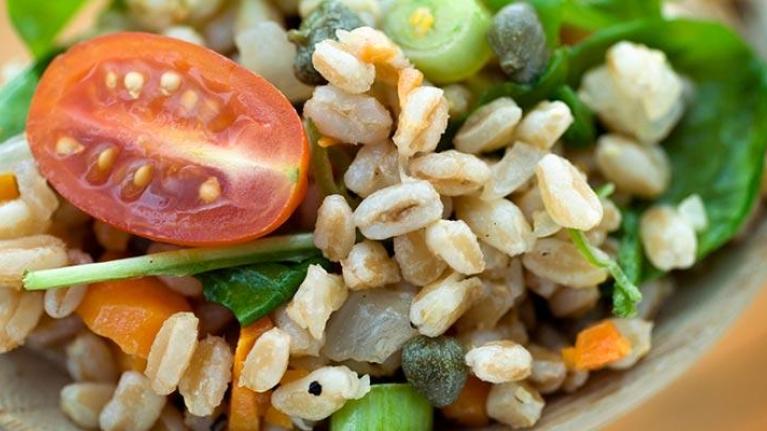 The New Definition of Salads
April 14, 2015
Salads can be focused on greens, noodles, even proteins. You might be surprised at what's going in the salad bowl these days. Learn what's trending around the country.
Salads used to be a fairly simple menu category, encompassing perhaps a side salad with lettuce, tomato, and cucumbers, and a main course chef's salad.
Say goodbye to all that. Today a salad can be anything from a room temperature shared plate of roasted tri-color carrots with toasted cumin vinaigrette, to a tossed-to-order creation encompassing all of a guest's favorite customized ingredients.
Crossover Salads
Today's salads are transforming menus and can comprise almost any ingredients, especially as shareables, small plates, and increased creativity with produce, beans, and grains. If it walks like a salad and it talks like a salad, it can be enjoyed like a salad, even if it's menued as a main course or appetizer. 
For example:
Thai Buckwheat Noodle Salad (avocado, mint, daikon radish, Thai basil, roasted mushroom, cashew, spicy sesame, nam pla) – Flower Child, Scottsdale, AZ

Roasted Carrot Salad with Arugula and Mint Pesto – Ici, New York City

Teriyaki Salmon on Noodle Salad – McElroy Common, Boston College

Raw Sugar Pumpkin Salad (Xertoli almonds, dates, sardo, jalapeño brown butter) – Alden & Harlow, Cambridge, MA

Quinoa Salad (radish, avocado, tomato, almond, cucumber, lime vinegar) – Circa 59, Riviera Palm Springs Hotel

Chipotle Cowboy Salad (romaine, roasted chicken, pepper Jack cheese, black beans, cilantro, crunchy onions, chipotle vinaigrette) – Just Salad, New York City
Try This: Jazz up dressings with Minor's® Latin flavor concentrates, including Red Chile Adobo, or Thai-style curry pastes from Maggi®. 
Classics Still Reign
High-demand salads like the Caesar and the Cobb are still going strong, but often there's a twist or an upgrade that makes them signature.
Salad
Twist
Caesar

- Different green, such as kale, frisée or grilled romaine

- Adding an à la carte protein topping

Cobb

- Presenting it as a tossed, rather than a composed salad

- Varying the classic ingredients of turkey, blue cheese, avocado, and hard-boiled eggs (ie, smoked turkey, poached egg)

Nicoise

- Using hot grilled tuna or another fresh fish

Wedge Salad

- Heirloom iceberg and/or tomatoes, upgraded bacon (ie, house-cured)
Custom Creations
The customization megatrend has hit salads in a big way, and that doesn't just mean the salad bar. Tossed-to-order salads like those offered at The Salad Bowl, in Kitty Hawk, NC, or Chop Stop in Burbank, CA, are the next generation of the self-serve bar, allowing customers to choose their own greens, toppings, dressing, and more.
Build-your-own salad concepts have proven particularly successful in the growing fast-casual segment, with its emphasis on fresh, made-to-order foods with a healthy spin.
At Bo's Steak & Grill, the new fast casual sibling of the Ponderosa and Bonanza steakhouse chains, guests are welcome to create their own salad (PDF) with a choice of eight different toppings, plus à la carte proteins like chicken and brisket.

Uno Fresco, Pizzeria Uno's entry into the f-c arena, offers both Designed for You and Design Your Own salads on its roster of salad choices (PDF). 

Moe's Southwest Grill offers the ultimate mix-and-match menu, wherein customers can choose salad, bowl, burrito, wrap, stack, or more as the platform on which to build and layer ingredients like black beans, tofu, Southwestern slaw, pickled jalapeños, queso, and other toppings.
Did You Know? Nestlé Professional has a new Action Station concept that offers salads. Download the Action Stations Salad Brochure (PDF) and get started today.
Focus on Flavor and Texture
Salads have always been a showcase for different flavors and textures, all available in one delicious bite. Now the ante is being upped with ingredients and techniques that bring a little more of everything:
Sweet – dried and fresh fruit; sweet/spicy dressings
Crunchy – toasted nuts and seeds; unusual croutons
Creamy – poached or fried egg, goat cheese 
Salty – bacon, anchovies, premium blue cheese, or Parmesan
Chewy – distinctive grains, smoked proteins, noodles