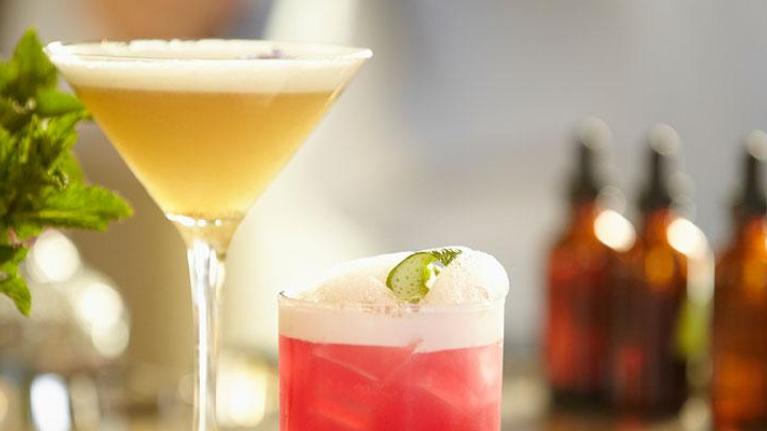 Signature Cocktails Lead Beverage Trends
February 2, 2015
Cocktails are back in vogue. Discover the very latest ideas, along with classics that have gained new popularity. We have a roundup of trends, tips, and recipes to help make your bar program a success.
It's enough to drive a customer to drink—the sheer diversity and appeal of the adult beverage marketplace, that is. Food service operations that serve wine, beer, and spirits of any kind are upping the ante on their beverage programs, both in terms of offerings and service standards.
And why not? Profits and adult beverages go hand-in-hand. According to Technomic, in fact, alcoholic beverages:
Enhance customers' perception of enjoyment when dining out

Increase the likelihood that they will return for a repeat visit
They also have the ability to set an operation apart. That's the reason why so many forward-thinking restaurant chains (like Texas Roadhouse and McCormick & Schmick's) are taking a cue from independents by doubling down on their beverage alcohol options, and why so many independents (Saxon + Parole, New York City; Eventide, Portland, ME) are putting increasing emphasis on signature cocktails and bar programs.
Get Started: Ramp up a Bloody Mary with one of Minor's® signature Latin flavor concentrates, such as Fire Roasted Poblano.
The operative word is signature, just as it is with the food portion of the menu. A good bartender will pay attention to the flavor, appearance, and even the texture of a drink, just as a chef in the kitchen will build a winning food item. While you need to offer popular standards like Scotch and soda or a Cosmopolitan, a one-of-a-kind cocktail will do wonders for sales. It doesn't have to be a crazy-complicated or gimmicky drink, either; a twist on a classic, like the House Old Fashioned made with single-cask cognac and two bitters at Bar Agricole, in San Francisco, is more than enough to stake a reputation.
WHAT'S HOT IN COCKTAILS
• The return of the classics, yet again (Manhattans; Negronis; gin and tonic)
• Barrel-aged and batched cocktails
• Micro-distilled and artisanal spirits
• Lower-proof imbibes (including wine- and beer-based cocktails)
• Fruity flavors from lime to coconut
• South-of-the-border spirits (tequila, mezcal, and South American products like Pisco, from Peru)
• Spicy flavor profiles (from Sriracha-rimmed glasses to chile-infused spirits)
• Tiki drinks
• Amaro and other bitter libations
• Punches, flips, and other speakeasy-era specialties
• House-infused spirits, housemade bitters and more made-in-house specialties