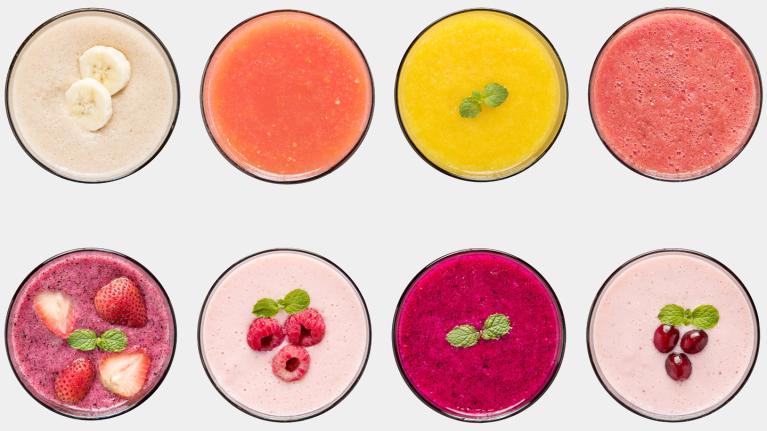 Get Ready! It's Smoothie Season!
July 6, 2022
Up to 67% of consumers love/like smoothies. They are refreshing, healthy, portable and make a great snack or meal addition. Here are some ways on how to profit from the demand.
They're refreshing, portable, appeal to consumers seeking better-for-you alternative beverages and can help maintain operating costs instead of driving them higher. Yes, smoothies can do all this, and more.
And yet, there is a lot of white space out there when it comes to these popular beverages. Customers love smoothies—67% either love or like them, according to the latest data1—and yet they are currently only found on 8% of non-alcohol beverage menus and rank way down the list of most commonly menued non-alcohol beverages, at No. 34.2
Operators who do serve smoothies have a breathtaking choice of ingredients today to tap into (see below). Smoothies truly are one of the most versatile beverages around. As a result, they can be made to fit virtually any menu daypart, either as meals in themselves, snacks, a to-go breakfast for the commute, or as afternoon pick-me-ups. They also lend themselves well to LTOs (limited-time offerings) and as a vehicle for seasonal specialties. Fruits in particular, from fall's apples and pears to summertime's berries and stone fruits, speak to the kitchen's commitment to freshness and sustainability.
Smoothies also fit multiple channels. For example, they are great to highlight in a made-to-order station for catering, and in cafeteria settings such as colleges and employee dining rooms. They're also perfect to stock in grab-and-go cases for convenience. 
And, in these times when budgets are being stretched thin, smoothies can be exceedingly cost-efficient. They represent a great way to cross-utilize and repurpose ingredients such as produce and dairy, particularly an overabundance of vegetables or fruit that are under- or overripe for other applications. And their seemingly endless customizability provides flexibility when it comes to upcharging. For example, the average price of a fruit smoothie today is $5.26, but add-ins, like a dash of protein, can kick that up to $6.28.3
Speaking of vegetables, smoothies also fit into one of Datassential's culinary megatrends this year: "Veggie-Packed." "Everyone knows kale and spinach work well in smoothies," the company says. "Smoothie lovers have been adding many other vegetables such as beets, beans, lettuce, and cauliflower." Seen on menus are a Pumpkin Spice Chickpea Chiller, a Blue Magic "with a cauli swap" (tip: make any smoothie lower in sugar and higher in fiber by swapping 1/2 a banana for cauliflower), a Just Beet It, and a simple Zucchini Smoothie.2
Functional ingredients are on-trend and while smoothies have long been a way to mask functional ingredients in a sweet treat, today those added benefits are taking center stage. Examples include a Pineapple Turmeric Smoothie and a Strawberry Fields Forever with cordyceps mushroom"—items that include the functional ingredients right in their names or highlighted in their descriptions.2
And let's not forget how well they translate to social media. Smoothies and their relations (like freezes and slushies) tend to appeal to younger social media-savvy diners. Have one of your smoothies go viral and that drives traffic. Datassential also recognizes "Rainbow & Layered" as another of the food megatrends today. "Visually stunning options always appeal and even more so if they are packed with nutrients from superfoods and other health-forward ingredients," the company says.2
Here are some additional ideas to help you profit from this ever-popular beverage:
Non-alcohol cocktails, otherwise known as mocktails,

have been all the rage lately.  Take advantage of this trend by naming your smoothies after some popular ones or including similar ingredients. One example seen on a menu is a Hurricane Smoothie made with passion fruit, pineapple, orange juice, and sweet dark cherries to make it taste like the cocktail it's named after.4

The grab-and-go meal-replacement convenience

and energizing quality of smoothies make them a good item to offer for breakfast, especially as more workers return to the office. Opportunities exist to capture more of the breakfast occasion overall

.

Just 10%  of breakfasts are consumed away from home, recent stats show, compared to 45% for lunch and dinner.5

Yogurt is considered one of the more healthful smoothie ingredients.

Make your smoothie more on-trend by replacing dairy-based yogurt with plant-based. Nondairy yogurt as a category can feature any number of alternative milks as the base, but some more commonly found alternatives include coconut, oat, soy, almond, and cashew6

As a sweetener, one ingredient to consider is honey.

Driven by industrywide trends such as a move toward more natural sweeteners and a variety of newer innovations, honey is projected to grow 9% on menus over the next four years7

Lavender has increased 66% on menus

over the past four years. Like other fragrant herbs, lavender has slowly made its way into the culinary space. The herb adds color and liveliness to beverages. The key to keeping your food from tasting like your mom's favorite hand lotion,

Bon Appetit

says, is using culinary lavender7

Smoothie Bowls are a growing trend.

They are basically what they sound like, smoothie ingredients in a bowl rather than whipped up in a blender, and can be topped with granola, seeds, and dried fruit. One menu example: a Triple Berry Acai Bowl, made with Acai topped with fresh strawberries, blackberries, blueberries, and housemade granola. This particular one makes an interesting food/beverage combo, served with whole grain artisan toast topped with almond butter and Maldon sea salt on the side2

Smoothie ingredients just catching on include:

prickly pear, romaine, guarana, maple syrup, cashew milk, tahini, oat milk, cayenne, wheatgrass, collagen, seaweed/spirulina/algae, guava, coconut oil, celery, cacao, turmeric, maca, pitaya/dragon fruit, taro, agave, cucumber, basil, hemp, nut butter, honeydew, and parsley2
The Top 10 Most Popularly Menued Smoothie Flavors Are:
Flavor               Menu Penetration    4-Year-Trend
1. Strawberry   82.7%                        +7%
2. Banana         66.9%                        +4%
3. Mango          62.7%                        +8%
4. Pineapple     42.7%                        +18%
5. Berry            34.7%                        +5%
6. Blueberry     32.0%                        +29%
7. Coconut       29.9%                        +28%
8. Orange         26.1%                        +1%
9. Raspberry    24.5%                        -6%
10. Peach         24.0%                        +14%
Source: Datassential MenuTrends stats generated April 19, 2022.
Top 10 Fastest-Growing Smoothie Ingredients:
Ingredient              Menu Penetration      4-Year Growth
1. Cold Brew          2.8%                            +992%
2. Granola             4.0%                            +297%
3. Bean                  2.8%                            +264%
4. Coconut Milk     7.6%                            +198%
5. Matcha              5.8%                            +185%
6. Lychee               3.5%                            +178%
7. Cocoa                2.8%                            +173%
8. Oat                     2.8%                            +173%
9. Almond Milk      12.3%                          +170%
10. Vegan              5.3%                            +161%
Source: "The World of Smoothies," by Datassential.
Sources: 1. Datassential SNAP! (2022). 2. Datassential The World of Smoothies (May 2021). 3. Technomic Ignite Menu, Frozen Beverage U.S. Menu Trends (Q4 2021). 4. Datassential Trendspotting, Volume 107 (February 2022). 5. Datassential Trendspotting, Volume 100 (April 2022). 6. Datassential Trendspotting, Volume 106 (January 2022). 7. Datassential Trendspotting, Volume 108 (March 2022).
The information provided is based on a general industry overview, and is not specific to your business operation. Each business is unique and decisions related to your business should be made after consultation with appropriate experts.