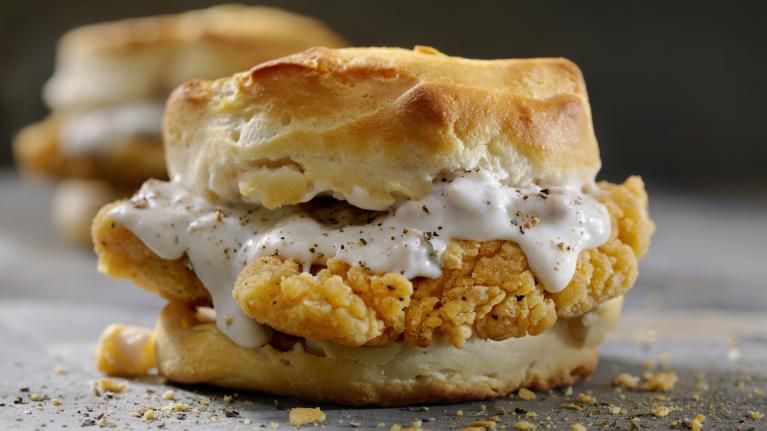 Sure-Fried Chicken Sandwiches: Golden Brown Success
January 3, 2022
Fried chicken sandwiches are a springboard for creativity. What will make yours stand out? The roll, the condiments, the spices? Learn what styles are selling best. We have tips.
Fried chicken sandwiches are a new gold standard across the foodservice universe—the crisp, crunchy builds scratching their way into burger territory and tabbing up big sales in nearly all segments from QSR to fast casual, colleges and universities, B&I, casual dining, food trucks, ghost brands, and even pop-ups. As menu stars go, they pretty much have it all—a familiar, consumer-approved package that gives operators a friendly food cost and creative leeway to spice things up with lively ingredients.
Popeyes 2019 launch of its wildly popular Fried Chicken Sandwich helped fast-forward the trend. With sales brisk enough to boost the chain's same-store sales 38%, the industry took notice and then got busy creating variations on the theme of this success story. Driven by high consumer interest, sales remain strong and the creativity found in the form even stronger. The essential components are simple and pretty much follow the same general format: deep-fried boneless chicken, a bun, sauce or condiment, and fresh ingredients such as lettuce, tomato, and pickles. But that structure leaves room to innovate as this basic build-a-sandwich blueprint shows.
Chicken: Boneless for sure, often whole-muscle breast but dark-meat thighs also are a possibility, with food cost one determination driving the decision. Brining, marinating, or soaking in buttermilk add flavor, sometimes subtle, other times more pronounced such as when the brine is pickle juice or spiked with hot sauce. Operational side note: the same chicken can do double duty on menus, showing up as chicken and waffles or the protein component atop fried chicken salads.
Coating: Battered or breaded coatings lead the pack. Either way, spice profiles can hold close to the all-American standard via salt, pepper, and garlic powder; go spicy with cayenne, chipotle pepper, or hot sauce; or pick up a foreign accent such as Korean, Indian, or Indonesian.
Bread: Brioche buns and potato rolls are oft-used choices, either style sturdy enough to handle the sandwich while still having the textural contrast of a soft crumb. Especially for breakfast and brunch, biscuits take the sandwich in a different direction.
Condiments: Plain mayo is the go-to, a match-up that leaves ample room to riff. Regular and hot versions are simple to pull off and so are ethnic flavor profiles introduced via spices, aromatics such as garlic, lemongrass, and ginger, or sauces such as hoisin, sriracha, gochujang, or chutney. For morning meals, honey butter or maple butter bring sweet notes.
Fresh ingredients: Crisp lettuce, often iceberg, is usually joined with a slice or two of tomato. Three or four crinkle cut dills are typical adds, their bracingly acidic finish a cut-through-the-grease foil for the fried chicken. Some versions add coleslaw for flavor and crunch.
Sides: À la carte orders to go with chicken sandwiches appeal to consumers for their on-trend flavor profiles and to operators as easy upsells with strong margins.
• Schmaltz mashed potatoes with rosemary gravy
• Pimiento mac 'n cheese with cheddar and breadcrumbs
• Crispy chili-lime Brussels sprouts
• Dirty fries with parmesan cheese, bacon, banana peppers, and bbq ranch
• Kale slaw with red and green cabbage, carrots, and green onions, rice wine vinaigrette
• Tots with hot sprinkle and diablo sauce
• Southern street corn with chipotle crema, farmers cheese, and bacon
No-Fry Zone
For many consumers, the deep-fried and deliciously crispy thing is the whole point of chicken sandwiches. Others prefer different approaches though, maybe char-grilled for a smoky, juicy finish that shaves fat and calories. Also growing in interest are plant-based options. Both are easy enough to add to the menu lineup, building and finishing the same way as classic fried versions. Having these swap-outs is a smart hedge against veto votes.
The information provided is based on a general industry overview, and is not specific to your business operation. Each business is unique and decisions related to your business should be made after consultation with appropriate experts.