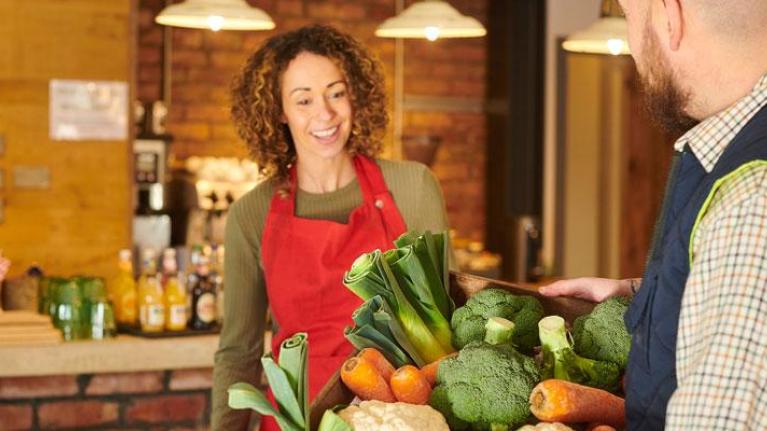 Sustainability, Back in Focus
July 20, 2021
As COVID-19 challenges ease, the foodservice industry is once again focusing on sustainability, rededicating itself to greener operations, ethical operating principles, and environmental initiatives.
Although the pandemic put many sustainability plans on hold in favor of basic survival, operators and suppliers have resumed their commitments in recent months to the health of the environment. Consumers are very much on board. In fact, according to Datassential, climate change is the #3 sociopolitical concern for consumers, cited by 38% of respondents, after healthcare (58%) and the economy (46%). Furthermore, the number of people who said that they would choose a restaurant based on its focus on such environmental issues as sustainability, recycling, and local ingredients increased by a third between 2018 and 2021.1
Not surprisingly, a lot of this momentum depends on demographics—in general, Gen Z and Millennial patrons tend to be the most attuned to environmental and sustainability issues. For instance, 15% of Gen Z and 11% of Millennials describe environmental impact as being their motivation for purchasing plant-based items, compared with 10% of Gen X and 6% of Boomers.1
But sustainability is a multifaceted and often complex issue, covering everything from animal welfare to energy usage to food and packaging waste. Community involvement, charitable giving, hunger in society, employee rights, and corporate social responsibility are increasingly part of the mix. The subject can be daunting.
Technomic research indicates that overall, the top five initiatives that operators want to address for 2021-2022 are2: 
Packaging—safe and green
Energy efficiency
Clean label
Product and ingredient safety
Addressing the issue of GMOs
The operational interests of foodservice businesses and the concerns of their customers can be balanced. It's also important that the subject of sustainability is made approachable to customers. Engaging in several efforts across multiple concern points is often the most successful strategy.
Consumer-facing efforts such as recycling bins, compostable packaging, and the use of more sustainable ingredients mean a lot to consumers, while energy-efficient equipment remains a back-of-the-house issue. In fact, menus have become a primary vehicle for showcasing recipes that minimize waste, promote sustainability, and reduce environmental impact, with reliance on plant-based proteins, sustainably sourced seafood, and local ingredients. Mission statements addressing issues such as animal welfare (for example, cage-free eggs and grass-fed beef) and safety (non-GMO ingredients) are also gaining ground.
As the industry moves to the future in the post-pandemic world, they are incorporating more sophisticated sustainability measures across a broad swath of issues. For example:
In response to the growing waste concern associated with more takeout food, Tufts University is creating informative TikTok videos, recycling guides, and social media posts to teach students about appropriate ways to dispose of dining hall waste
McDonald's new eco-friendly flagship in Australia (the brand's 1,000th store in that country), features sustainable cutlery and packaging, 100% renewable energy, recycling for used kids meal toys, charging stations for electric vehicles, and carbon-neutral delivery service
Purdue University, in West Lafayette, IN, developed its Public Greens concept as a fast-casual, farm-to-table restaurant that serves namesake dishes and build-your-own bowl options. The restaurant is working with the university's College of Agriculture to create an urban microfarm, where ingredients will be grown and harvested
With a goal to cut down on plastic and address the particular problem of straws, Starbucks has introduced lightweight, recyclable strawless "sippie cup" lids systemwide
Taco Bell has announced a goal to make all global consumer-facing packaging reusable, compostable, or recyclable by 2025. The company has made it easier to identify and order vegetarian options by displaying "V" symbols on menu boards and mobile ordering platforms and offering "Veggie Mode" menus on in-restaurant kiosks
Turning to manufacturers and suppliers who also demonstrably support sustainability efforts is also a smart move. For its part, Nestlé has doubled down on its commitment to addressing climate change with its new plan to halve Nestlé's greenhouse gas (GHG) emissions by 2030 and to achieve net zero by 2050—even as its global business portfolio continues to grow. The company is taking a leadership position in making its footprint transparent as it makes it progress clear. For more information on Nestlé's Net Zero Roadmap, click here.
Sources: 1. Datassential, Simply Smarter (2021). 2. Technomic, U.S. Foodservice Planning Program (2021).
The information provided is based on a general industry overview, and is not specific to your business operation. Each business is unique and decisions related to your business should be made after consultation with appropriate experts.
Marketing Sustainability
Choose and promote the use of environmentally friendly takeout packaging in all communications
Showcase sustainability initiatives such as onsite recycling, charitable giving, or ethical employment practices across marketing channels—website, social media, blogs, advertising
Highlight local suppliers and producers such as farms, dairies, and artisanal bread bakers on menus
Post a sustainability mission statement on the website or Facebook
Capture environment-friendly packaging when you post food photos on social media
Partner with local businesses, including restaurants, to hold community events
Did You Know?
62% of consumers say they've tried to reduce their use of disposable or single-use plastics this year.1
65% of U.S. consumers say environmental sustainability is important to them, whether that's by recycling or composting, minimizing food waste, watching water use, cutting back on single-use plastics, or generally being more conscientious of purchasing decisions and how they impact the earth.2
52% of survey respondents say it's important to them that restaurants implement environment-friendly practices.3
Sustainable has grown 33% on menus over the past four years, and 5% in the last year alone.4
The number of people lacking reliable access to sufficient, affordable, and nutritious food grew to more than 50 million in 2020 due to the COVID-19 pandemic.5
Sources 1. Datassential Sustainability (2021). 2. Datassential International Concepts, Sustainable Chains (2020). 3. Datassential International Concepts, Sustainable Chains (2020). 4. Datassential SNAP! Sustainable (2021). 5. ReFED Annual Report 2020.