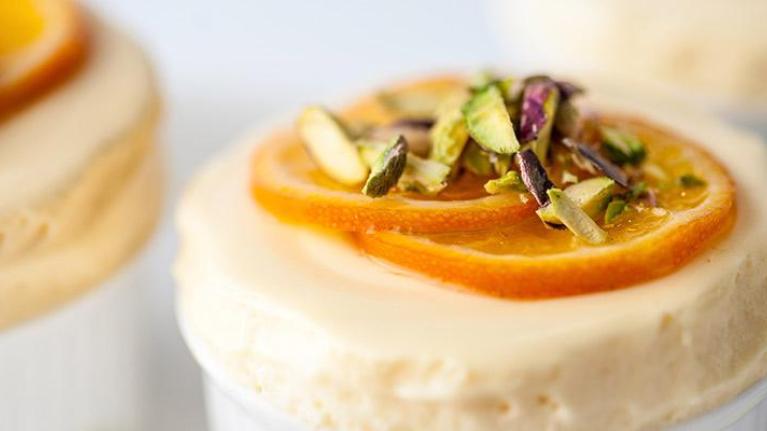 Sweeten Your Profits with Desserts
June 20, 2015
Everyone enjoys a sweet finish to a meal. Give your guests a choice of desserts—mini-sized to mega-indulgent—and you'll enjoy the extra profits. We have suggestions and links, here.
Who doesn't love dessert? Not many customers, and certainly no operators: Dessert is fun, indulgent, and above all, satisfying, as a way to answer a sweet tooth and a means of building sales and profits. That's certainly the motivation behind the fact that, according to Datassential, the average number of desserts on U.S. restaurant menus overall has increased a whopping 28% over the last nine years, or a total of nearly 10 new items per restaurant. That's a whole lotta dessert.
Tops in the category are favorites like mini-desserts, cookies, pies, cakes, and ice cream, but less familiar items like tiramisu, cannoli, skillet desserts, churros, and artisan donuts are getting wider exposure.
The neat thing about desserts is their applicability to just about any daypart—not just lunch and dinner, but also midmorning, midafternoon, and late-night snacks. Sweets are also more likely to be consumed in lieu of breakfast, especially among younger diners.
Seasonal Offerings
Desserts represent a relatively easy way to build seasonality into the sweet side of the menu. This includes not only seasonal fruits, like wintertime citrus and spring's strawberry-rhubarb, but also traditional flavor profiles that tend to be associated with the seasons. For example:
Berries

Peppermint

Maple

Pumpkin

Mango

Peach

Key Lime

Gingerbread

Apples and Pears
Get Started: With Libby's® 100% Pure Pumpkin, it's easy to create seasonal specialties, like pumpkin pie and pumpkin spice cake, as well as year-round desserts and baked goods such as pumpkin scones.
Adult Ice Cream, All Year Round
Ice cream cones and sundaes aren't just summertime treats for the kids. Sophisticated ice cream specialties appeal to customers of all ages, in all kinds of weather. Ice cream enjoys on-trend, signature status in many ways, including:
Ice cream sandwiches made with unique flavors of ice cream and unusual cookie containers, like the deconstructed Negroni cocktail-turned-dessert at Pearl & Ash, in New York City

Unique flavors of ice cream bring the frozen favorite way beyond vanilla, chocolate, and strawberry, from buttermilk blueberry to pineapple coconut jalapeño

Pops and paletas (a fruit-based Latin ice pop) are the ultimate grownup snack

Frozen yogurt (including popular Greek yogurt) and soft-serve are high-value, and often perceived as healthier

Over-the-top sundaes mix ice cream with delicious sauces and toppings for a high-value signature dessert
Mini Desserts
Although some desserts have always been mini (like cupcakes and cookies), the mini-dessert trend is still going strong as more food service operators leverage customer desire to have "just a little something sweet." These petite sweets have been extremely successful, in part because customers consider them portion-controlled by default. And in quick-service venues, in particular, minis also make handy snacks.
Bite-size or bigger options range from house-made and artisanal candies like sea salt caramels and chocolate truffles to Olive Garden's selection of Piccoli Dolci (mini sweets), which have the added advantage of being pre-prepared and ready to serve.
Mini desserts have also proved successful in catering venues, allowing participants to try several different desserts without feeling overindulged. Among the catering break options available at Saint Vincent College in Latrobe, PA, are a Brownie Bar with half-a-dozen brownie and bar-cookie options, and a Mini Cheesecake Bar featuring such flavors as strawberry, coffee, and key lime.
Shareable Desserts
Like minis, desserts positioned for sharing also appeal to the twin consumer drives of indulgence and behaving oneself nutritionally. Of course, almost anything can be shared if two or more diners are determined enough, but certain types of desserts are particularly appropriate for sharing. These include elaborate chocolate fantasies like the Chocolate Pizza served at Max Brenner, a worldwide chocolate retail and restaurant brand with five locations in the United States, and the Triple Chocolate Storm at Flat Top Grill, a chocolate brownie covered with warm chocolate sauce, French vanilla ice cream, and whipped cream.
Operators can aid and abet dessert sharing with simple maneuvers such as labeling a section of sweets that are Big Enough to Share, marketing an item specifically "for 2," having a server ask a party if they would like to share a dessert, or even just placing a napkin with two dessert forks on the table between a pair of diners.
Get Started: Who else but Nestlé to turn to when the subject is chocolate? In addition to our dessert toppings, there's also the entire lineup of Nestlé® Toll House® cookies and morsels.