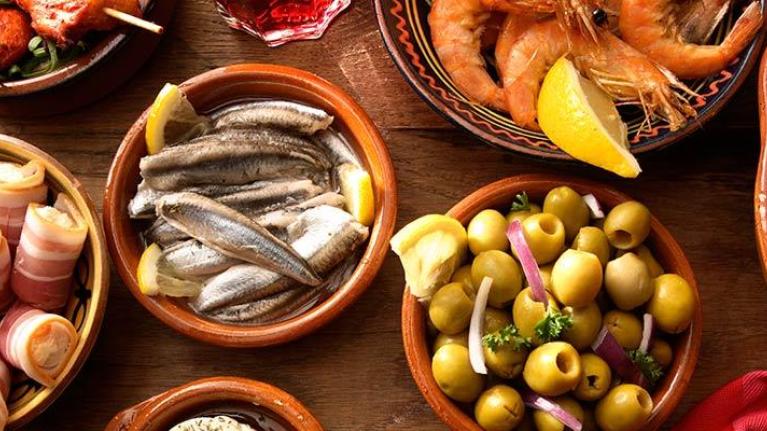 Top 10 Food Trends for 2015
January 29, 2015
Being current on food trends can make a big difference to your bottom line. We've made it easy for you. Discover the Top 10 Trends for 2015.
Every year, we ask our Nestlé Professional chefs and R&D culinarians, executives, sales and marketing experts, and nutritionists to reveal what they're expecting to see more of on menus in the coming months.
There's innovation ahead . . .
All-Inclusive Menus
Customers have so many dietary requests nowadays, between food allergies, health concerns, lifestyle issues, religious restrictions, and plain old taste preferences. For many operators, the key to maximizing sales and keeping guests happy is to provide as many options as possible, including gluten free items, vegan/vegetarian choices, alt-products like soy and nut milk, and selections that satisfy both waist-watchers and comfort-food seekers.
A big university like the University of California at Berkeley must deal with many different kinds of special diets, not to mention keeping more than 36,000 students plus staff and faculty satisfied, in one of the most sophisticated food areas in the country. The award-winning Cal Dining program offers dozens of different retail and residential options throughout campus, each offering a range of options from ethnic items and organic salad bars to late-night breakfast and gluten free pizza—something for everyone, no matter when and where customers choose to dine.
Food with a Story
Farm-raised, Fair Trade, artisanal, hand-crafted. From coffee and lettuce to burgers and desserts, customers respond to ingredients, house specialties, and even entire menu concepts that have a backstory. Calling out the where and when of food speaks to its authenticity and quality, promising better value and an enhanced experience.
Here are some that really count:
Fresh

Seasonal

Specific farms or producers

Housemade

Local/imported

Sustainable
At the Hyatt Regency Greenville, in South Carolina, reformulating the restaurant, called Roost, to a new concept featuring "local, organic, and seasonal cuisine" revitalized the hotel's food service program. Emphasizing the hotel's location in the Southern Piedmont and calling out area farms and artisans on the menu (PDF) brought in more hotel guests and drew the support of the local community as well. A robust program of Twitter, Facebook, and Instagram keeps fans engaged with promotions, daily specials, and other sales-building events.
Global Food Marches On
Thai curries, Latin comfort food, Mexican street fare—The global menu boom marches on. And today it's not as much about "ethnic food" as it is about international influences, the bold flavors and unique specialties of global cooking as interpreted through the lens of a sophisticated, multicultural audience. And that means one-of-a-kind menu juxtapositions—Vietnamese pho and Indian tandoori-style chicken—and creative mashups like Korean tacos and ramen burgers.
Some of the most interesting examples are coming from colleges and fast-casual restaurants (both of which have high demand for vegetarian and vegan menu items, which are prevalent in global cuisine). Students at the University of Texas at Austin, for instance, have plenty of opportunity to sample not only Mexican and Tex-Mex foods, but also everything from Chicken Tikka Masala to Kimchi Soup Bowl. Adya, in the Anaheim Packing District in California, is a fast-casual concept offering the "fresh Indian flavors" of traditional chaat snacks, as well as tandoor-cooked kebabs, pavs (the Indian version of a sandwich), griddled-wrap kaathi rolls, curries, and cooked-to-order breads, upgraded with ingredients like goat cheese, and seasonal organic fruits and vegetables.
Get Started: Nestlé Professional offers a number of boldly flavored products to spice up ethnic menu items, including Maggi® Thai Style Green and Red Spice Pastes, Chef-mate® ¡Que Bueno!® Jalapeño Cheese Sauce, and many of the Minor's® Ready-to-Use flavor solutions.
Healthier Options
The food service industry has been talking about offering healthier options for years now, particularly with respect to mandated labeling laws. And that's good news for consumers who are minding their nutritional Ps and Qs, whether for medical reasons or so they can lose weight and feel better about their overall health.
According to the Johns Hopkins Bloomberg School of Public Health, it's getting easier, as chain restaurants—especially fast food restaurants, where many consumers eat regularly—cut calories and introduce slimmed-down versions of menu favorites.
But there are other methods for answering the demand for healthier menu options:
Whole grain and grain-based foods

Beans and legumes

Fresh fruits and vegetables

"Clean" proteins (grass-fed, free-range, etc)

Smaller portion sizes

Vegan and vegetarian options

Allergen-free foods, including gluten free
Tip: Nestlé Professional offers a number of products based on healthy whole grains and vegetarian preferences, and gluten and sodium free needs.
Customer's Choice (Mix-and-Match)
Letting customers customize: It's one of the most important things an operator can do to ensure success.
And ever since Chipotle made fresh, cooked-to-order food a pillar of its concept, new fast-casual players have introduced their own "have it your way" platforms that are training customers to expect to get whatever they want. Often, there's an ethnic inspiration or a healthy spin behind the choices; for example:
At Merzi, an Indian-influenced fast-casual establishment in Washington, DC, customers choose (PDF) from a base of rice bowl, naan bread, salad, roti wrap or vegetables; a protein; and a sauce or chutney

Santa Barbara, CA-based Backyard Bowls promises "Better Life Through Better Food" with build-your-own acai bowls topped with granola, yogurt, fresh fruit or vegetables, and honey, plus à la carte enhancements such as bee pollen, flax seeds, and spirulina

Asian Box, first launched in Palo Alto, CA, lets customers build a box with various kinds of rice, noodles, or salad, plus protein and add-ons including veggies, "box toppers" such as peanuts or caramel egg, and flavor-building sauces
The beauty of these menu concepts is not only infinite mix-and-match variety, but also that customers can adapt a meal to their preferences and lifestyle—mild or spicy flavors, meat or vegetarian options, a little food or a lot.
Did You Know? Nestlé Professional Action Stations were specifically designed to help you meet customer demand for customization and choice. Concepts include breakfast, dessert, international soup and noodles, and the new Street Fair and Salad modules.
The Sharing Culture
Today's diners, Millennial and otherwise, respond to dining options that offer an experience, rather than just an opportunity to fill up. For many customers, that means finding a place where they can meet with friends and share time together over a meal, a drink or a cup of coffee, or a snack.
There are lots of ways to encourage this.
Bar menus that offer food as well as cocktails, to allow for lingering and mingling

Seating and environments that promote socializing, such as couches, groupings of comfortable chairs around a fireplace, informal counter dining, and communal tables

Technology, such as free Wi-Fi, a TV, or the ability to recharge devices

Family-style and other large-format menu items, including group-friendly drinks, Sunday suppers, and group-size portions

Events such as Monday Night Football, Trivia Night, and other activity-oriented celebrations
Basics Get Better
First it was better burgers, in the form of runaway success stories like Shake Shack and The Counter. Now the principle of offering new and improved versions of ever-popular standards is spreading to pizza, tacos, chicken, sandwiches, bakery-cafes, ice cream, and more. That means fresher ingredients, cooked-to-order quality, and upgraded amenities like wine, beer, and appetizers and sides, all of which customers are willing to pay more for.
Of course, all of this filters into consumer expectations for items like burgers and pizza in more broad-menu food service environments, like casual restaurants and college student center dining.
Try This: Sauces, condiments, marinades, and other flavor add-ons represent an easy means for upgrading "the basics," including sandwiches, steaks, and other grilled foods. Try experimenting with products like Chef-mate ¡Que Bueno! White Queso Sauce or Trio® Cheese Sauce, Stouffer's® Alfredo Parmigiana, or Minor's Latin Flavor Concentrates—as is, or as the base for a house signature.
Produce Forward
Fruits and veggies aren't just a second thought anymore, relegated to the obligatory steamed broccoli side dish or sliced strawberries for dessert. This goes beyond demand from vegetarians and health-conscious diners; many kitchens now treat produce as an ingredient worthy of their best creative efforts.
Part of this has to do with the increased availability of flavorful, interesting fruits and vegetables, including seasonal specialties from local farms and even custom-grown products. For another thing, there's only so many things you can do with a steak or a piece of fish, but a cauliflower can be braised, steamed, fried, roasted, or seasoned in dozens of different ways.
At Tuck Shop, the employee café in the San Francisco headquarters of Dropbox, the daily menu specials include seasonally focused fruit and vegetable sides, such as Seared Salmon with acorn squash purée, wilted rainbow chard, red onion, and parsley-shallot salad with pine nuts, and Whole Roast Chicken with warming spice jus and a fall hash of herbed delicata squash, honeycrisp apples, and celery root

Alden & Harlow, a popular new restaurant in Cambridge, MA, features many vegetable dishes on its dinner menu, including a Raw Sugar Pumpkin Salad, Pickled Verrill Farm Corn Pancake with shishito peppers, Grilled Cauliflower with charred radish and miso butter, Salt Roasted Beets, and Grilled Baby Potatoes with wild mushrooms and crispy barley

The chef at The Elm, in Brooklyn, NY, includes seasonal fruit in every dessert, from Buttermilk Panna Cotta with rhubarb compote, pistachio, and basil to the Japanese Cheesecake with coconut, caramelized pineapple, and lime
Better Beverages
The same trend to elevation that's changing burgers and bakery-cafes is also affecting beverages, both alcoholic and alcohol-free. Customers expect better quality coffee and tea; specialty cocktails; craft beer and interesting wines; and nonalcoholic options above and beyond soft drinks. And, wow, do these options boost sales. In fact, according to one recent study, beverage choices definitely influence where people choose to spend their time and money.
The hallowed tradition of the campus rathskeller is alive and well—and modernized substantially—at Georgetown University in Washington, DC, where the new Healey Family Student Center includes study, meeting, and gathering places in addition to the Hilltoss salad and smoothie outlet and the Bulldog Tavern. This newly imagined pub, now operated by Bon Appétit management, serves an all-day menu of sandwiches, snacks, and other pub fare, as well as a selection of local beer.
It's all part of a larger C&U trend to keep students safe by offering on-campus alternatives to drinking at the local bars, with activities such as pool and music, light fare and snacks, and nonalcoholic beverages.
Get Started: Nestlé beverage brands include NESCAFÉ®, Nestlé Vitality®, Nestea®, Nestlé® Hot Cocoa, and Nestlé® Carnation® Malted Milk.
Small and Snackable
The lines between meals and snacks are blurring, as more consumers choose to eat frequent smaller meals, skip meals, eat on the run, and nosh during nontraditional times. In fact, according to new data from Nielsen, a whopping 91% of Americans partake of a snack daily—and that's a trend many food service operators are staking their claim to.
There are many ways to capitalize on consumer snacking behavior, by serving:
Small plates and shareables

Portable items for takeout

Traditional snack foods, such as pretzels and french fries

Baked goods and individual desserts

Handhelds like hot dogs and wraps

Meal replacement beverages, including smoothies, juices, milkshakes, hot and chilled specialty tea and coffee, and functional beverages

Nontraditional dayparts, such as midmorning, midafternoon, and late-night
Try This: Hot Pockets® are perfect for snacking. These flaky, crispy pockets of dough are wrapped around flavorful fillings like Ham 'n Cheese and Chicken Melt.