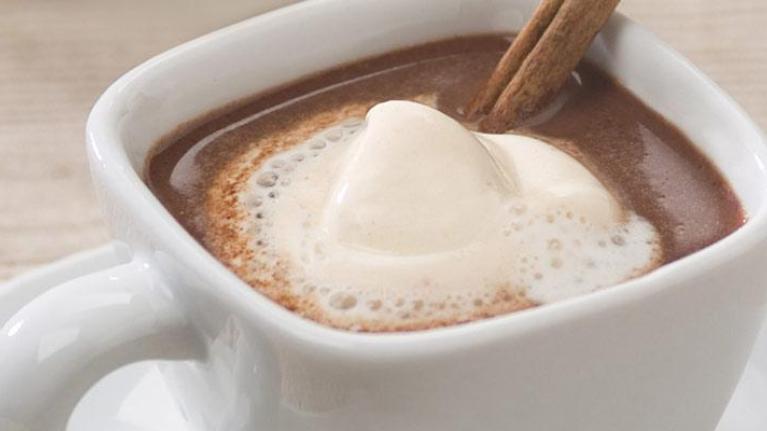 Turn the Heat Up on Hot Beverage Sales
February 6, 2015
When the weather changes, so should your beverage menu. Featuring more hot beverages, chocolate drinks, and even apple cider-based libations will ignite your sales. Virgin or spiked, these soul warmers sell big during the holiday season.
It's time to start planning sales-building specialty beverages for the cooler holiday season coming up.
The holiday season is a great time to create and promote signature beverages that will appeal to consumers at a festive time.
Seasonal beverage programs have been increasing in importance for profit-minded operators who want to attract more sales and customers. Like menus in general, temperatures and product seasonality are driving beverages as well, both alcoholic and non-alcoholic, with sturdier, more warming options and ingredients that speak to the weather.
Find More Articles about other food and beverage trends.
Seasonal Fruits . . . and Even Vegetables
With interest in traditional carbonated beverages on the wane, many operators are turning to other kinds of refreshers, including juices—a perfect vehicle for seasonal promotions. While summer is the season most closely identified with fresh produce, there are still lots of options for the cooler weather ahead, including fruits like pomegranate and all kinds of citrus, which are at their best in the winter. Grapefruit, blood oranges, and tangerines are all wonderful in the wintertime, whether used as a mixer for cocktails or starring in non-alcoholic specialty drinks. Many of these juices are also high in antioxidants, vitamin C, and other health-giving attributes.
Other cool weather fruit options include apples (the base of classic cider) and pears. Speaking of cider, this is an often-overlooked beverage—plain or spiced, virgin or spiked—for a holiday beverage menu.
Even pumpkin, that great harbinger of harvest time, can be used in beverages, blended into smoothies and ice cream drinks.
Winter Warmers
It goes without saying that winter is the time to double-down on coffee and tea programs as well as other warming beverages like hot chocolate. Upgrading your coffee and tea program—not just with better-quality coffee and tea but also with "accessories" like flavored creamers, a variety of sweeteners, and a good supply of appropriate cups and mugs—is a worthwhile winter project. Specialty hot beverages like latte and chai also do especially well in cool weather.
Hot chocolate is gaining popularity as a comforting winter warmer, and not just with kids. City Bakery, a popular upscale café/coffee shop with two locations in Manhattan, has become famous for its annual wintertime Hot Chocolate Festival, with an array of daily special flavors such as banana and cinnamon. And you'd better believe that people who come in for a warming cup of cocoa also leave with one of the bakery's signature cookies, pastries, or other baked specialties.
Remember that coffee, tea, and hot chocolate can also be used in spirited drinks like Keoke Coffee or hot chocolate with peppermint schnapps—which do double-duty as after-dinner beverages or an indulgent alternative to dessert.
Signature Cocktail Programs and More
Signature cocktail, wine, and beer programs are making news in every segment—small wonder when a well-crafted cocktail or a glass of wine can command $8 or $9 or more. In fact, a recent survey of more than 1,600 professional chefs conducted by the National Restaurant Association ranks micro-distilled/artisan liquor, culinary cocktails, and organic wine among the top 20 culinary trends. Also high on the list are food/alcohol pairings, craft and specialty beers, organic cocktails, muddled cocktails, and wine and beer flights.
House infusions are coming on strong, where bar chefs steep vodka, brandy, or another spirit with any number of flavoring ingredients, from fruits like lemons or pear to a variety of spices and seasonings, such as star anise, rosemary, or hot peppers. Even simple syrup can be infused with fresh natural ingredients to help build a signature cocktail. And the ever-popular vodka-based Cosmo or martini can be recast for winter weather with such seasonal flavors as chocolate, licorice, and peppermint.
Wine and beer are also showing up as the base for lighter and lower-proof cocktail specialties. For instance, Henrietta's Table at the Charles Hotel in Cambridge, MA, serves a Mead Manhattan, made with cassis mead instead of sweet vermouth. Wine-based cocktails like Fire Wine (red wine paired with an energy drink or mulled wine (red wine combined with spices) also brings a warming trend to bar menus.
Now is also a great time to promote special holiday cocktails made with sparkling wine—not just the popular Bellini or Kir Royale, but also comeback classics like the French 75 (champagne with cognac or brandy and sweetened lemon juice).
Details like presentation count with cocktail service, too. Sugared rims, a float of fresh mint, the proper ice cubes—not to mention the proper size and shape of glass—make a drink taste better and command a premium price. Pouring an expertly mixed martini from a rolling cart turned all kinds of heads in Manhattan when Danny Meyer started doing it at his elegant Eleven Madison Park restaurant. The idea can easily be replicated with a frosty shaker, poured into a chilled garnished glass right in front of the customer.