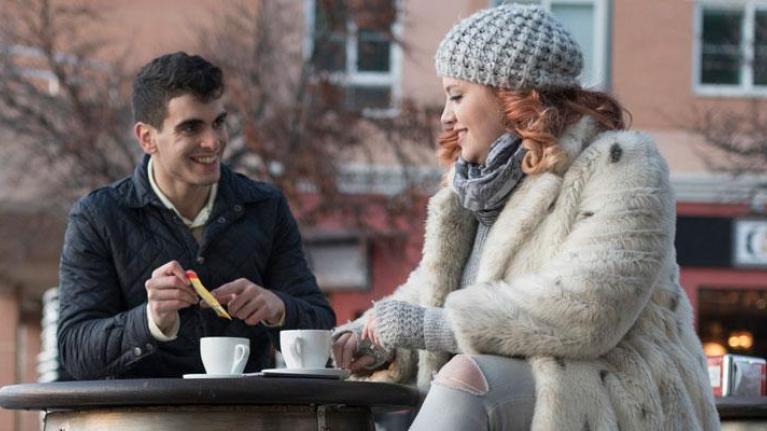 Warm Up Outdoor Meals with Hot Beverages
November 1, 2021
The winter forecast predicts a flurry of hot beverage sales. With another year of expanded outdoor dining, they'll be welcome buffers from the chill. 
Al fresco winter dining in igloos, cabanas, tents, and heated spaces will again be part of the plan at many restaurants this year, the amenity welcomed by customers for enhanced safety and by operators for added capacity. And sure, these heated spaces are tricked out to be cozy but they're still prime settings for warming up with hot beverages. Start with the stalwarts of coffee, tea, cider, and cocoa and build out from there. Operationally simple, add-ons and enhancements expand the appeal, possibilities and profits. 
Coffee
Perfect: French press pots draw guests into the ritual of coffee and engage them in the process, making them strong additions to beverage menus. Offering guests a few choices of blends ups the experience even more.
Perfect Plus: Coffee is no stranger behind the bar, its complexity quick to find affinity in the spirits world. Irish coffee and hot white Russians are old-school favorites, while mixologists adeptly create boozy combinations with rum, amaretto, Cognac, cachaça, and anisette among the options.
Hot Cocoa
Classic: Whether from a packet or housemade, send drinks to the table topped with whipped cream, caramel syrup, and a pinch of sea salt. For an extra-easy transformation, mix with brewed coffee instead of water or milk; the mocha served as-is or customized with syrups such as caramel, mint, chai and hazelnut.
Enhanced: Spiked hot cocoa is pretty hard to resist, the deep flavor compatible with lots of alcoholic additions. Irish whiskey, rum, and bourbon are easy grabs but modern mixology takes it further with amaros and liqueurs. For more punch, try blending with tahini or plant-based milk or creamer products such as oat or almond.
Tea
In the Bag: Besides water, tea is the world's most widely consumed beverage and the appeal is especially pronounced in restaurants where the ritual of selecting a variety and letting it steep seems just right. Also worth considering: Moroccan mint tea and Russian spiced tea with backnotes of orange and warm spices such as cinnamon and clove.
Out of the Box: Two drinks from the tea family are growing in interest, especially with younger demographics such as Gens Y and Z. Sprightly green matcha, made from finely ground green tea leaves, is purported to have lots of built-in health benefits; lattes are especially popular. Kombucha, tea fermented with beneficial yeasts and bacteria, can go deliciously hot or cold.
Cider
Sweet: Infused with spices and gently warmed, hot apple cider is broadly appealing across demographics, especially during morning dayparts. Send to the table with a cinnamon stick or orange wedge that has been flame-charred and studded with cloves.
Sassy: Cider's autumnal flavor profile takes a shine to all sorts of enhancements, from maple syrup, pumpkin spice, and orange juice to bolder additions like ancho chile.
The information provided is based on a general industry overview, and is not specific to your business operation. Each business is unique and decisions related to your business should be made after consultation with appropriate experts.
Warming Up To Elixirs, Adaptogens, and Functional Beverages
Interest in enhanced beverages continues to grow and many drinks are as welcome served warm as they are over ice. Here are a few ideas to kick things off:
Golden milk, a mix of dairy or plant-based milk heated together with turmeric, maple syrup or honey, cardamom, and a pinch of pepper
Proffee made with a combo of espresso and protein powder
Herbal teas and tisanes steeped with ingredients such as fresh ginger root, ginseng, holy basil, or licorice root