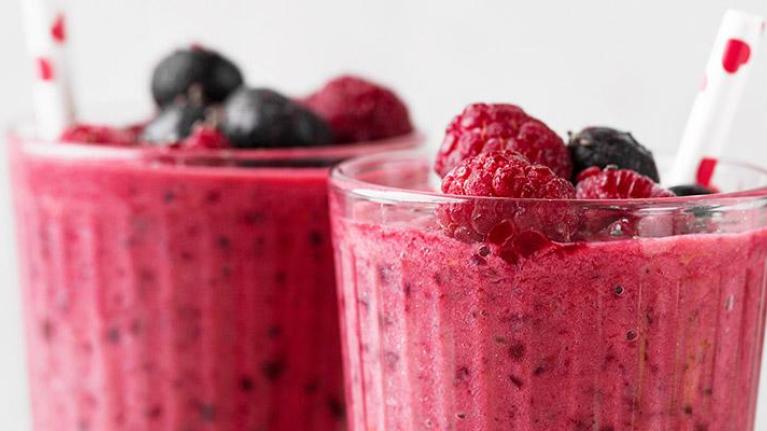 Whip Up Excitement with Blended Beverages
October 19, 2021
Blended beverages are foodservice staples. But there's more to offer than milkshakes and smoothies. Discover how fruit, veggies, and other add-ins can expand your beverage menu.
Need some cool new ideas for your beverage menu? Dig into the ice machine and ice cream freezer to easily and profitably shake up some excitement with blended beverages. 
Here are some cold facts to take to the bank: A full menu of icy frozen drinks including milkshakes, malts, frappés, smoothies, slushies, and even cocktails has broad consumer appeal, especially with younger consumers. Blended beverages are versatile, fit nicely across all dayparts and segments, have strong margins, and are easily made from scratch or jump-started with pre-mixes. Adding them to the menu is often simply a matter of creatively and cost-consciously using inventory that is already on hand. 
Smoothies: Packed with fresh ingredients and bathed in a healthful halo, smoothies have seen impressive growth as consumers seek them for meal replacements as well as snacks. Made with creative combos of fruits and/or veggies, they often are stocked in grab-and-go cases for convenience. 
Blueberry, coconut, passion fruit, and kale are among the smoothie ingredients that recently have shown double-digit growth in usage, according to Datassential
Although often an all-fruit play, don't be afraid to grab ingredients from the vegetable bin. Greens such as spinach and kale, beets, celery, and carrots are among nutrient-dense options 
Bananas add great texture. Try freezing them for a frosty finish
Milkshakes and malts: Paired with a burger or an all-by-itself star, these ice-cream-based indulgences are widely popular, with 80% of consumers saying they love or like them, according to Datassential. 
Use alt milks and ice creams such as almond, rice, coconut, or soy to draw new audiences
Malted milk powder transforms many flavors into a nostalgia-laden treat. Vanilla and chocolate may be the most common malt flavors but banana, strawberry, and mocha are nicely complemented by the toasty flavor
Peanut butter, chocolate chip, peach, and lemon have shown strong increases in menu incidence
Frappés and granita-type coffee drinks: Coffee chains have gone gangbusters with a whole category of these icy, whipped-up froths, and whether as a meal replacement or snack, consumers love them nearly any time of day. Many are made with mixes but from-scratch versions are easily do-able with coffee and sweetened condensed milk plus lots of ice forming the refreshing foundation. 
Add unexpectedly delicious flavor enhancements with hazelnut spread, cocoa powder, chocolate syrup, peppermint, Mexican-style chocolate, or coconut milk
Flavored syrups are an easy way to customize these treats and so are sweet spice such as cardamom, cinnamon, and nutmeg. Vanilla or almond extract work, too
Slushies: "Just add ice" can be a mantra for operational ease, turning the standard beverage menu into a whole new category. Lemonade, iced tea, coffee, chai, and juice-blend mixes are among the options
Lemonade and strawberry may be the most popular fruit slushie flavors but the list might also include cherry, peach, and lime. If you want to go further into the arena of up-and-coming trends, try yuzu, cantaloupe, lavender, pear, or black sesame—tastes that are on the upswing. 
Sources: Datassential SNAP! Smoothies (2020); Datassential SNAP! Shakes (2020)
The information provided is based on a general industry overview, and is not specific to your business operation. Each business is unique and decisions related to your business should be made after consultation with appropriate experts.
VALUE-ADDED INGREDIENTS
Whether to punch up the flavor or enhance nutritional muscle, add-ins and boosts are big in the beverage world, and whipping them into frozen blended drinks couldn't be easier. Here are some on-trend options to consider: 
Protein powder
Bee pollen
CBD oil
Turmeric or fresh ginger 
Hemp or chia seeds
GLOBAL REACH
Ethnic inspirations are super-simple to add to bev lineups. 
Licuados, a mainstay throughout Mexico, translate well to American menus. Made with milk, fresh fruit, and ice, the flavor combos are deliciously varied. Batidos are very close kin. 
Frozen horchata can be whipped up by freezing this plant-milk beverage granita-style and blending it with cinnamon, ice cubes, and almond milk or made richly indulgent with liquid rice milk, vanilla rice-based ice cream, and a dash of cinnamon.