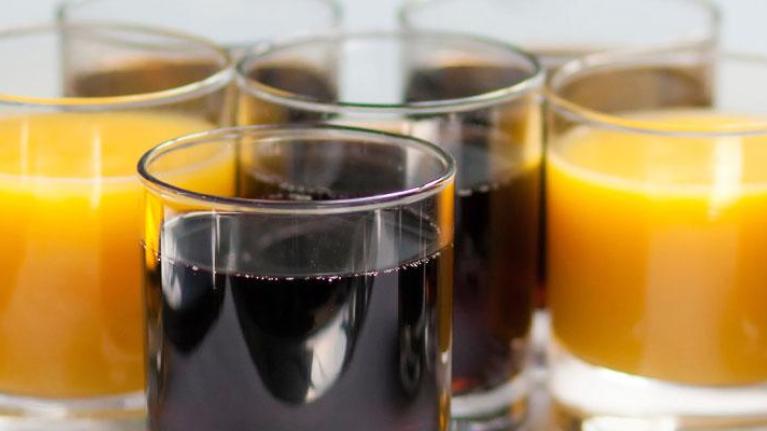 Why You Need to Double Down on Beverage Sales
February 6, 2015
Add sparkle to your check totals with flavor-infused waters, housemade sodas, customized beverages, and standbys like tea, coffee, and cocktails. Anything but "just water please." Give your customers a reason to order a premium beverage.
"Just tap water please." It's an order no food service operator wants to hear.
But, in fact, a "Beverages at Food Service" study released by the NPD Group revealed what many operators already knew: When attempting to cut their expenses, many consumers order tap water instead of soda and brewed coffee. According to the study, while traffic declined a relatively moderate 1% between 2006 and 2011 (the last year for which such figures were available), sales of these profitable but discretionary beverages are down a more significant 6%, representing more than 2.7 billion servings.
That's why it's more important than ever to double down on your beverage program, including smoothies and juices, specialty coffee, and tried-and-true favorites like iced tea and iced coffee. Offering interesting noncarbonated and carbonated options, in addition to alcoholic drinks if that is your market, represents a great way to build sales. It also keeps customers happier.
Another category with great potential is better-for-you beverages—such as reduced calorie, all-natural, and juice-based quaffs, and fortified or "functional" drinks such as acai blueberry and green tea.
Customized specialties – A recent SmartBlog on Restaurants post heralded the age of customer specification for beverages, just as build-your-own sandwiches and mix-and-match salads have put food choices in the consumer's hands. If you have syrups, juices, bitters, and other flavorings on hand for specialty coffee and/or cocktails, you can also merchandise these flavor-builders as add-ons to other types of beverages, from specialty lemonade and iced tea to steamed milk and hot chocolate. In addition to providing more flavor for the customer, these additions can support premium or à la carte pricing.

Housemade sodas – Remember the old soda fountain? At their simplest, carbonated beverages are nothing more than fizz and flavor, and many clever operators are taking advantage of that fact by utilizing their soda gun or a cartridge-based carbonation system to create their own housemade sodas. Having a beverage bottled under your own house label is another possibility. Many of these sodas open up a range of new flavors, like fennel cardamom or yuzu, which are far more food-friendly than cola. Sodas can be also be rotated seasonally or even weekly, to create even more of a specialty experience for the customer. 

Local and regional specialties – Interest in artisanal and local products has led to significant interest in heritage and small-batch bottled sodas and other beverages, whether traditional favorites or newly minted. At America Eats Tavern, a restaurant in Washington, DC, that celebrates "the American experience," the referential beverage list includes a selection of such hard-to-find nonalcoholic favorites (PDF) as North Carolina's Cheerwine, Abita Root Beer from Louisiana, and Moxie from Maine—all at $4 a serving.

Smoothie Operator – Smoothies, milkshakes, and other slushy beverages are a great sales builder for operators, particularly when they can be customized by customers with the addition of enhancements like protein powder or given a healthy spin with natural sweeteners like agave.
Get Started: Experiment with Sunkist® Fruit Ultimates™, a unique blend of fruit juices and purées that are an easy and versatile solution for creating specialty beverages.
Ice it Up – Iced tea and coffee have long been popular options during warm weather but now the stakes have been raised, with more consumers ordering these refreshers for breakfast and year-round consumption. Chains like Starbucks and Dunkin' Donuts have helped raise the bar with seasonal chilled options like the Coolatta®, Frozen Mochas, and Iced Sweet Tea. In fact, according to NPD Group more than 35% of coffee servings in the United States are now made with specialty soffee, and half of those are Iced.

Tea for the Till – In recent years, the world of tea is has become increasingly specialized, from the familiar categories of black, green, and oolong to premium products like chai (a category of spiced tea beverages), lapsang souchong (smoked tea), exotic flowering white tea, rooibos and other herbal teas, tea-like infusions like hyssop, and matcha (a finely milled green tea popular in Japan). Many operators are upgrading their selections and presentations in order to satisfy the growing legion of tea lovers out there. According to The Tea Association of the United States, approximately 85% of the tea consumed in this country is iced.
A Dozen Ways to Build Cocktail Sales
Many of the most forward-thinking beverage alcohol lists feature one or more of the following:
Serious renditions of the classics—Manhattan, Martini, Old-Fashioned—using elevated ingredients like house-preserved cherries.

Cocktail-and-food pairings.

An ambitious selection of craft beers and microbrews.

A selection of small-batch and artisanal spirits, such as American rye or locally distilled gin.

Wine by the glass, carafe, and quartino.

Seasonal specialties such as hot mulled wine in the winter, sangria in the summer.

"Farm-to-table" garnishes and juices using local fruits, vegetables, and more.

Housemade syrups, bitters, mixers, etc.

Lower-proof libations made with vermouth, wine, amaro, or sherry.

Beer cocktails, like the Michelada.

Sophisticated nonalcoholic options for adults.

After-dinner specialties such as port and dessert wines, Cognac, sipping tequilas, and more.