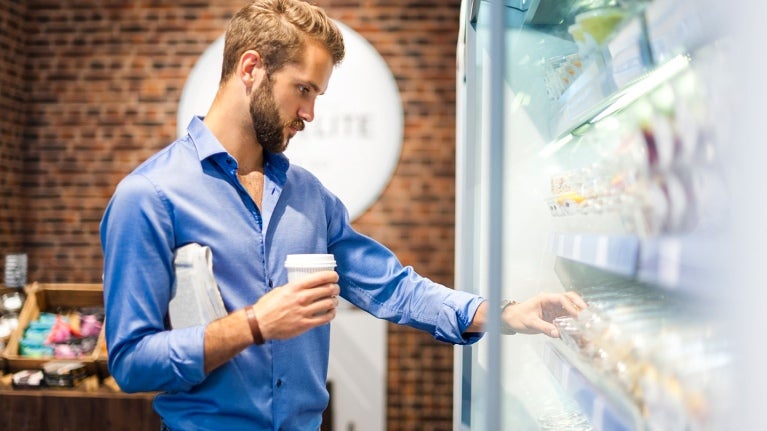 10 Ways to Improve Beverage Convenience
June 1, 2023
Beverages are a mainstay of your operation. Learn how to adjust to changing customer expectations with 10 key concepts.
The pace of life has started to pick up again. Many workers are making daily trips back to the office and getting back to their old routines. At the same time, a good number of consumers continue to work from home, making delivery—direct or via a third party—increasingly in demand.
All this comes amidst an operator environment that has changed, with labor challenges running up against the same customer expectations when it comes to convenience and quality.   
The industry is rising to the challenge, however. As Technomic in its State of the Industry report points out, operators are attempting to do more with less, deploying new processes, initiatives, and technology to keep up with the demand for convenience, especially when it comes to beverages.1
Now's a good time to make sure your ever-important beverage program is prepared. Here are 10 steps operators can take to make sure they're meeting consumers where and how they're purchasing beverages today.
Make sure your staff is well-trained

– Quality remains a consistently high concern of customers, especially when it comes to drinks that require a good deal of preparation like specialty coffee. In fact, Datassential found improving quality, service, and selection are essential to increasing sales.2 So make sure staff is well-trained in how to prepare old favorites along with on-trend drinks—and knows how to maintain beverage equipment. The overall goal is to minimize waiting time. A well-trained staff can help keep things moving.

Offer a diverse selection

– Today's consumers are looking for a lot of beverage options. Try to keep a well-rounded selection in stock. Some of today's most in-demand drinks include hot brewed coffee, bottled water, juice, regular carbonated soft drinks (CSD), diet CSD, iced tea, cold coffee, lemonade, hot chocolate, and enhanced/flavored waters.2 For popular beverages like iced tea, the most popular today are fruit flavors like mango and orange, or herbal/floral flavors like mint, hibiscus, jasmine, and ginger.2

Offer self

-service beverage stations – Self-service beverage stations can be the ultimate convenient beverage offering. Staff just need to be trained to set them up and then maintain them. On-trend beverages that lend themselves to self-serve include agua fresca, iced tea, lemonade, and even hot cocoa during the colder months.3

Keep up with seasonality

– Customers love seasonal drinks. Sales of pumpkin coffees, for example, now begin as early as August, so make sure to feature seasonal beverages throughout the year. When it comes to cold coffee, Datassential found seasonal flavors can drive consumers to drink more cold coffee away from home.2

Customization is key

– Certain beverages, like coffee and tea, just beg for a well-stocked choice of creamers and sweeteners. Increasingly in demand today are plant-based creamers, such as almond and oat. About one in six consumers now choose a plant-based product for their hot brewed coffee, and about one in five make this choice when getting hot tea away from home. In addition, plant-based creamers represent almost 50% of creamer usage in hot specialty coffee.2 And don't forget cold drinks. Offer flavor shots for sodas, iced tea, or lemonade.

Harness the latest tech

– QuikTrip, a chain of convenience stores based in the south, recently gave mobile app users the chance to win free beverages each time they ordered and paid via the app. The promotion, which was an opportunity to showcase the variety of drinks offered, also included a chance to win soft drinks, energy drinks, cold coffee drinks and teas on their next visit.4 According to Datassential, technology-enabled self-service appeals to most consumers, with mobile apps increasingly becoming essential. Ranked by popularity, customers like mobile app ordering (74% of customers); robot servers or greeters (70%); text message ordering (65%); tabletop order devices (64%); QR codes to view menus and order (58%), and standalone order kiosks (57%).5 Push-button self-serve machines also continue to grow in popularity. Some 15% of customers prefer to get their coffee that way, up 2% over the past 3 years.2Circle K recently offered customers a free cup of coffee to highlight its investment in bean-to-cup, self-serve, barista-quality coffee machines. The machines use 100% sustainably sourced premium coffee beans.6

Offer grab-and-go and food pairings

– Prepare beverages ahead of time, such as juices for breakfast, and iced tea or lemonade for lunchtime or afternoon snacks, then stock them in a refrigerator where they can become an easy part of a food pairing. Such food pairings, meal combos, or daypart discounts can also entice customers to increase their hot brewed coffee consumption. They are becoming more price conscious so offering discounts may increase visits. Since nearly a third of consumers are purchasing hot brewed coffee with food away from home, QSR and LSR operators should consider offering food + coffee combos throughout the day while FSRs should ensure coffee drinks are available on breakfast, lunch/dinner, and dessert menus. To really drive traffic, consider offering an afternoon or evening special that includes a cold coffee/snack pairing or a two-for-one offer that encourages sharing.2

Target daily usage occasions

– Make sure you're ready for the busier dayparts, which have changed since the pandemic. In a recent article in Beverage Industry, Jeff Lenard of the National Association of Convenience Stores (NACS) said there's been a shift in purchasing habits with late-morning and mid-afternoon spikes in traffic as those working from home run errands or take a break. They don't feel the need to venture out during either rush hour.7  As far as the products themselves, those in high demand across all dayparts include water, juice, CSDs, and tea, while hot brewed coffee continues to have the highest share among beverages consumed in the morning.2 

Get comfortable with delivery

– Since the pandemic, delivery, whether it be via third-party app or direct, has become hugely popular with customers. Two in five operators offer direct digital delivery in some form, whether that be through a website or through a mobile app.8 And one in 10 consumers used a third-party delivery app for their most recent restaurant meal, slightly more than those who used direct delivery.9 

Pay attention to packaging

– Convenience extends to packaging. So, make sure any beverages you package are spillproof. And in this time when delivery is popular, a tamper-evident seal goes a long way toward customer satisfaction, as do sustainable materials. A well-thought-out package can help create loyal customers.
Did You Know?
35% of consumers say they're interested in cashier-less shopping10
Sources: 1. Technomic "State of the Industry" (February 2023). 2. Datassential "Buzz 2023: Annual State of the Category" (March 2023). 3. Better Homes & Gardens "22 DIY Drink Station Ideas (Cheers!)"  (August 16, 2022). 4. Technomic "C-Store Monitor" (December 2022). 5. Datassential "Five in Focus: Automated Self-Service" (December 2021). 6. Technomic "C-Store Monitor" (March 2023). 7. Beverage Industry "Despite the Pandemic, Convenience Stores Continue to Thrive" (August 30, 2022). 8. Datassential "Five in Focus: Direct Delivery" (January 2022). 9. Datassential "Five in Focus: Third-Party Delivery." (January 2022). 10. Datassential "Creative Concepts" (December 2021).
The information provided is based on a general industry overview and is not specific to your business operation. Each business is unique, and decisions related to your business should be made after consultation with appropriate experts.