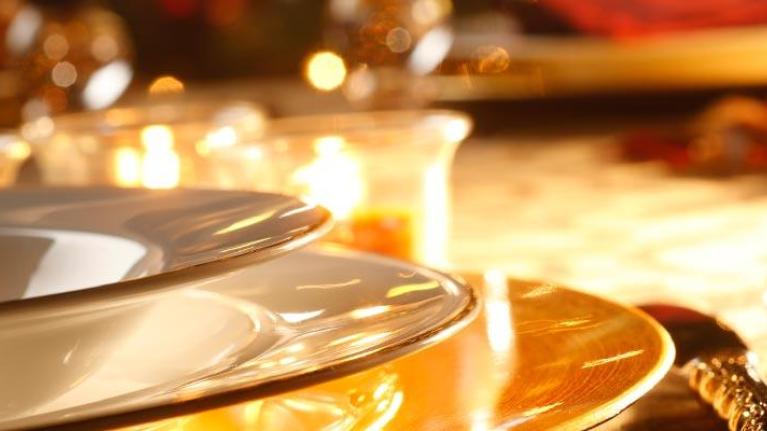 How to Put Profits at the Top of Your Holiday List
October 10, 2015
The holiday season offers so many opportunities for extra profits. Discover easy ways to finish the year with a profit flourish. Plus get timesaving prep tips and party ideas.
Whether you dread the coming holidays or welcome them depends upon not only your type of operation—family restaurant, college food service, white tablecloth destination—but also how ready you are for them. Here are some tips on how to gear up for the holidays and take advantage of seasonal sales opportunities.
Host Some Holiday Events
Office parties, friends and family get-togethers, express lunches for busy shoppers—the holidays present special opportunities to reach out to customers and build sales. With all your holiday activities, be sure to leverage every possible promotional vehicle: social media; the local press; flyers; your website; electronic emails linked to your mailing list.
Assess your capabilities and capacity – Do you have extra dining space that can be repurposed as a private dining room? Are you closed one day a week when you could do an event?

Tap the staff – Some of your employees may appreciate extra pre-holiday hours in order to make some money for their own celebrations

Take a good look at your menu and inventory – Perhaps this is a time to look at preparing some of your signature dishes in larger quantities for special menus, or to offer special "large format" items like whole roasts or a platter of fried chicken and fixins', to be shared by a group
Get Started: Items like lasagna or a signature mac-and-cheese preparation are perfect for larger groups, especially when served family style. Look to products like Stouffer's® Classic Lasagna with Bolognese Sauce, or Macaroni and Cheese made with Whole Grains to get the ball rolling.
Home Is Where the Sales Are
Holidays have always been a time when people entertain more in their homes, and with the economy as it is, catering and takeout represent an enhanced opportunity for sales.
Catering needn't be the whole thing from food to tent rental and flowers, either. Many operators have gotten into hybrid catering/takeout programs in which customers can pick up larger-volume amounts of some or all of their holiday meals, from elegant entrées to hors d'oeuvres and appetizers, breads or rolls, side dishes, and desserts. Take a page from local supermarkets and offer self-service platters of sandwiches, antipasti or meats and cheeses, or individual desserts like cupcakes and cookies.
At Bayou Bakery, Coffee Bar & Eatery, in Arlington, VA, fall and winter holiday promotions include not only a discount for early orders of Thanksgiving meal components, but also events to commemorate Veterans Day and a full roster of charity activities such as turkey giveaways and pie donations, which customers are invited to participate in.
More Ideas for Building Your Catering and Takeout Business
Take a look at your existing inventory for items that you're making anyway that can be merchandised for takeout/catering, including vegetables and dips for crudité, sandwiches, or soups that can be sold by the gallon

Sell paper goods like tablecloths and disposable plates along with food, as either an at-cost convenience or with a profit-making markup, especially if you already have them on hand

If you have the resources, provide delivery of platters and other self-service items

Offer fruit baskets, muffin trays, attractive boxes loaded with cookies or house-made truffles, house-made preserves, or pickles . . . customers are always looking for gift ideas or items to take to a hostess
Try This: If you're proud of your kitchen, teach a holiday cooking or baking class there. Not only will you offer a service to your customers, you'll also become better known for a specialty; if you dovetail it with your own holiday prep, that time becomes double-duty. Lessons can also be merchandised as a social event for a group of friends, with either a standard or specialty menu and appropriate beverages.
Embrace Timesaving Measures
The holidays can be an especially busy time—if you're lucky. Now is an excellent time to turn to high-quality prepared foods and speed-scratch methods to help you and your staff get through the crunch. This is especially true if you're ramping up your services to include takeout, holiday parties, or themed dinners.
The best speed-scratch items can be true signature starters: Simply add your own ingredients and presentation flourishes to create a unique offering.
Consider gravy, the workhorse of many holiday and cool-weather menus. Start with any Trio® gravy mix and take a creative approach:
Substitute wine, cider, stock, spirits, or another liquid for the water when preparing the mix

Add fresh herbs or spices, sautéed mushrooms, caramelized onions, or roasted garlic for more body and flavor

Mix with another sauce, such as Stouffer's Alfredo Parmigiana, to create a rich, creamy specialty sauce
A selection of gravies and sauces is particularly nice at a carving station on a buffet, in the servery, or at catered events, offering patrons an opportunity to customize their meal.
Get Started: Minor's® offers a variety of ready-to-use (RTU) sauces from traditional Hollandaise to Thai Style Red Curry—and flavor concentrates that can be used to enhance gravies or create signature-worthy menu items.
Save Even More Time with These Tips
Investigate using social media, texting, or email to help employees schedule and exchange shifts during this busy period

Look to prepared foods like Chef-mate® Original Chili Con Carne without Beans to make it easier to add variety to a menu during any busy time of year; these can even be pressed into service to make quick work of employee meals during rush periods

Use holiday-time special menus to product test items for the rest of the cold-weather season; recipes that are big hits or are especially profitable or easy on the kitchen can become part of the regular menu

Urge employees to stay well and help them with every possible resource: flu shots, safe work conditions, an opportunity to rotate shifts for time off. The last thing you need right now is a sick or burned-out staff
Tip: Don't forget healthy options; it may be the holidays but overindulgence is still a concern. Lean Cuisine® has a number of products that can be promoted at this time of year, or check Nutripro for ideas for Nutrition Made Delicious.