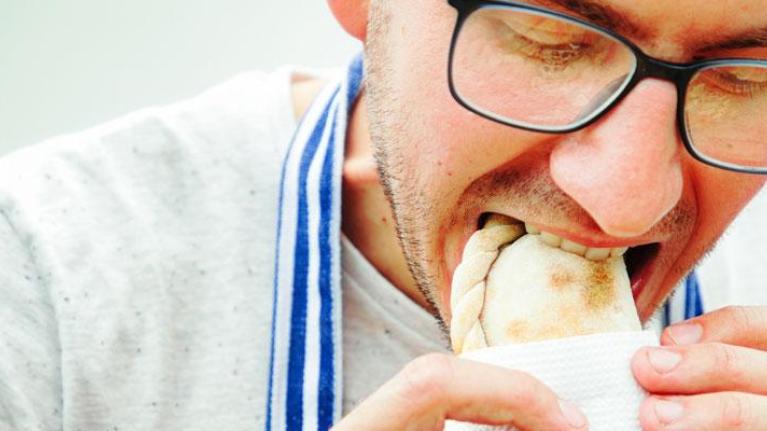 Nibbles or Noshes, Handheld Trend Is Strong
November 1, 2021
Amid busy lifestyles, plates, knives, and forks are sometimes too much bother. Get the upper hand with customers by menuing items that are easily nibbled, noshed, and enjoyed on the go. 
America clicks along on convenience, a truth that's spot-on when it comes to snacks and meals. With unpredictable schedules made even more so by work-from-home routines, appetites that can rev up anywhere, anytime, and unmatched talent for multitasking, consumers are insatiably drawn to enjoyed-on-the-run foods. Even with pandemic-related slowing restaurant sales in some segments, the late afternoon daypart—prime time for snacking—has enjoyed moderate growth as have the overnight hours. Without complicating existing menus or adding significantly to food inventory, there's a strong case to be made for extending a hand to portable, easily eaten items.
Some of America's beloved, tried-and-true foods fit the handheld trend. Sliders, wraps, corn dogs, fried mozza sticks, soft pretzels—even stalwarts such as French fries, pizza slices, fried cheese curds, hash brown cakes, and jalapeño poppers handily fit the description. To sweeten its early-morning sales, McDonald's recently rolled out glazed pull-apart donuts, designed to be shareable or solo treats. World cuisines bring more delicious options to the fore while satisfying the hungers of diverse, adventure-seeking diners at the same time. Here are standard stars and newer options to consider.
| | | |
| --- | --- | --- |
| Origin | Always Classic | Up-and-Coming |
| Mexican | Street tacos; tamales | Huaraches; elotes |
| Latin American                   | Empanadas | Arepas |
| Chinese | Egg rolls                  | Xi'an cumin lamb in flatbread; bao buns |
| Jamaican | Spicy beef pies  | Spicy callaloo turnovers |
| Vietnamese        | Spring rolls | Banh goi "pillows"; fried nem ran rolls  |
| Middle Eastern                   | Falafel  | Shawarma; kaak street bread |
| Indian | Samosas | Kathi rolls wrapped in paratha |
A Show of Hands at the Table
Shared, handheld appetizers continue to be popular on menus, a large part of their appeal based in the communal aspects, their practicality, and to some extent their sensual appeal they bring to the dining experience. Some simple options that continue to grab interest and orders:
Shrimp cocktail
Sushi rolls
Oysters and clams
Stuffed dates
Deviled eggs
Fritto misto (mixed fried vegetables and proteins) plates, bruschetta, and crostini
Nachos
Seared shishito peppers
Onion rings
Lettuce wraps
Wings
Fried calamari
The information provided is based on a general industry overview, and is not specific to your business operation. Each business is unique and decisions related to your business should be made after consultation with appropriate experts.
Pack Mentality 
Smart, well-designed packaging is a key ingredient to handheld success. It should aid instead of hinder eating and keep food secure, at temperature, and be transportable. A few tips for takeaway success:
With paper-lined foil sheets, waxed paper, simple brown bags, cardboard clam shells, and Chinese-style carryout containers among the many options, choose packaging that is best equipped to maintain the food's integrity and temperature. Foods that are assembled with lots of ingredients—think sandwiches, tacos, summer rolls, and the like—are best wrapped tightly in an appropriate paper product while self-contained items such as empanadas, egg rolls, and hand pies can be slipped into paper or foil bags.
For sauces that aren't available as portion control packs (PCPs), select small plastic cups with secure lids. If necessary, seal in plastic wrap to prevent leaks.