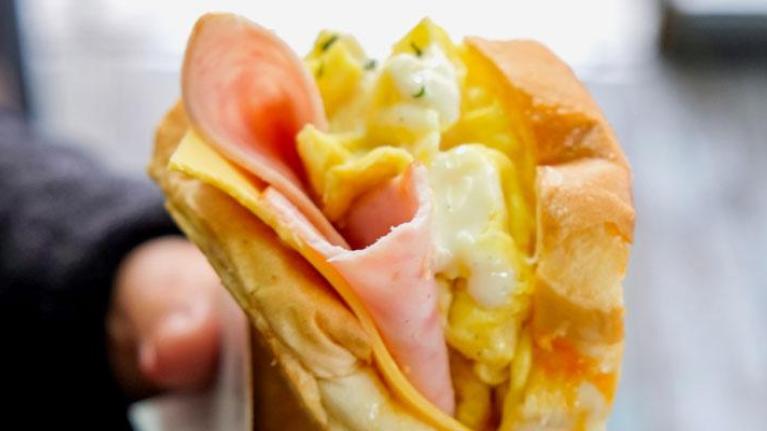 Break Breakfast Boundaries––Make It Portable
December 1, 2020
Takeout is hot, hot, hot right now. So, make sure you're offering portable breakfast items. Breakfast sandwiches and other handhelds are easy and super-popular.
 
Breakfast sandwiches and other morning handhelds are perfect for takeout, but also hold interest for dine-in customers.
With demand for foodservice takeout at an all-time high, it pays to make breakfast more portable. In fact, 68% of consumers who eat breakfast but don't cook it at home choose takeout or delivery, according to Datassential.1 
Although specialties like eggs Benedict and stacks of pancakes drenched in maple syrup can always be packed into containers for carryout, creating a selection of handheld breakfast items makes the job—and the marketing—easier. 
Repurpose Dine-In Fare
The best thing about breakfast is that many traditional items like griddled omelets or bacon and fried or scrambled eggs can be easily transformed into easy-carry sandwiches by putting them on breakfast breadstuffs: toast, an English muffin, a bagel. Upgrading the bread to something like a fluffy biscuit, a crispy waffle, or a bakery croissant will give the sandwich a premium edge.
Offer breakfast standards either plated or as a sandwich
Add hash browns to a sandwich for a complete "breakfast on a bun" concept
Build your own with mix-and-match bread, protein, cheese, and scrambled or fried egg
Create a Signature Sandwich
Many breakfast-oriented operations are known for the sandwiches they sell, either for dine-in or to-go consumption. In fact, as restaurants, corporate cafés, and college/universities pivoted to provide more carryout options, craveable signature breakfast sandwiches have really taken off. For example:
Homemade toasted bread layered with egg, bacon, sausage, sautéed green peppers, onions, hash browns, and two kinds of cheese
Applewood-smoked ham, housemade pulled BBQ pork, Swiss cheese, fried egg, pickles, and Creole mustard on ciabatta
Sprouted wheat bun, souvlaki turkey sausage, fried egg, whey-fermented lentils, crispy onions, cucumber tzatziki, and griddled halloumi
Brioche roll, broke yolk, Vermont white cheddar, pepper bacon, tomato jam, pickled jalapeño
Andouille sausage, egg, gouda, grilled onions on French bread
Speak Burritos, Tacos, and Quesadillas
Swap in tortillas for toast as a carrier to create these popular Mexican handhelds at breakfast. The fillings can be mainstream—eggs, sausage, cheese—or push the theme with ingredients such as chorizo, Hispanic cheeses (cotija, asadero), patatas bravas (seasoned fried potatoes), and refried beans. Other options to add to the eggs:
Pork carnitas or carne asada
Nopales (cactus paddles) or rajas (strips of roasted poblano peppers)
Picadillo (ground beef hash) or machaca (shredded dried beef)
Put It in a Cup or a Bowl
Breakfast-ready ingredients, packed into cups and bowls, represent another way to do morning takeout. Needing only a spoon, fork, or straw to make them portable, fruit cups, chia pudding, grain porridge bowls, and meal-replacement beverages, such as smoothies, cue a better-for-you image.
Layer Greek yogurt, granola, and dried fruit attractively in a clear plastic parfait cup
Garnish a bowlful of soft scrambled eggs migas-style with tortillas or croutons, sautéed vegetables, and hot sauce
Offer smoothies and blended juices with à la carte add-ins like bee pollen, hemp seeds, and goji berries
Better Breakfast Baked Goods
Do toast and coffee on the run one better with specialty baked goods including muffins, cinnamon rolls, fresh-baked croissants, scones, and coffee cake. Such items are also popular for midmorning snacks, and can be paired with a hot or cold beverage as a combo.
Quick breads like zucchini-raisin bread or date and nut, with or without cream cheese
Savory stuffed croissants and filled popovers or brioche
Over-the-top donuts in rotating or seasonal flavors
Cheddar cheese biscuits
Sweet or savory hand pies
Japanese milk bread
Source: Datassential One Table, Consumer Insights and the Path Forward (2020)
The information provided is based on a general industry overview, and is not specific to your business operation. Each business is unique and decisions related to your business should be made after consultation with appropriate experts.
DID YOU KNOW?
According to Datassential, breakfast sandwiches appear on 18.2% of U.S. menus, up 34% since 2015, and have a very strong four-year growth prognosis.
Source: Datassential SNAP! Breakfast Sandwiches (2020)
GET STARTED
Flavored spreads and butters can provide an upgrade to baked goods and add a layer of flavor in breakfast sandwiches.