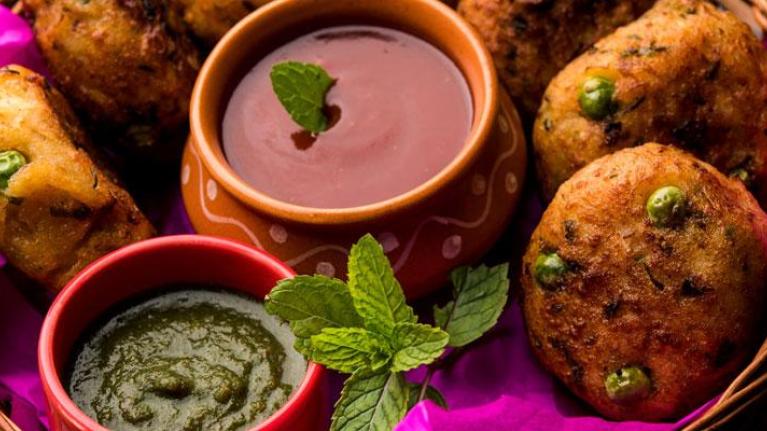 Indian Street Food—Favorite New Global Snack
April 1, 2021
Americans continue to seek out global cuisine, with Indian street foods now in the spotlight. Chaat, as these plates are known, is a true phenomenon that you should explore.
From spicy dosa to cooling kulfi, Indian culture and cooking are alive with exciting street foods. Eaten on the run for breakfast, lunch, and as between-meal snacks, the South Asian street foods collectively known as chaat are always portable, often crispy, and usually full of interplaying sweet, spicy, salty, and tangy flavors. Street foods are often paired with tasty chutneys and other sauces, and many of them are vegetarian or vegan. That makes them perfect for introducing them as crossover appetizers and snacks on modern menus.
Here are some ideas for Indian street snacks that deserve to go global:
The South Asian version of a potato croquette, Aloo tikki is prepared by mashing boiled potatoes combined with coriander, onions, and special spices, and then shaping them into patties. The patties are deep-fried to create a crispy outer layer while still remaining soft on the inside. These spicy potato treats are served with mint and/or tamarind chutney, yogurt sauce, or Maggi ketchup—a South Asian staple
Thought to have originated in Mumbai, Bhelpuri is a popular Indian street food made with puffed rice and sev (a vermicelli-like snack made from gram flour) mixed with onions, potatoes, tomatoes, coriander, chat masala (an Indian spice mix), and tangy tamarind chutney. The crunchy, flavor-packed mixture is often served packed into a paper cone for easy nibbling
Similar to a crepe, Dosa is made with a savory fermented batter of rice and black lentils. They are often stuffed with a masala mashed potato mixture and served with a variety of chutneys including coconut and mint, but the crepes can be filled with any number of authentic or mashup ingredients, such as sautéed onion or green chiles and cheese
Like a burrito by way of the subcontinent, a Kati roll is a versatile wrap of roti flatbread enveloping pieces of spiced chicken, lamb, or paneer cheese in addition to toppings that range from scrambled eggs to mixed raw/cooked vegetables. The final garnishes may include a variety of sauces, a squeeze of lemon or lime, and a sprinkle of chat masala
Like their Mediterranean counterparts, Indian-style Kebabs embrace a wide variety of ingredients, from relatively mild chicken tikka or tandoori shrimp to tingly ground lamb seekh kebab touched with ginger, cumin, and several types of hot pepper
Often compared to ice cream, the frozen dairy-based dessert known as Kulfi is denser and creamier. The more traditional flavors are cream, rose, mango, cardamom, saffron, and pistachio. Newer variations include apple, orange, strawberry, peanut, and avocado. Due to its density, kulfi takes a longer time to melt than Western ice cream
The national symbol of South Asian street food, Pani puri consists of shells of unleavened deep-fried bread that are traditionally stuffed with seasoned mashed potatoes; sometimes smashed chickpeas and/or bean sprouts added. The stuffed puri shells are garnished with an optional assortment of toppings including tamarind and mint chutney, finely chopped green chiles, and diced onions. The final touch is the pani, which is typically flavored with tamarind paste and chat masala
Easy-to-replicate Pakora are fritters made by dipping vegetable and/or meat pieces in a chickpea flour-based batter and then deep-frying them. Pakora are served with an array of sauces, usually tamarind chutney and mint chutney or even sriracha. Fish and chicken are the most common meats that are used in pakora, while traditional vegetables include potatoes, onions, eggplant, cauliflower, and large green chile peppers
Like empanadas in South America and Mexico, Samosas are a mixture of seasoned potatoes, peas, and onions wrapped in a shell made of phyllo dough and then fried or baked. Samosas can also be filled with a variety of ingredients, such as ground meat and/or paneer cheese, and they're always served with condiments such as chutney or yogurt sauce. The samosa may take different forms, including triangular, cone, or half-moon shapes, depending on the region
The information provided is based on a general industry overview, and is not specific to your business operation. Each business is unique and decisions related to your business should be made after consultation with appropriate experts.