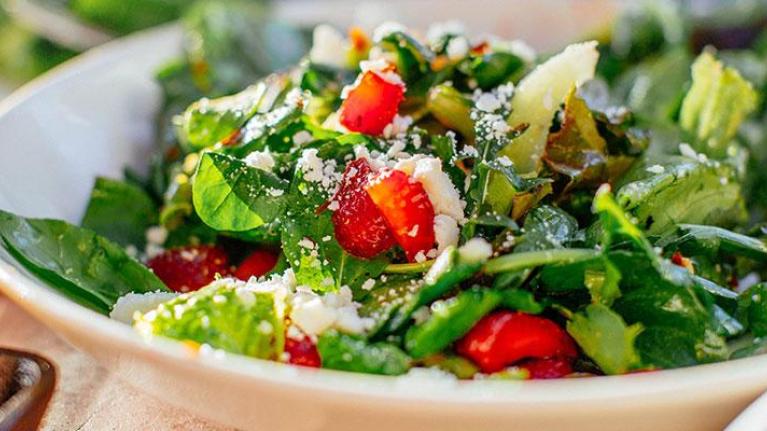 2020 Summer Salad Trends
March 19, 2020
Summer is salad time. Get ready with the latest trend info on greens, toppings, dressings, even salad shapes. Learn which ingredients patrons want this season. 
With interest in plant-centric menu items sizzling, salads are poised to become a hot summertime specialty. Chefs and operators are experimenting with exciting new ingredients; distinctive combinations of flavors, textures, and even shapes; appealing dressing varieties; and variations on modern and established classics to create craveable signature salads.  
New Lettuce Varieties – Beyond the usual romaine and iceberg are such newly popular greens as arugula, Little Gem, endive (both curly and Belgian), napa cabbage, radicchio, escarole, frisée, and various herbs and microgreens to add flavor, texture, and color to salads.
Power Ingredients – Items that confer a healthy, beneficial image to salads are popular, including chickpeas, edamame, quinoa and ancient grains, nuts and seeds, lean proteins (including eggs), leafy green vegetables such as kale and spinach, butternut squash, berries.
Cheese It Up – Specialty cheeses are showing up in salads to add flavor and a premium image, with such varieties as Gorgonzola, Asiago, queso fresco, cojito, ricotta salata, bocconcino, pepper Jack, smoked cheeses, manchego, aged cheddar, and artisanal and branded cheeses.
Surprising Combos – The contrast of bitter, sweet, salty, spicy, and savory is an important consideration when building salads, along with textural interplays such as crisp and creamy. Try combining brightly acidic sliced or wedged tomatoes with sweet mango and briny white anchovies for a bold combination of flavors and colors.
The Shapes of Things to Come – Shaping salad ingredients in unusual ways creates both visual and textural interest, and can also enhance the flavor by allowing better absorption of dressings. Try shaving hard vegetables like brussels sprouts, celery root, butternut squash, fennel, or carrots. Softer vegetables can be spiralized or cut into noodle shapes: Zucchini and other summer squash, cucumbers, onions, red cabbage, bell pepper, or sweet potato. Simple knife shapes like julienne and dice can be used as garnish vegetables.
Crunchy Bits – Some of the best salads rely on crunch. Croutons are a given but there are other options. Nuts such as pistachios, pecans, pine nuts, and hazelnuts are becoming more popular; candying or toasting these notes ramps up both the flavor and the crunch factor. Seeds such as sunflower, pepitas, sesame seeds, and popped quinoa work well. Other options include crisp nuggets of bacon or prosciutto, wonton strips, and tortilla chips.
All Dressed Up – Datassential points to following dressings with growth potential: 
Lemon (+22%)
Greek (+21%)
Lime (+18%)
Ranch (+11%)
Dijon (+9%)
Soy (+9%)
Ginger (+8%)
Vinaigrette (+8%)
Italian (+4%)
Sesame (+3%)
Note that many of these dressings are easy to riff on, from lemon poppy seed and sriracha ranch to champagne vinaigrette.
New Standards – Caesar and chef's salad will likely always have a place on salad menus, but lately other variations are coming to the fore:
The great beauty of chopped salads is their endless versatility, and the eating appeal of getting a bit of every ingredient in every bite. Almost any combination of salad ingredients and popular varieties can be chopped, including Greek, antipasto, grain salads, and more
A classic Cobb salad includes chopped tomatoes, chicken or turkey, hard-boiled eggs, bacon, blue cheese, and avocado, but feel free to substitute falafel, salmon, feta, artichokes, broccoli, olives, kale…
The Tuscan-style bread salad called panzanella is a perfect foil for ripe seasonal tomatoes, but it's also endlessly variable with ingredients like roasted vegetables, cheeses, avocado, and breads beyond the traditional rustic bread (Middle Eastern fattoush, for instance, uses pita bread)
Once a steakhouse favorite, the wedge salad has gone mainstream, often with upgrades like Gorgonzola, mini-iceberg or Little Gem, oven-roasted tomatoes, and specialty bacon or cured pork
Beet salad is a new classic; variations include multicolored beets such as yellow and candy-stripes, using nuts such as pistachios, substituting another salty cheese such as Greek manouri for standard goat cheese, and adding citrus such as orange  
Source: Datassential Instant Chart, Salad Dressings (2020)
The information provided is based on a general industry overview, and is not specific to your business operation. Each business is unique and decisions related to your business should be made after consultation with appropriate experts.
DID YOU KNOW?
Younger consumers and women are attracted to signature salads, with 45% of females ages 18—34 saying they would be more likely to visit a restaurant specifically for the salad it offers.
Source: Technomic Soup & Salad Consumer Trend Report (2014)
GET STARTED
Many Minor's® products, including flavor concentrates, pesto, bases, and RTU sauces, are Ready-to-Flavor™, meaning that they can be used in cold applications such as salad dressing without the additional step of cooking.