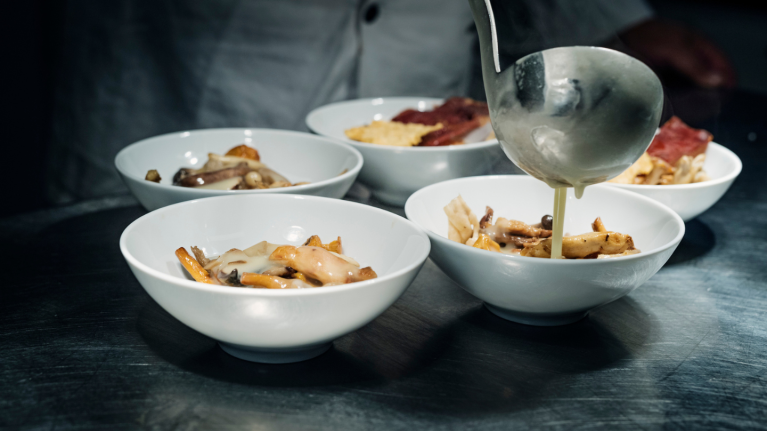 The Building Blocks of Flavor: Stocks, Marinades, Sauces, and More
October 19, 2016
FIRST IN A SERIES: Chefs know that building flavor is basic to good cooking. Marinades, stocks, rubs, glazes, and sauces are the building blocks to fantastic flavor. Learn how to use them here.
What's the most important quality in a recipe? Flavor—how it tastes. The ability to build flavor is what separates a chef from someone who merely provides food, and it's also what separates a successful food service or deli operation from one that fails.
Fortunately, flavor can be broken down into its smallest components then built back up, from the inherent taste, texture, and even aroma of individual ingredients to the techniques and products that are used to enhance them. These include stocks, marinades, rubs, glazes, bastes, sauces, and condiments, and without them there would be no delicious food.
Stocks. In the professional kitchen, stock is often the first building block of flavor, whether it's used to poach, simmer, or braise proteins or other ingredients, or as the starting point for a soup or sauce.
Did You Know? While the words broth and stock are often used interchangeably, there is a small but significant difference. Technically speaking, broth is any liquid that has had something cooked in it, such as meat or poultry, fish, vegetables, or even legumes. Stock, however, always involves bones, simmered for a long time to extract their gelatin and flavor; roasting the bones first makes for a richer, more deeply colored stock, but it's not essential to the process. In addition, stock is a liquid that is left unseasoned for cooking with. But broth, which is often made from stock, is usually seasoned and can be drunk or eaten on its own.
These days, few kitchens or production facilities have the resources to produce stock in-house. Culinary bases from Minor's®, Maggi®, and Stouffer's® are high-quality, seasoned paste concentrates that highlight different flavors, from roasted beef and chicken bones to lobster, pork, and vegetables (mirepoix). They can be used as a cooking medium to further enhance ingredients, or they can be blended into a variety of other flavor-boosting products, such as sauces and bases. In addition, Minor's bases—and many other Minor's products—are Ready to Flavor, which means they can safely be used without the added step of cooking. This makes them appropriate for cold uses such as salad dressings, as well as a complete flavoring rub for proteins and other ingredients.
Marinades. Strictly speaking, a marinade is a type of sauce, typically made of oil, vinegar, spices, and herbs, but its specific use is for soaking meat, fish, or other food before cooking in order to flavor or soften it. (The origin of the word alludes to brine [aqua marina]—a simpler product made with liquid, salt, and sometimes sugar—used in the pickling process, which led to the technique of adding flavor by immersion in liquid.)
Marinades are extremely effective for adding flavor, as their use all around the world suggests. For instance, an Asian marinade might consist of soy sauce, garlic, ginger, and honey, while a Latin one might highlight citrus, cumin, and chiles.
A marinade can also be turned into a baste, glaze, or sauce for the same food, or reduced or enhanced with other ingredients. For food safety reasons, if it's a protein that's being marinated, reserve some of the seasoned liquid for these later flavoring steps.
Get Started: Many Maggi and Minor's products are tailor-made for adding flavor through the process of marination, from Maggi Seasoning and Spicy Seasoning to such Minor's sauces and flavor concentrates as Teriyaki Sauce RTU and Red Chile Adobo Flavor Concentrate. Flavor-boosting marinades feature prominently in these delicious recipes and more.
Rubs and Seasoning Blends. Often referred to as dry brines, seasoned rubs represent another way to add flavor prior to cooking; in fact, they often can be added to foods throughout their progress from kitchen to table, such as seasoning food before sautéing it or adding a final dust of flavor after it's been cooked.
In fact, many chefs love the convenience of using a rub, which adheres to food rather than simply surrounding it, and also eliminates the need for a vessel that's big enough to hold a big piece of meat or a dozen chickens, usually under refrigeration. Rubs also help create a flavorful crust during the cooking process. Many seasoning blends, in particular ones that contain salt, can also be used later in the process to finish a menu item with an added sprinkle of flavor.
Though often associated with traditional barbecue, rubs can incorporate just about any flavor profile. With the addition of a small amount of liquid or a moist product such as mustard, olive oil, or a Minor's flavor concentrate or base, they can function as a wet rub that can be used to completely cover a food.  
Did You Know? Many Minor's and Maggi products can be used as is for a rub, as illustrated in this recipe for versatile chipotle-spiked pork loin.
Glazes and Bastes. Think of these flavor boosters somewhat interchangeably as products that work during the cooking process. Carrots can be glazed with honey or maple syrup as they gently simmer to tenderness; a steak or chicken breast stays moist and builds up flavor on the grill or in the oven thanks to a judicious baste. Although items like roast turkey can simply be basted with pan drippings as they cook, bastes and glazes are often thick, shiny liquids that cling to food and add an appealingly moist and juicy-looking surface.
Minor's RTU Sauces are perfect for the task of basting and glazing, and are available in a variety of flavors, from familiar Teriyaki and Sesame to exciting Sweet Chili and Honey Citrus Pepper.
Try This: Ever-popular chicken wings can be turned into a signature finger food with the use of a finishing glaze that adds distinctive global flavor notes, such as Caribbean, Latin, or Vietnamese; the recipe for the Vietnamese-style wing sauce also demonstrates how the same flavor builder can be used at multiple stages in the prep.
Sauces. The expression "it's all gravy" says it all: wonderful, excellent, delicious. That's what sauces—including gravy—do for food, adding incomparable flavor and star power to menu items, in addition to moisture and, of course, value. In fact, many signature items are all about the sauce: pasta Alfredo; eggs Benedict with Hollandaise; biscuits and gravy; chips and salsa.
A sauce can be anything from a rich, buttery beurre blanc or a luxurious queso to a light, flavorful broth or a lively vinaigrette. It can be as simple as a pat of seasoned butter to melt onto a hot steak, or as complex and satisfying as a green curry mango sauce for dipping chicken satay. Sauce can be Italian  (pesto), French (Gruyere), or Caribbean. It's the signature touch of aioli instead of mayo on a sandwich, the luscious chocolate dessert sauce, the gravy on the mashed potatoes.
Get Started: Nestlé Professional excels at flavor-building sauce products.

From Minor's, there are gravies, bases, RTUs, flavor concentrates, and classic preps such as Hollandaise, demi glace, and lemon wine sauce, as well as Dry Roux and Culinary Cream for batch production

The Maggi brand includes beef and chicken bases, Thai style curry paste, and the iconic Maggi Seasoning, also available in tabletop and spicy versions

The Stouffer's lineup of sauces includes convenient, fully prepared Alfredo and lower-fat Alfredo Parmigiana

Trio® offers superior dependability, quality value in White Sauce, Cheese Sauce, Au Jus, and Alfredo dry mixes, which require no refrigeration

The Chef-mate® brand is synonymous with cheese sauces, from spicy jalapeño to mellow ¡Que Bueno! White Cheddar, as well as chili and Hot Dog Chili with Beef

For desserts and dessert sauces, look to such brands as Nestlé® Toll House®,  and Libby's® 100% Pure Pumpkin



Deli Bakery