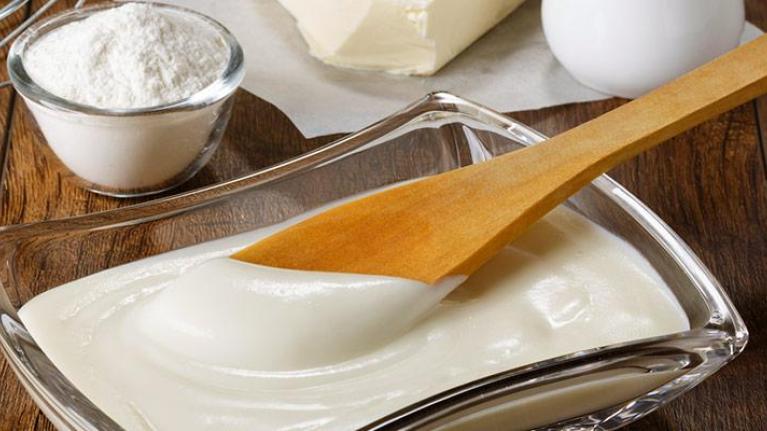 Versatile Cream Sauce: Easy and Elegant
September 1, 2015
White sauce (béchamel) is basic to dozens of dishes. Learn how to put your signature spin on this classic and keep your customers coming back for more.
Cream sauces, including béchamel (aka white sauce) and Alfredo, are among the most versatile sauces in the food service kitchen. Though delicious as-is, they really shine when used as a foundation for signature sauces with the addition of other ingredients and flavors. They're also the building blocks for recipes that have real crowd appeal.
White Sauce 2.0
Basic white cream sauce, also known as béchamel, is a foundational "mother sauce" that plays a huge role in menu-making. Creamy in texture and neutral in flavor, white sauce can be dressed up or down, used to produce more elaborate sauces, or as a binding agent in everything from macaroni and cheese to salmon cakes. Veloute is similar, except that it's made with stock instead of milk, whisked into a flour-and-butter roux that thickens the liquid as it cooks.
But it's easy to give your customers a signature cream sauce without the hassle and inconsistency of starting from scratch. Minor's® Dry Roux is the perfect building block for delicious cream sauces and other recipes, including versatile Basic White Sauce. This cooked mixture of butter and flour replaces classic roux to create all types of fresh-flavored, scratch-quality entrées and side dishes, including both traditional rich cream sauces and contemporary "light" sauces.
For operators who like the option of making cream sauce from a mix, there's the newly reformulated Trio® White Sauce Mix. In either case, white cream sauces are easy to enhance to produce spectacular results, with something as simple as a splash of wine or a pinch of chopped herbs, or as luxurious as shellfish stock and chopped lobster.
Here are some ideas:
White Sauce + Cream + Lemon Juice = Basic Cream Sauce
White Sauce + Curry Powder + Onion + Butter + Cream + Lemon = Curry Sauce
White Sauce + White Wine + Cracked Pepper + Parmesan = Alfredo Sauce
White Sauce + Dijon Mustard + Maggi® Seasoning = Dijon Cream
White Sauce + Swiss Cheese = Mornay Sauce
Did You Know? Minor's Culinary Cream can be used to thicken and stabilize a wide variety of cream- and butter-based sauces, keeping them from breaking or scorching.
Whether plain or embellished, basic white sauce can also be used to create cream soups, dips and spreads, gratins, and pasta bakes.
Add shredded cheese to make a White Pizza Sauce
Add cheese and potatoes to White Sauce for Gratin Potatoes
Use in lasagna or other baked pastas
Mix with cooked spinach or chopped broccoli for a delicious vegetable side dish
Alfredo Goes All In
Alfredo sauce may have started as a rich, comforting finish for fettuccine pasta, but in the decades since it was first created, this classic sauce has become a foundation for a variety of menu specialties. Beyond the predictable addition of broccoli and chicken for pasta, you can use Alfredo sauce in any number of creative, appealing, and profitable ways.
Create a signature by adding a second sauce such as basil pesto; or a tomato product such as marinara or tomato coulis
Add sautéed mushrooms, caramelized onions, peas, cooked broccoli florets, or other vegetables for a hearty meatless pasta sauce
Use as a topping for pizza, flatbreads, crostini, and bruschetta
Ramp up the flavor of basic Alfredo with additional Parmesan cheese or another cheese variety, such as Asiago or a blue-veined cheese
Use Alfredo to bind croquettes and savory cakes
Add flavor to cream soups by swapping in Alfredo sauce for some of the dairy
Layer Alfredo sauce into lasagna or other baked pasta dishes for a richer flavor
Make soufflés easier—and more delicious—with Alfredo sauce as part of the base
Add cooked bacon, pancetta, prosciutto, or ham to Alfredo to create carbonara sauce for pasta, proteins, or even vegetables
For more menu ideas that start with Alfredo, see "One Alfredo Sauce 15 Ways (PDF)."
Flavor up your Alfredo with the addition of a concentrate or other flavoring ingredient such as Minor's Herb de Provence Flavor Concentrate, anchovy paste, roasted garlic, or Trio Cheese Sauce
Nap proteins such as poached eggs, fish, or cooked chicken breasts with Alfredo sauce, and bake or broil to glaze
Use as a dip for fried calamari and other finger foods, instead of (or in addition to) tartare sauce or marinara
Get Started: Nestlé Professional offers a range of different Alfredo sauce products to meet a variety of needs: Stouffer's® Alfredo Sauce and lower fat Stouffer's Alfredo Parmigiana Sauce, in a ready-to-heat format; and Trio Alfredo Sauce Mix .