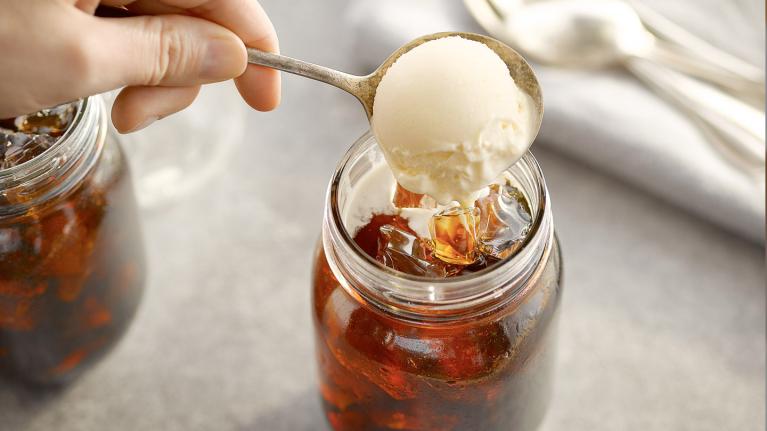 Dressed Up Coffee Is Dessert By Itself
June 3, 2022
Coffee has moved onto dessert menus in a big way and not just as an accompaniment to food. Here's a look at how coffee is changing the way we think about dessert. 
Cold coffee with ice cream in it? It's the typical way iced coffee is served in Australia. And now, Australian Iced Coffee is gaining popularity in the United States.1
It's part of a broader trend that is seeing coffee transform beyond just an energizing pick-me-up, and into an indulgent treat.
It also plays into bigger trends. A recent operator survey revealed beverages as desserts experienced the largest increase in sales of any dessert, beating such traditional favorites as cookies, brownies, pastries, pies, ice cream, and cupcakes.2
And, after the past couple of years, consumers are in the mood to treat themselves. Some 86% of consumers had a dessert within the last week.3
And finally, still, no other beverage beats coffee in terms of popularity. The National Coffee Association's latest annual report showed that 66 of Americans drank coffee in the past day. In fact, they chose coffee more than any other beverage including tap water.4
For operators, it's a win-win. Coffee desserts can be positioned on menus as a premium-priced category that can tempt both sweet-seekers and those who normally skip the last course. Furthermore, amped-up coffee beverages carry high profit margins but can be priced below that of typical desserts, representing both value for the customer and dollars for the operator. They also represent unique signature items and can also take pressure off the dessert/pantry station if that's a priority. And, of course, they can also be alcoholic or not.
And what's more, some, like the dalgona, have become social media stars. Viral videos of dalgonas captivated many stuck at home during the height of quarantine.5 And there is strong evidence that this drives traffic. A quarter of consumers say they have visited a restaurant in the past solely for an item they saw on social media.6
Here are some additional ways to capitalize on the growing trend of coffee as dessert.
— Affogatos are amongst the most popular coffee desserts. And they are pretty easy to prepare. Place two small scoops of ice cream (coffee, chocolate or vanilla) in a coffee cup; pour in a shot of espresso or three tablespoons strong brewed coffee. Top it with shaved dark chocolate and chopped hazelnuts.7
— Sparkling iced coffee can be made using espresso, cold brew, or freshly brewed coffee that has cooled to room temperature. Simply fill a glass with ice, add the sparkling water and then your coffee or espresso.8
— Create a coffee-based float by adding into that sparkling creation some ice cream. Cold brew or nitro coffee add extra dimensions to this classic indulgent refresher.9
— Pair coffee with a higher margin dessert food. When asked which desserts are their primary sources of revenue, operators say it's the varieties that typically require less prep or can be eaten on the go—desserts like cookies, brownies, cupcakes, and ice cream. Not only do these types of desserts comprise the best-selling varieties, they also have the highest margins. Cookies, in particular, take the cake and the top spot both for highest revenue and margins amongst all dessert types.3
— Don't be afraid to get creative. Coffee and avocado together? The idea will strike many as controversial to say the least. But it will definitely get you noticed. Indonesians swear by what is called "Jus Alpukat," which is basically an avocado coffee shake. And guess what? It is actually experiencing early adoption on menus in the United States.1 The website Serious Eats says it's "equally perfect as your morning beverage or after-dinner dessert, this rich and creamy avocado shake is an absolutely delicious way to get your daily dose of caffeine." It gets its creamy texture from avocado and milk, and its sweetness from condensed milk. To push it even further into dessert territory, you can also drizzle it with chocolate syrup.10
— Cold foam has really caught on and is another easy way to give coffee a dessert spin. The foam is frothed cold instead of hot by blending nonfat milk until it is smooth, creating layers of creamy texture and flavor without the cream. For an extra touch of sweetness, try cold foam in different flavors, including salted caramel cream cold foam and vanilla sweet cream cold foam. For a seasonal variation, try a pumpkin cream cold foam.11
— Among the inspirations for iced coffee creations today are takeoffs of sweet breakfast dishes such as French toast, waffles, and pancakes. These treats often use maple syrup and have buttery notes to play on the nostalgia of weekend breakfast.12 And carnival flavors are also having their moment. Pair coffee with funnel cake, a nostalgic treat associated with summertime carnivals, festivals, and state fairs. It is seeing significant menu growth, having risen 45% in menu penetration over the last 4 years. Funnel cake could be an opportunity for operators to take advantage of pent-up demand for open-air festivals, carnivals, and over-the-top fun.13
— Sprinkling or drizzling toppings onto iced coffee is another easy way to transform it into a dessert. Candy toppings, cookie crumbles, caramel or butterscotch syrup or drizzle, marshmallows, or coconut shavings are all possible add-ons.12
— Think globally. Pair coffee with a mbatata from Malawi or kulfi from India, as just two examples of international desserts that are on-trend. A mbatata is a cookie made from sweet potato, flour, milk, butter, eggs, sugar and spices (cinnamon is traditional) and sometimes raisins or chocolate chips. It is essentially a cookie take on already-familiar sweet potato pie (87% of consumers are familiar with sweet potato pie, according to Datassential FLAVOR). Kulfi is essentially a denser, creamier version of ice cream (it excludes eggs and isn't whipped) that's traditionally a conical shape and served on a stick like an ice pop.13
— Pair a mug of coffee with a popular mug cake. Mug cakes align with the trend toward smaller dessert portions and convenience, and they can be tweaked to align with diets like gluten free or keto, among others.13
—Take a cue from the adult beverage world and offer a coffee flight for dessert. They allow your guests to try different styles of coffee. One operator's Single Origin Coffee Flight, for example, features nitro cold brew, pour over, cortado, and espresso.12
—Transform popular cold brew coffee into a refreshing dessert. Starbucks debuted Chocolate Cream Cold Brew for the summer. The beverage features Starbucks Cold Brew topped with a light, sweet and silky chocolate cream cold-foam, and sweetened with vanilla syrup. "The classic combination of coffee and notes of chocolate, along with the malt flavor in the chocolate cream cold foam, are reminiscent of a chocolate malted milkshake or that last bit of melted chocolate ice cream on a warm summer day to recreate the sweet, creamy flavor of summers past," says Rosalyn Batingan of Starbucks beverage development team.11
Brew Up A Coffee Dessert With These Creamer Flavors
Transforming coffee into a dessert doesn't always have to be complicated, or expensive. In fact, often it can be done with ingredients an operator already has on-hand, such as coffee creamer. And since today's creamers come in more flavors than ever before, an operator can get creative by combining flavors or featuring holiday-themed flavors at different times of the year. Just top with some whipped cream or other indulgent add-ons like cookie crumbles or ice cream and you have a dessert treat. Here are guests' favorite away-from-home coffee creamer flavors ranked by popularity.
Vanilla 28%

Hazelnut 22%

Caramel 20%

Irish Cream 18%

Chocolate 17%

Sweet Cream 16%

Amaretto 14%

Holiday 13%

Butter pecan 13%

Pumpkin 13%

Coconut 11%

Lavender / Other Floral 9%
Source: "BUZZ 2022 Annual State of the Category," March 2022, by Datassential
Sources: 1. "Coffee Varieties & Terms," by Datassential, March 2022. 2. "Keynote Report: Dessert's Sweet Spot," by Datassential. 3. "Keynote Report: Desserts," by Datassential. 4. "National Coffee Data Trends 2022," by the National Coffee Association. 5. Lonely Planet 6. "Trendspotting," Volume 75, by Datassential. 7. Food Network 8. Cooking with Janica. 9. The Today Show. 10. Serious Eats. 11. Starbucks. 12. "The World of Cold Coffee," by Datassential. 13. "Trendspotting, Volume 100," by Datassential.
The information provided is based on a general industry overview, and is not specific to your business operation. Each business is unique and decisions related to your business should be made after consultation with appropriate experts.