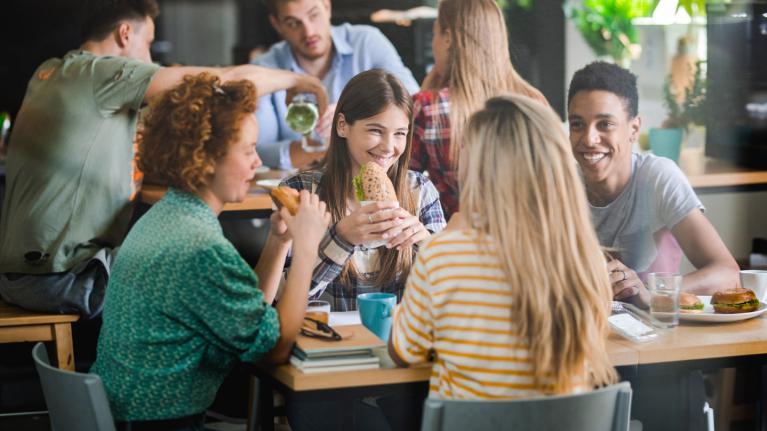 College Foodservice Shapes Tastes of Gen-Next Restaurant Diners
April 29, 2022
College students love innovative cuisine.  And, they'll take that appetite for new tastes with them after graduation. Discover what your future patrons want to eat. Hint: It's pretty amazing.
College isn't all about studying and homework. Food plays large, shaping standards and expectations that the four million Gen Zs set to graduate this year will take with them when they move on. In two- and four-year settings of residential dining halls and on commuter campuses, students have full exposure to sophisticated, trend-forward foodservice experiences that have been crafted in response to their unique hungers and whims. Like so much of what they learned in classrooms, these tastes and habits become deeply embedded baselines that will serve as blueprints for what they expect to find in the restaurants they'll patronize when wallets get fatter and dining-out occasions more frequent.
Curious, adventurous, driven by social values and drawn to experiential rather than transactional meals, they already show strong affinity for restaurant use. By all accounts, they will continue to be big restaurant spenders and influencers, quick to spend discretionary income on food. For operations looking to cultivate this crowd, gearing up for their further immersion is smart business.
Here's the rundown on programs and amenities that increasingly are on-campus norms rather than cutting-edge outliers and to which Gen Z students feel deeply connected:
24/7 access to meals, including all-day breakfast
Branded and proprietary restaurant concepts that mimic the real world in quality and authenticity
Contactless ease of kiosk and app-based ordering and payment via digital wallets
High-tech vending machines with capabilities for much more than coffee, candy bars, and wrapped sandwiches
Delivery anywhere, everywhere, and whenever
University-sponsored food trucks and eco-friendly food bikes
Super-efficient robotic delivery and even drones at some schools
Forward-thinking approaches to composting, recycling, and waste reduction for food and packaging
Plant-based options available at all meals
Organic, sustainable, and humanely raised ingredients
Farm-to-campus programs and even farm-on-campus programs
Ongoing partnerships with local farmers, growers, foragers, and producers
Student advisory committees and actively solicited input for on-campus meals and policies
Food halls with something for everyone, all convenient and within easy reach
Guest chefs to shake up menus
Quick change-out of concepts that become dated or less relevant
Prepared-to-order meals with customizable options
Shareable foods to enhance social interactions
Meals for specials diets with on-staff nutritionists available for personalized meal planning
Foods that mirror the diversity of student bodies, the explosive interest in global flavors, and even trends that explode on TikTok
As for what's on menus at campus dining locations around the country, here's a study guide on some current offerings:
Overnight oats with old-fashioned rolled oats, chia seeds, maple syrup, soy milk, and pumpkin seed topping
Roasted polenta cakes with quinoa and sweet corn, roasted red pepper sauce, and mozzarella cheese
Red lentil kofta with tzatziki sauce, arugula, red onions, and feta cheese in whole wheat pita bread
Lemon and herb-crusted tofu
Pulled short rib sandwich with caramelized onions, arugula, and mustard horseradish sauce on ciabatta
Buffalo cauliflower taco with tempura-fried cauliflower, crumbled blue cheese, buffalo sauce, and ranch dressing
Tamarind-glazed eggplant
Build-your-own pho bar
Noodle bowl of smoked pork belly, stir-fried noodles, pickled vegetable slaw, green onions, jalapeño chilies, and a hard-cooked egg, topped with chile-garlic sriracha sauce
Charred Korean chicken with sweet chile-ginger sauce
Wheatberry wraps with apples and beets
Fact
92% of college students consume caffeine, with coffee and energy drinks their top two buzzy
The information provided is based on a general industry overview, and is not specific to your business operation. Each business is unique and decisions related to your business should be made after consultation with appropriate experts.