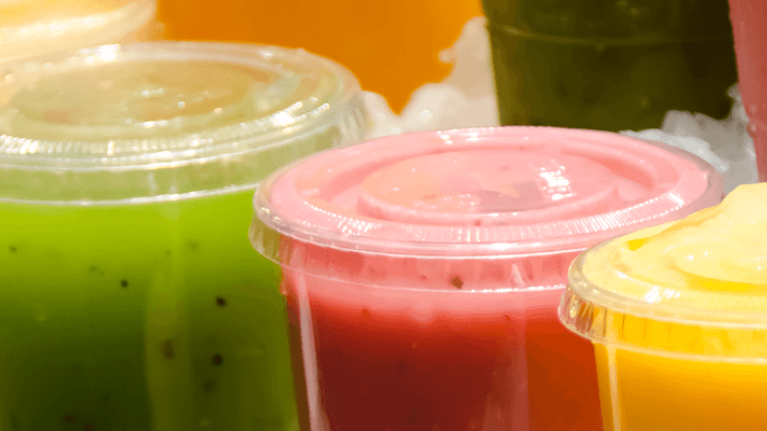 Drink Menus Can Bloom with Flavor
February 24, 2017
Twist traditional beverages into Fast Casual signatures.
Fast Casual beverage menus are making the move from sugar-packed sodas to natural drink options with botanical, floral, herbal, and spice flavors. Specialty lemonades, iced teas, and flavored waters are all ideal stand-alone beverages for Fast Casual customers, but these better-for-you drinks also lend themselves to creating sippable signatures.
"Try cardamom, nutmeg, and coriander to keep warm during winter, then switch to lighter, fruitier flavors for your summer beverage menu."
– Vid Lutz, Nestlé Professional, Product Development Chef
Drinking vinegars add a twist to mocktails when mixed with fruit juices such as grapefruit, quince, pineapple, or watermelon. With 73% of consumers having tried apple cider vinegar, popularity opens the door for operators to incorporate it into beverage menus. Apple cider vinegar is also packed with nutrients, which works well for health-conscious consumers.
Unexpected flavor combinations have a history of enhancing Fast Casual beverage menus. Since 2010, lavender has grown by 58% on beverage menus. Grab some lavender from the garden and create a lavender simple syrup for mocktails. Add an earthy twist to sweet drinks by incorporating rosemary as a lemonade garnish, for example. Mango iced teas, strawberry-lime flavored waters, or even a pomegranate sparkling water have the potential to add interest to a Fast Casual menu.
It's not just typical herbs and spices from the garden either. Flowers impart flavor to beverages too. Over the past 4 years, the incidence of hibiscus has risen 93.5%. And with 65% of consumers feeling most adventurous with flavors when away from home, new and fresh beverages aren't intimidating in the Fast Casual environment.
Millennials are ordering more beverages that promise intriguing flavors than ever before, but craving unique flavors isn't specific to a particular generation. In fact, 33% of Generation X consumers and 27% of Generation Z consumers would try something new if recommended by a friend or family member. So spice up your beverage menu with the cinnamon-infused taste of Mexican classic horchata. Also, bone broth is appearing as an atypical beverage on Fast Casual beverage menus, especially decorated with thyme, parsley, and other herbs. Although a savory stock, bone broth can be combined with kombucha for a vinegary flair.
For Fast Casual operators, locally sourced ingredients, especially ingredients from the garden, reinforce the idea of a fresh and natural menu – key words that consumers seek out. These same customers are willing to pay more for beverages that are described as such: 28% would pay more for fresh-squeezed juices, 23% would pay more for all-natural choices, and 21% would pay more for no artificial flavors. About 65% of consumers believe local is better, but over half of them aren't sure why local ingredients have more draw – a homegrown story just seems to appeal to customers' emotions. Customers want farm-to-beverage fare and the stories that come with it.
With so many consumers wanting to try new and unexpected flavor combinations, maintain healthfulness, and keep foods local, the ways to make a menu bloom are practically endless.
All trademarks are owned by Société des Produits, Nestlé S.A., Vevey, Switzerland, or used with permission.
SOURCES: Datassential, Next Generation Beverages, June 2016 | Datassential, On the Menu, December 2016 | Datassential, FoodBytes – Non-Alcoholic Beverages, June 2015 | Datassential, Cold Beverage Trends, July 2016 | Datassential, Nestlé Beverage Tracker | Datassential, CPP – Flavor Dynamics, 2015 | Technomic, Consumer Food Trends – 10 Things to Come in 2016 | Datassential, CPP – Generations, 2015 | Datassential, The New Healthy Keynote, April 2016 | Datassential, CPP, 2015