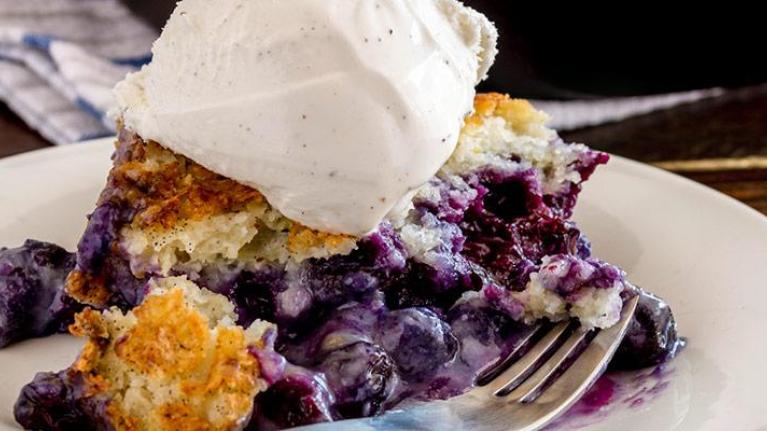 Easy-to-Make, Easy-to-Sell Desserts
October 20, 2016
Offering a full dessert menu doesn't require an in-house bakeshop, just some simple techniques and products. We have suggestions that will up your dessert game in a jiffy.
Not everyone can have a professional pastry chef or an in-house bakeshop. But that's no excuse for not taking advantage of the power of desserts to build sales and please patrons.
According to Technomic's 2015 Dessert Consumer Trend Report, 63% indulge in dessert at least once a week, many of them on impulse.
Sweets by the Batch
Arm yourself with an arsenal of easy but delicious batch-made desserts that can be upgraded with special presentations or finishing touches, train your staff to hand-sell them, and then sit back and count your dessert orders.
Count on Cobblers and Crisps – These comforting, fruit-based desserts (and their kin like crumbles and Bettys) are easy enough to pull off even in a kitchen that lacks a dedicated dessert station, and the fillings can be switched up with the seasons. Just warm and serve, perhaps with ice cream or whipped topping

Think Simple Classics with a Twist – Never underestimate the power of ever-popular desserts like cheesecake, chocolate cake, and ice cream. You can ramp up the appeal of these simple classics with the addition of interesting toppings, garnishes, sauces, and mix-ins, including branded dessert ingredients from Nestlé® Toll House®, Butterfinger®, and Nestlé® Crunch®
Did You Know? Baked goods and ice cream desserts are the top two dessert varieties at Top 500 restaurants, according to Technomic.
Repurpose Leftover Bread – The perfect example of thrift, bread pudding can be made with a raft of different day-old bread styles, including sandwich bread and baguettes, as well as more unusual baked goods like doughnuts, croissants, cinnamon buns, or gingerbread. Add chocolate chips, raisins, or other dried fruit, pitted cherries, or a spirited brandy sauce and you have an ever-popular dessert item

Heat Up Some Fruit – Roasted or grilled seasonal fruit represents a delicious upgrade from a fruit cup or fresh strawberries, and can be glazed and flavored with any number of other ingredients, from sweeteners such as honey or maple syrup to herbs and spices like lemon thyme or cinnamon stick

Look to Cookies – Customers love cookies; they don't care how easy they are for you to make. And if you up the ante by merchandising something like a warm, baked-to-order chocolate chip cookie, you've just done a very smart thing. Cookies have other uses, as well: sturdy ones can be used for homemade ice cream sandwiches, for instance; pair delicate sugar thins with a dish of sorbet. And don't forget bar cookies, which don't even have to be individually made
Get Started: Nestlé Toll House provides many different speed-scratch cookie products, or try an easy recipe like these Choc-Oat-Chip Cookies.
Create a Grownup Treat – Desserts are one of the most comforting things around, and you can play up that fact by taking childhood-favorite sweets and making them more sophisticated. Experiment with items like cupcakes, rice-cereal bars, or milkshakes

Offer an individual fondue, pairing strawberries, apple slices, and cubes of pound cake or angel food with dipping cups of warm melted chocolate and/or chocolate whipped cream

Create an over-the-top brownie (ie, with chocolate chips, frosting, or sauce), or use warm brownies to make a sundae

Menu an old-fashioned campfire treat like S'mores or a Banana Boat (split an unpeeled ripe banana lengthwise, fill it with chocolate chips and mini-marshmallows, then bake until gooey)

Make Nutella® French Toast

Infuse with booze, like rum butterscotch pudding

Brand a dessert with a beloved candy, like this Nestlé Toll House Chocolate Chip Pie
Other Easy Dessert Ideas
Many food service operators menu quality premade or custom desserts with pride, or fill out their selection of house desserts with a locally produced pie or pastry.
Upgrade Presentation with a Flourish – Adding a sauce, garnish, or an additional ingredient like ice cream or flavored whipped cream to a finished dessert can really add value and appeal. Or try a simple presentation technique like serving prepared desserts in individual cast-iron skillets, copper casseroles, Champagne coupes, or Martini glasses

Provide Some Contrast – Varying the texture or even the temperature of ingredients can help set a dessert apart (what's better than a hot fudge sundae with walnuts, after all?). Serve flan or no-bake cheesecake batter parfait-style with a crisp, hot streusel topping, or pair biscotti with a warm chocolate or mocha sauce for dipping and pouring
Did You Know? You can tap into the huge customization trend with a Dessert Bar Action Station (PDF), featuring attended display cooking or self-service toppings for cakes, ice cream specialties, cookies, doughnuts, and more.
Go Local – Just like the rest of the menu, calling out desserts and dessert ingredients that are locally sourced is a smart idea that speaks to quality. Mention local or heirloom fruits in menu copy, merchandise a plate of locally made artisanal chocolates or dessert truffles, or give a shout-out to a well-known local baker who makes the pies

Don't Forget the Drinkable Desserts – Specialty coffee, hot cocoa, smoothies, milkshakes, and other sweet beverages make a fine after-meal indulgence, one that's often perceived as lighter and can be priced more affordably. Print these on the dinner menu along with traditional after-dinner cocktails and spirits such as cognac, port, and liqueurs
Get Started: Check out these dessert-worthy beverage recipes for ideas.