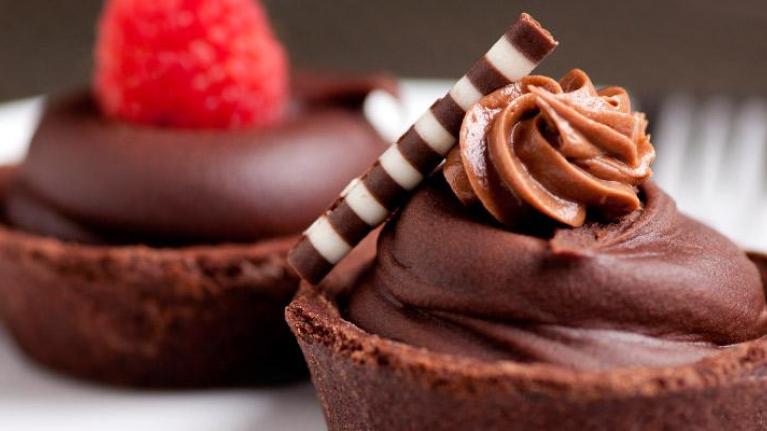 Offer More Chocolate! Your Guests Will Love You.
February 5, 2016
Ah, chocolate. No matter what desserts are popular at any given time—comfort food, mini-sweets, tropical fruit sorbets—chocolate will always be a favorite. Discover new chocolate trends and recipes that will delight your patrons.
Over the Top
"Six layers of chocolate cake and rich chocolate fudge icing, topped with walnuts." That's Claim Jumper's iconic Chocolate Motherlode Cake, featured on the Food Network as one of America's Top 5 Most Decadent Desserts.
For many consumers, that's the whole point of chocolate: decadent, indulgent, over the top. That means brownie sundaes, chocolate bread pudding with chocolate chips and chocolate sauce, double chocolate milkshakes, the cake tellingly known as Death by Chocolate. There's really almost nothing that's too much chocolate.
Get Started: Néstle® Toll House® Triple Chocolaty Chip Cookies and cookie dough are both a triple threat of chocolaty flavor.
Sampling the Trends . . . with Chocolate
Chocolate fits in fine with many of the most important dessert trends:
| | |
| --- | --- |
| Trend | Idea |
| Minis | Chocolate Mousse "Shots" |
| Ethnic/Global | Chocolate Empanada |
| Comfort Food | Chocolate Cookie Sandwich with Chocolate Ice Cream |
| Housemade Candies | Dark Chocolate Pistachio Bark |
| Lighter | Chocolate Sorbet with Fresh Strawberries |
| Sweet/Savory | Molten Chocolate Chile Cake |
| Samplers | One of all of the above |
Did You Know? You can tap into the huge customization trend with a Dessert Bar (PDF) action station featuring attended display cooking and toppings for such concepts as cakes, ice creams, cookies, doughnuts, and more.
Just a Little Bite
Chocolate is an indulgent food, it's true, but like many indulgent foods, a small amount can be plenty. In fact, you can help guests feel better about ordering dessert if you let them take it easy, with a shareable, smaller portion, sampler for the table, or another "just a little bite" option.
Cookies, brownie bites, a small individually wrapped chocolate bar . . . whether you charge a little bit or present one with coffee service or the check, depending upon your concept.
Get Started: Dessert Truffles are easy, luscious—and just a bite.
Branded Sweets
Researchers and savvy menumakers have long understood the power of co-branding on menus—that mentioning the name of a popular consumer food brand conveys an image of quality and authenticity, and builds trust.
Brands sell because consumers know them, especially when it's a beloved brand like Nestlé. The iconic Crunch® and Butterfinger® brands are available to food service from Nestlé Professional, along with Nestlé® Toll House® morsels, cookie dough, and cookies.
Calling out these brands as ingredients on dessert menu items helps to stimulate trial and to create a memorable signature.
Try This: Offer ice cream desserts and milkshakes with an à la carte selection of brand name toppings and mix-ins as a profitable boost that customers will love, too.
Bring Out the Whimsy
There's a little kid in everybody, particularly when it's time for dessert. That's why sweet, whimsical confections like S'mores, rice pudding, banana splits, and chocolate layer cake are enduringly popular with grownups as well as children. These comforting, whimsical desserts help everyone forget their troubles for a little while.
Chocolate is a key part of many classic childhood-favorite desserts or can be incorporated into them, even as simply as adding chocolate chips or a gooey chocolate fudge sauce.
Get Started: Cake Pops are delicious and fun, and can be merchandised as a dessert or snack on almost any kind of menu.
Drink Your Dessert
There are lots of chocolate-based beverages that can do double and triple duty as a dessert replacement or sweet snack, including floats, malts and milkshakes, and hot chocolate, as well as indulgent cocktails (Chocolate Martini, anyone?) that can be sipped after a meal.
These kinds of desserts are particularly appealing to customers because they are perceived as being lighter/smaller than a slice of cake or an ice cream sundae, and they can be tagged with a lower price point to encourage orders. In addition, many can be prepared in a way that takes pressure off the dessert station or pantry. Try adding them to the dessert menu or on table tents to test the reception.
The Nestlé Professional portfolio includes a variety of delicious hot cocoa mixes to create a sweet treat, as well as coffee, iced tea, smoothies, and more.
Get Started: Hot cocoa represents an ideal beverage-as-dessert concept, especially when it's topped with whipped cream or treated to an indulgent flavoring. In warmer months, try an iced specialty like this Frozen Blended Chocolate-Covered Banana.