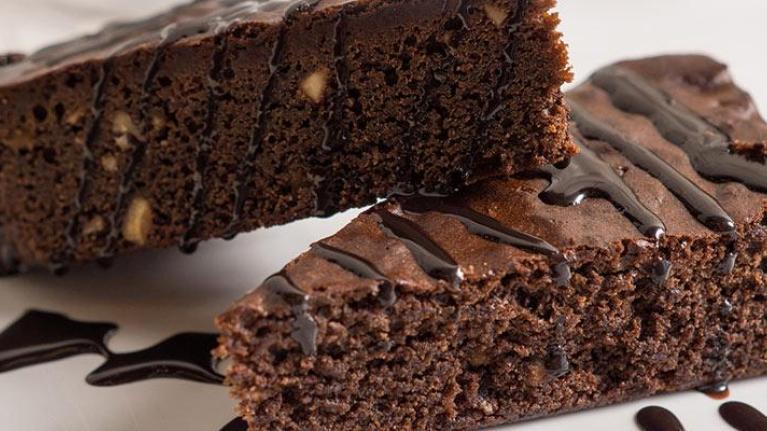 Five Tips for Customizing Premade Desserts
October 20, 2017
Adding a sauce, or a cookie, may be just the touch needed to turn a premade dessert into a signature sweet. Learn five surefire ways to dress up speed scratch. 
Desserts represent an easy avenue for pleasing customers and building sales, but face it: Not every operation can support an in-house bakeshop, pastry chef, or even a pantry person to handle desserts.
Fortunately, the variety of ready-to-serve desserts available to the food service industry is growing significantly, in terms of both variety and quality. From cakes, bar cookies, and pies to pastries, tortes, and other upscale signature preparations, it's easier than ever to source premade sweets.
Of course, many of these desserts can be enhanced at the point of service to add value and interest, creating a new signature and adding the ability to increase pricing. Beyond the pie à la mode model, there are many clever ways to do this:
Pair with flavored whipped cream or a sauce – One of the easiest ways to make desserts more appealing is by adding whipped cream or a sauce. Plain whipped cream (or yogurt or mascarpone cheese) can be enhanced with fruit purée, liqueur, coffee, chocolate, or citrus rind and juice, among many other possibilities. Dessert sauces, meanwhile, run the gamut from traditional chocolate sauce and crème Anglaise to surprising combinations of savory and/or spicy ingredients. Sauces can be drizzled on the dessert item, dotted or pooled on the plate, or presented in an attractive side vessel such as a pitcher or a small porcelain or glass bowl. 
Try This: This recipe for Chocolate Dipping Sauce can be used to enhance a variety of different desserts.
Ramp up presentation – Never has the expression "we eat with our eyes" been more appropriate than it is for dessert. Here are just a few ideas for presenting premade desserts:
Serve soft desserts like tiramisu or mousse in a coupe, parfait, or martini glass.

Thread cubes of cake with marshmallows and strawberries or cut fruit on skewers.

Collect old-fashioned and vintage plates for one-of-a-kind dessert service.

Consider a family-style presentation such as trifle for the table served in a glass bowl.

Design a sampler with several mini items.
Here's an Idea: Expand the concept for Doughnuts with Candy Topping to cupcakes, sheet cakes, mousse, and puddings, and more.
Look to garnishes – A dramatic garnish that can be prepped ahead and added at service is a great way to add value, as well as flavor and texture. Consider the following ideas:
Chocolate curls, lace, or other shapes (click here for ideas).

Berries or fruit slices glazed with jam or jelly.

Powdered sugar or cocoa (dust on the dessert itself, or on the rim).

Caramel filigree or spun sugar.

Fresh mint or edible flowers.

Sugared grapes.

Candied or spiced nuts.
Get Started: Branded candy pieces including Butterfinger® and Nestlé® Crunch® add name recognition to the advantage of sprinkling, rolling, or topping prepared desserts.
Add a signature touch – Beyond mere garnishes are over-the-top additions and finishing touches that take a bit more time, but pay off in signature appeal:
Brulee the top of a slice of cheesecake under the broiler or with a torch.
Accompany desserts with an unusual flavor of ice cream, gelato, or sorbet, perhaps formed into a quenelle shape with two spoons (just as the selection of premade desserts has grown, so has the availability of distinctive ice cream).
Consider adding a savory element such as maple-glazed bacon.
Spoon soft desserts into chocolate or cookie cups.
Add chocolate dipped strawberries or dried fruit as an indulgent edible garnish.
Pair a dessert with a cup of hot cocoa.
Put a cookie, individual truffle, or candy on the side of a dessert plate.
Did You Know? Nestlé® Toll House® provides a variety of cookies and cookie dough in such flavors as oatmeal, peanut butter, and chocolate chip.
Let the customer do it – Nothing entices patrons like giving them the option to design their own experience, including sweets. This can be as simple as putting sauce on the side so customers can dip and drizzle as they please, to a full-on customizable concept like a sundae bar. In between are such concepts as mix-and-match dessert sauces (either included or à la carte); DIY brownie sundae with a lazy Susan-style assortment of nuts, whipped cream, fruit, and more; customer's choice of two or more mini desserts; made-to-order crepes with various fillings; and chocolate fondue with dippables such as cubes of angel food cake, fruit, and other sweets.
We Have a Solution: Nestlé Professional has created a range of Action Stations designed to provide customers with the opportunity to design their own meal, including a Dessert Bar (PDF) that can be either self-service or attended.