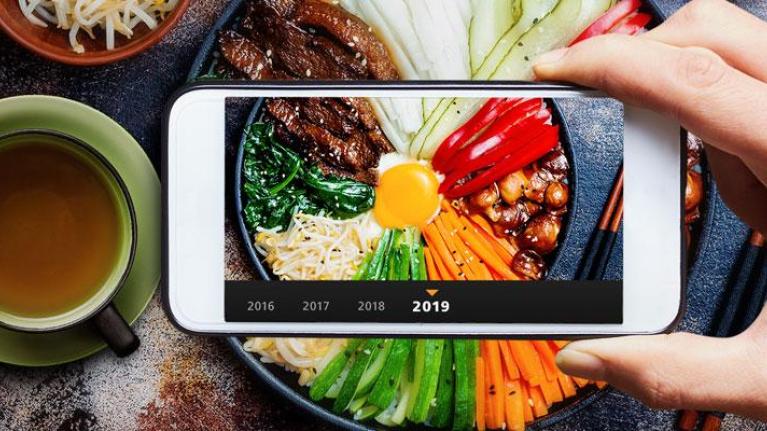 Food & Beverage Industry Trends 2019
October 20, 2021
Get Ready For New Year Opportunities
FIND OUT WHAT'S NEXT FOR FOODSERVICE
From new global mashups to evolving customer-facing technology, 2019 promises to be an exciting year.
If there's one thing that's constant in foodservice, it's change. Every year brings a new wrinkle, a fresh food trend, an innovation that wasn't even foreseen 12 months ago. This goes beyond the question of "What's the next sriracha?" to encompass developments that are both current and structural, long-term movements that will continue to affect the industry for years to come.
WHO IS THIS REPORT FOR?
Not all of the trends discussed here will affect these segments in the same way, but as channel boundaries continue to blur in the consumer's mind, demand and relevance will spread.
Retail: Convenience Store and Supermarket Prepared Foods
Restaurants: QSR, Fast Casual, Midscale, Casual, Fine Dining
Onsite: B&I, Lodging, Hospitals, Long-Term Care and Senior Living, K–12, C/U
WHAT ARE WE FORECASTING?
By focusing on the macro of developing trends—rather than the minutiae—this report will help you prepare for the coming year.
As ingredients and flavors from cuisines like Mexican, Mediterranean, and Asian continue to mainstream, consumers are becoming increasingly interested in food and beverages that reflect Korean influences, Indian mashups, and a deeper dive into Middle Eastern.
Popular menu specialties and techniques that are trending now reflect a focus on healthier options and culinary mastery, including fun, customizable poke bowls; sophisticated texture options that emphasize the crisp and the crunchy; and the continued evolution of plant-based diets.
Customer demand for new experiences, better convenience, and enhanced personalization are leading to the development of interesting new integrated food and beverage concepts, grab-and-go upgrades, 24/7 snacking options, and the technology that helps put it all together.
IN THIS REPORT
GLOBAL INSPIRATIONS
Global is the New Local
Korean on the Curve
Indian-Spiced Mashups
Middle Eastern Horizons
TRENDING SPECIALTIES AND TECHNIQUES
Healthy Drivers, High-Impact Prep
Poke Piques Interest
Plants Move Up the Food Chain
The Crunch Factor
BIG OPPORTUNITIES
Sales Builders for a New Age
Combo Meals 2.0
Grab & Go Upgrades
Snacking 24/7
Digital Innovations
Read all three chapters of the report. Plus, get more food & beverage insights delivered right to your inbox.
GLOBAL INSPIRATIONS
Global Is the New Local
Demand for international flavors and ingredients is crossing many borders—Korea, India, and the Middle East are the hot zones.
54% of consumers will go out of their way to try a new global food they've heard about, including 68% of Millennials and Gen Z.
DATELINE, THE WORLD—Where you don't have to travel to sample multiple global specialties. In fact, according to Datassential, global foods have lost much of the exotic, foreign image they might once have had. International flavors and specialties weave in and out of consumers' diets whether they are cooking in their own kitchens or ordering a pizza.
Now that Italian, Mexican, and, to a lesser extent, Chinese have become nearly commonplace, savvy customers are looking to new horizons, including the food and beverages of India, Korea, and the Middle East. These may be sampled first in ethnic restaurants, but in their march to the mainstream they're becoming more familiar, less intimidating, and an important strategy for keeping offerings fresh, new, and exciting.
For operators, that means sourcing is easier and the opportunity for innovation is strong, with the ability to add flavors, ingredients, and iconic recipes in ways that can be authentically ethnic or globally inspired fusion.
Nearly all consumers
have eaten at an ethnic
restaurant, with Asia and
Europe representing the
most common cuisines.
I HAVE BEEN TO AN
ETHNIC RESTAURANT
THAT SPECIALIZES
IN A CUISINE FROM:
Ethnic Restaurants Ever Visited (%6 selecting)
Source: Datassential Global Flavors Keynote Report, November 2017
Consumers no longer need to travel to eat global food, because it's available locally; only 20% get it through travel.
Ethnic Restaurants Ever Visited (%6 selecting)
Source: Datassential Global Flavors Keynote Report, November 2017
TRENDING SPECIALTIES & TECHNIQUES
Healthy Drivers, High-Impact Prep
It may seem as if today's food and beverage trends are all over the place, careening from newer-than-new beverages like nitro cold-brew coffee to heirloom grains that have been enjoyed for thousands of years, from funky, fermented kombucha to comforting old-fashioned fried chicken and biscuits. The fact that these divergent offerings can and do coexist on menus is one indication of how popular they are.
Consider poke. This Hawaiian-style fish salad has caught on in no small degree thanks to its healthy image. Low-fat yet flavorful, easily made gluten free, and loaded with protein and vegetables, poke checks many of the better-for-you boxes. It's also attractive and Instagram-friendly, reflecting the knife skills and attention to presentation that go with it. Small wonder that, according to Datassential, it's particularly popular with the influential Gen Z and Millennial demographics.
Another trend that's benefiting from consumer interest in healthier options is plant-based dining. With more consumers eating less meat and more fruits, vegetables, grains, and other plant foods, the menu landscape is changing to accommodate not only vegans and vegetarians, but also a growing number of so-called flexitarians. These consumers still eat meat, but they're eating less of it, and they're challenging operators to create plant-based menu items that are just as satisfying and tasty as traditional offerings.
Certainly, the popularity game will be won by those who can offer food and beverage options that answer demand for craveability—that unique combination of qualities that includes texture as well as flavor. That's one of the reasons that crisp, crunchy foods like fried chicken, chips, toast, nuts, and crudité are so on-trend right now.
Protein as a healthy term on menus has grown 76.7% since 2014.
"Crunch" occurs on 9.5% of U.S. menus, often as part of a specific item's name, such as Avocado Crunch Burger.
Sources: Datassential, Most Popularly Menued Healthy Terms, 2018; Datassential SNAP! Poke, 2018; Datassential, Plant-Based Eating SNAP! Keynote Report, 2018; 2016 Technomic Inc., Healthy Eating Consumer Trend Report; Technomic, "The Nuances of Craveability," 2013; Datassential SNAP! Crunch, 2018
Would You Like To Receive the Full Report?
To get the full report, enter your email address and we'll deliver it right to your inbox.