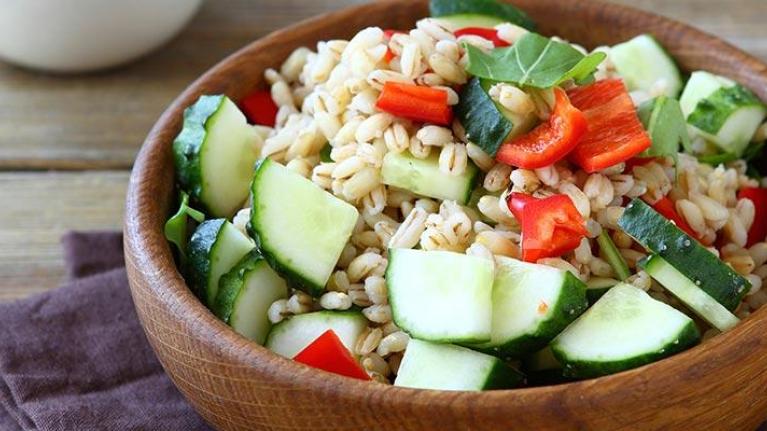 Go All-In on Whole Grains for Healthy Profits
October 19, 2015
Whole grains are having their day in the sun. Guests are asking for more whole grain pasta, bread, and grain bowls. Learn new ideas for healthful, tasty, whole grain dishes.
We all know that whole grains are good for you, from reducing the risk of heart disease, stroke, and diabetes to helping maintain weight. And interest in whole grains is growing, particularly among savvy Millennials who appreciate their health benefits, delicious flavor, and distinctive texture.
Research firm Technomic named grains among the Top 10 menu trends in 2014, revealing further that 45% of consumers believe that dishes featuring whole grains are more flavorful than other menu items. 
Still, the evidence suggests that only 15% of Americans are consuming the recommended daily intake of grains. Here's how you can menu more delicious, on-trend grain dishes. Flavor and fun hold the key:
Grain Bowls
Meal-in-one grain bowls are hot hot hot right now, particularly in fast-casual restaurants and college and university food service. Sweetgreen makes its grain bowls with a choice quinoa and farro, or organic wild rice. Colorful and delicious grain bowls have infiltrated stylish restaurants and cafes in Boston. Menus at Dartmouth College innclude all sorts of grain options, from steamed farro and whole grain bars to falafel over a grain bowl.
The beauty of grain bowls is that they can be made with just about any ingredient to appeal to any customer—from high-protein meat- and quinoa-based Paleo bowls to vegan selections that have no animal products whatsoever—but plenty of healthy flavor from grains, greens and seeds.
Get Started: The Nestlé Professional Action Station platform includes a number of customizable concepts based on grains, including Cold Farro Salad (PDF) and Athens Blend Grain Salad (PDF).
Whole Grain Pasta
Pasta made with whole grains used to get a bad rep for dull flavor, but interest in healthier eating has spurred the introduction of more flavorful whole grain spaghetti and other noodles and pasta. Today's whole grain pastas are not only tastier, they're also more satiating.
That means that just about any recipe can support the substitution of whole grain pasta or noodles, whether incorporated in a low-key, stealth health way, in which the customer is unaware of the change, or merchandised on the menu as a boon to the health-conscious diner. For instance, Carrabba's Italian Grill allows customers to substitute whole grain spaghetti for any of its pasta dishes.
Get Started: Nestlé Professional offers a number of fully prepared whole-grain options that can be served as-is, or customized with additional ingredients, including Stouffer's® Macaroni and Cheese made with Whole Grains.
Whole Grain Bread
Here's a category where it's easy to boost the whole grain quotient—especially since whole grain breads are becoming increasingly popular, and more delicious options are available.
Bakery-café concepts like Panera Bread and Au Bon Pain are leading the charge with multiple whole grain choices, ranging from bread and rolls to tortillas and even flatbreads. This in turn is raising awareness—and demand—for whole grain options.
In addition to offering whole grain breads for sandwiches, either as an option or by designing a menu item around the bread itself (PDF), there are other ways to incorporate whole grain breadstuffs on the menu:
In croutons or breadcrumbs

As the base for a panzanella salad

In French toast

As a bread pudding, either sweet or savory

In stuffings
Grain Side Dishes
Notice all the quinoa being offered as a side dish on mainstream menus lately? This healthy ancient grain has definitely arrived.
Grains with names like teff and freekeh may sound intimidating, but the truth is almost all grains can be boiled in stock or cooked pilaf style, as you would rice. (Here is a handy cooking guide for 19 grain varieties) The only real difference is the cooking time, which can range from 10 minutes for bulgur to up to an hour for barley or wild rice; some of the sturdier grains, such as wheat berries, should be soaked ahead of time.
Adding flavorings and ingredients like caramelized onions, sautéed mirepoix vegetables, mushrooms, nuts, dried fruit, and more turns the grains into a high-value side dish. And cooking any grain in flavorful stock or broth will make it more tasty. Look to bases from Minor's® and Maggi® as flavor builders, including gluten free and vegetarian options.
Try This: Menu a different daily or weekly grain-based side dish under the Chef's Choice banner, either à la carte or as an included accompaniment to a popular entrée. This can be used as a talking point for the service staff which will help educate your customer base.
Porridge for Breakfast and More
Funny name, big trend. Beyond nursery rhymes and Goldilocks, breakfast porridge has become suddenly popular in restaurants and the food press.
There's oatmeal, of course, but porridge can be made with a variety of whole grains, presenting as a comforting, sweet or savory bowl of warmth.
Try porridge or oatmeal on a self-service bar with serve-yourself toppings such as sliced bananas or other fruits, nuts, jams, and syrup

Investigate Asian porridges like Chinese congee, which could become the next pho; making it with brown rice or wild rice makes for an extra nutrition punch

Experiment with different grains, or a mix, to vary the texture and flavor of porridge

Porridge can even be served for dinner, particularly in a late-night setting, in a college display cooking station, or as a DIY fast-casual platform where customers choose their own toppings and mix-ins
Did You Know? According to the Whole Grains Council, some of the other hot grain trends that apply to menus include whole grain in kids' meals, Asian noodles, and non-wheat flours, such as millet and rice.