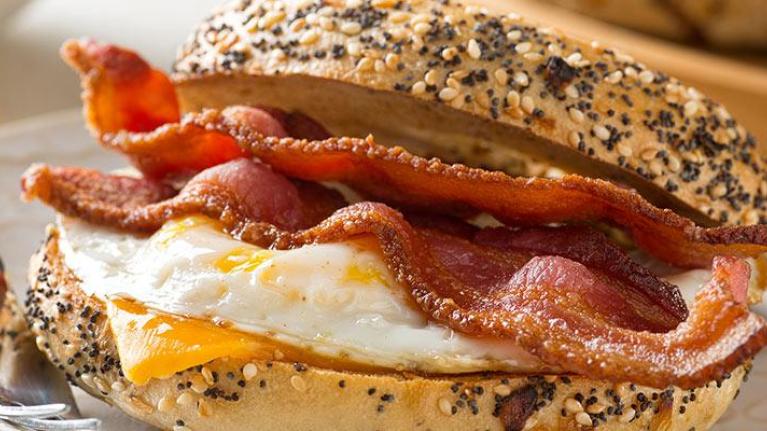 Morning Menus, All-Day Sales
December 1, 2018
Breakfast doesn't have to stop before noon. Patrons are asking for eggs, grains, and breakfast beverages all day long. Learn to profit from their yearnings.
With breakfast growing in every segment, it pays to make an investment in the morning menu and beyond—in fact, says Datassential one of the reasons sales are increasing is the rising popularity of breakfast served all day.
More creative specialties, whether healthy or indulgent, help give breakfast operators an advantage over the competition. Here are a few on-trend categories to consider:
Baked Eggs Are Big
Baked egg dishes are an easy, creative menu addition that doesn't need to be watched closely; simply ladle sauce into an ovenproof dish and crack in a couple of eggs.
Shakshuka—A staple of Arab and Israeli cuisines, shakshuka is both a spicy sauce of tomatoes, peppers (both sweet and chile), and onions, as well as the breakfast specialty in which eggs are poached or baked in the sauce
Eggs in Purgatory—Poaching eggs in a tomato sauce of varied spiciness is an Italian tradition
Oeufs en Meurette—This classic French specialty consists of eggs poached in red wine, which is then thickened and enriched with bacon lardons, mushrooms, and shallots
For more on breakfast, see below.
Liquid Breakfasts
Shakes and smoothies represent an easy-to-enjoy breakfast with a less-filling profile and the added advantage of grab-and-go convenience.
Additions and supplements such as whey powder, coconut oil, and vitamin boosts add nutrients—and value
Mix cold brew or iced coffee into blended breakfast drinks as a two-for-one answer to hunger pangs and the need for caffeine; cocoa can also be blended into breakfast shakes
The popularity of green smoothies made with kale, collards, spinach, green grapes, avocado, and other fruits and veggies is a trend worth pursuing
Biscuit Breakfast Specialties
Housemade biscuits are more on-trend than ever; their growing popularity can be leveraged as a premium option at breakfast.
Biscuits and gravy, with or without eggs
Breakfast sandwich built on a biscuit, such as bacon and scrambled eggs with Vermont white cheddar cheese and sautéed greens
An à la carte basket of hot, fluffy biscuits with artisanal butter, honey, jam, or even pimento cheese
Go for the Grains
Grains, especially the ancient kind, come complete with a healthy nutritional profile and contemporary appeal.
Menu upgraded oatmeal or savory porridge made with ancient grains, plus seeds, nuts, cheese, and the option of a plant-based milk alternative for good measure

Sub in whole grain flour for plain in waffle and pancake batters, including trendy fried chicken and waffles, as well as muffins like whole wheat banana
Offer grain-based cold cereals such as granola or muesli, or energy bars made with these pliantly crunchy products
Make a Hash of Things
Never was there a better way to repurpose cooked meat than in hash; the original version was typically made with leftover corned beef or roast beef.
Go upscale with short rib, duck confit, or smoked turkey, fingerling potatoes, and lots of fresh herbs, plus perfectly poached eggs
Do a vegetarian version of hash with sweet potatoes, caramelized onion, and rosemary, topped with creamy burrata
Kedgeree is a Brit-Indian hash variation made with smoked haddock and curried rice, topped with hard-boiled eggs, but it can also be made with more familiar smoked salmon
Source: Datassential SNAP! Breakfast, September 2018
The information provided is based on a general industry overview, and is not specific to your business operation. Each business is unique and decisions related to your business should be made after consultation with appropriate experts.
GET STARTED
Nestlé Professional provides a number of breakfast-ready products, including beverages such as brewed, espresso-based, and cold brew coffee; creamers; hot cocoa; and juice.
The culinary brand portfolio includes Minor's®, Chef-mate®, Trio®, and Stouffer's® products with plenty of versatility for breakfast signatures. 
DID YOU KNOW?
Breakfast is on 27.5% of US menus, having grown 19.5% since 2014.
The growth forecast for breakfast over the next four years is strong, and is expected to outperform 95% of other food, beverages, and ingredients between now and 2022.