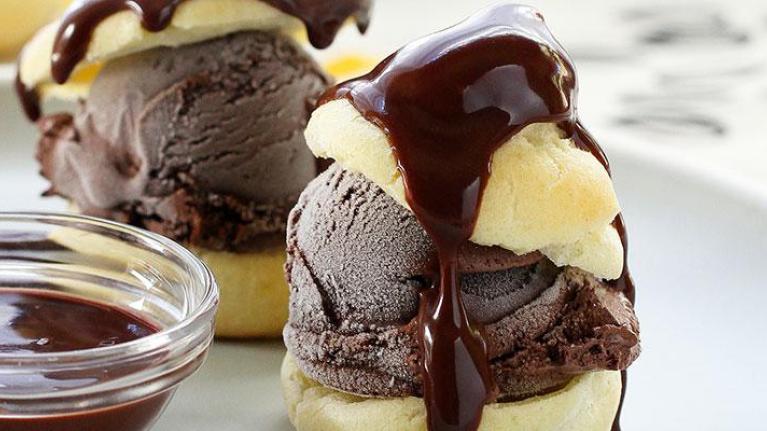 Discover 10 Sales-Boosting Dessert Concepts
October 20, 2015
Desserts are always a favorite whether traditional, unusual, mega-size, or mini. There is a reason they are served by 91% of restaurants! Learn 10 new twists to sell more sweets.
It should be no secret by now that dessert represents a big opportunity to satisfy customers and build sales, in any market segment. According to Datassential, desserts are served in 91% of all restaurants (PDF)—84% of quick-service locations and 99% of fine dining establishments serve dessert—numbers that have grown notably over the past 10 years. And it's safe to say that just about every school, college, hospital, senior living center, and employee dining room offers a dessert or three or four.
Not just any dessert though. Distinctive, on-trend, after-the-meal sweets give operators a chance to encourage add-on sales, as they encourage guests to indulge, experiment, and share.
In fact, desserts have become more innovative than ever, in part thanks to a new generation of bakers and pastry chefs that have brought the same type of passion and creativity to desserts that young chefs have brought to the savory kitchen.
Minis Still Big
Miniature and individual-portion desserts have been a trend for over a decade—and they're not over yet. Classics like brownies, cupcakes, and bar cookies are still going strong, along with bite-size versions of more elaborate desserts like cakes, cheesecake, pastries, sundaes, and more. In fact, just about anything that can be miniaturized will be, attracting customers who want just a bite and saving on the waste of cutting (and perhaps not selling) a full-size dessert such as a pie or cake. Mini-desserts are also really big for snacks and in catering.
Try This: Doughnuts with Candy Topping do triple duty, for an individual dessert as well as at breakfast and for snacks.
Salty/Spicy/Savory Flavors Heat Up
Ingredients that aren't normally associated with desserts, from spicy chilis to sea salt to savory herbs, are being used to create signature sweets. Dessert makers have only to think about the impact that salted caramel has had on the market to see the proof of how popular these flavors can be. Other popular combinations include chocolate with chili or hot pepper, and herbs from basil to bay leaf to lemon verbena. And don't forget bacon as a surprise ingredient in popular desserts.
Here's an Idea: Add Minor's Chipotle Flavor Concentrate to chocolate ganache for a spicy kick, or use it in a caramel sauce for roasted fruit such as pineapple (great as a topping for vanilla bean ice cream).
Kids' Sweets Grow Up
Desserts that appeal to the kid in all customers entice and delight. Whoopie pies, over-the-top sundaes and ice cream sandwiches, cake pops, warm chocolate chip cookies . . . we wanted them when we were children and they still represent a delicious way to wipe out the cares of an adult life for a little while at least. Custards and pudding, especially rice pudding and bread pudding, are another childhood treat that has found new sophistication in adult hands.
Did You Know? Bread pudding doesn't need to be made with leftover bread; you can also repurpose dinner rolls, cinnamon buns, muffins, or cake, as in this Pound Cake Bread Pudding featuring Nestlé® Butterfinger® Pieces.
The Return of Pie
Like other artisanal foods, pies have staged a comeback; not that they ever went away, but their popularity was overshadowed by trendier, showier desserts. Pies are comforting, delicious, familiar, and often seasonal in nature—from spring's strawberry-rhubarb to pumpkin pie in the fall—and they exist in dozens of different variations, including regional favorites like Southern pecan pie, cream pies, meringue-topped lemon, rich coconut custard or chocolate, or refreshing berry or peach. Pies can also be gussied up in contemporary ways with fillings like s'mores, and brown sugar (the famous Crack Pie from Momofuko milk bar), or sweetened avocado—in fact, there's almost no end to the possibilities.
Tip: Use Minor's Freeze Thaw Thickener to stabilize fruit-filled pies, such as apple.
Comforting Memories
Old-fashioned, nostalgic desserts are making news, echoing the comfort foods that are so popular everywhere nowadays. From chocolate cake to blueberry crisp, comforting desserts are not only familiar to guests, even in innovative, cheffy forms, but they also tend to be easier to make or source in their classic simplicity. Serving comforting desserts in homey presentations like skillets, Mason jars, and individual baking dishes is another effective way to bring the message home.

Build Your Own Desserts
Customers like it their way, at each and every point along the way, and that includes dessert. Concepts like filled-to-order cannoli or cookie-and-ice-cream sandwiches, top-your-own sundae bars, rice pudding with à la carte stir-ins, build-your-own trifle (a kind of layered custard parfait), frost-it-yourself cupcakes, and more, are playing in with the huge customization trend that's sweeping the country. These DIY innovations are especially popular on college campuses, in catering, and in fast-casual restaurants, and the success of franchises like Pinkberry prove that the right customizable dessert can support a dedicated venue.
Get Started: Nestlé Professional offers an array of easy-to-implement Action Stations, including a Dessert Bar (PDF) platform that features customizable cakes, doughnuts, and dessert quesadillas.
Classics Redefined
Like comfort desserts and childhood favorite sweets, there will also always be a place for classic favorites, whether tweaked a bit for modern tastes or presented in all their authentic glory. Regional favorites like Key Lime Pie and Apple Pandowdy have a place on the list; so do grand old fancies like Baked Alaska, éclairs and creampuffs, and flaming tableside crepes Suzette. Heritage cookbooks can be a great source of inspiration, for everything from banana pudding to Black Forest Cake.

The Sharing Culture
"Let's share a dessert." That's the mantra of customers who want something sweet after a meal but don't want to order something for themselves—or maybe they want to try several desserts so they can sample more than one. Whatever the reason, desserts that can be shared are a big trend, whether it's a generous sampler, an over-the-top brownie sundae served with two or more spoons, or a plate of cookies, artisanal candies, or truffles.
Tip: These delicious Dessert Truffles are easy to make—and even easier to sell.
Year-Round Frozen Treats
Ice cream is no longer just a summertime indulgence. In fact, the rising popularity of specialties like malts, milkshakes, sundaes, and soft serve have created year-round demand for frozen treats of all kinds, including not only ice cream but also semifreddo, gelato, sorbet, frozen yogurt, and affogato (an Italian specialty of gelato "drowned" in a shot of espresso). Other possibilities include paletas, ice pops and other variations on the popsicle.
Get Started: Nothing says you can't sell indulgent beverages for dessert, including Iced Chocolate-Hazelnut Cappuccino and Vanilla Blackberry Frappé.
Chocolate and More Chocolate
Sure, fruit desserts are healthy delights, but it's probably true that nothing will ever take the place of chocolate at dessert. Luckily, the category of chocolate desserts covers a lot of ground, from hearty German Chocolate Cake to delicate Chocolate Mousse and everything in between. And if chocolate sells dessert, branded chocolate sells it even better, including Nestlé® Toll House® and Nestlé® Crunch®—add these ingredients to your favorite desserts and call the brand out by name.