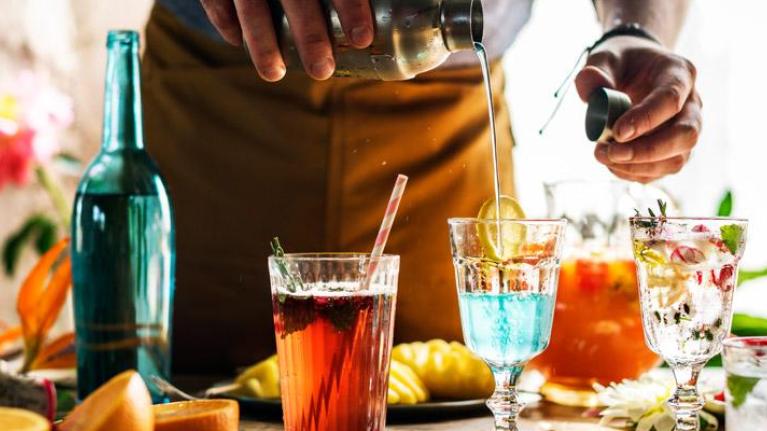 Add Pizzazz to Your Cocktail Program
October 19, 2021
Cocktails continue to be a profitable category. Discover the trends and innovations that can keep your cocktail program's momentum going. We have ideas and recipes, here.
Culinary Connection
Mixologists are thinking like chefs and raiding the kitchen pantry when it comes to drink creation. This is fueled by a trend toward more savory/umami notes and incorporating vegetables, fresh herbs, spices, and other back-of-the-house staples:
Vegetable juices such as kale, carrot, and beet as a drink base
Herbs enhance bouquet as well as flavor; muddle and use to garnish: mint, cilantro, thyme, lemon balm, basil, sage, and more
Instead of simple syrup, use honey, maple syrup, agave, or molasses
Use espresso, hot coffee, or cold brew as a base for martinis, spritzers, or Irish coffee
Try hot or iced tea, using flavored teas for variety
Bloody Bounty
A perennial brunch favorite, the Bloody Mary has spun off a number of variations. Operators can easily change up this hugely popular cocktail formula with these substitutions, additions, and garnishes:
Bloody Maria – swap tequila or mezcal for the vodka (garnish with whole chile)
Bloody Caesar – use tomato-clam juice (pickled asparagus)
Bloody Bull – add beef bouillon to the mix (beef jerky)
Peruvian Bloody Maria – use Pisco as the base instead of vodka (perch shrimp on rim)
Michelada – spike tomato mix with lime juice and hot sauce, top with Mexican lager; (rim the glass in chili-salt)
DIY Bars
Millennials love to customize, which is why DIY bars are gaining popularity in restaurants:
The Bloody Mary family is ideal here. Arrange in the order of build: carafes of tomato juice, then Worcestershire, hot sauces, horseradish, clam juice, garlic; a choice of vodkas or other spirits; and garnishes (try next-level mini-burgers, ribs, pickled veg, shrimp, pizza slices, lox and bagel wedges)
Try a Mimosa bar: Offer a variety of fruit juices (or even iced tea) as the base, sparkling wine or soda water to add bubbles, and fresh fruit garnishes
Give Old Fashioneds new fashion. Guests can choose their base: bourbon, rye, brandy or mezcal, then add a splash of fruit juice, simple syrup/sugar cubes, and various bitters, plus garnish (fresh and candied oranges, lemon, cherries)
Smoky & Spicy
This cocktail category is hot. Operators don't need a blowtorch to add a touch of smoke to drinks. Here's how:
Use mezcal or Scotch as a base or split-base; each adds a smoky nuance to any drink, from margaritas to Manhattans
Lapsang souchong tea, brewed or infused in syrup, imparts subtle smoke to a drink
A drop or two of liquid smoke will also do the trick
Rauchbier, "smoked beer," perks up a Michelada; don't forget the smoked salt-chili rim
Millennials love spicy foods, and adding heat to drinks is easy.
Muddle slices of jalapeño in the mix cup to spike a mojito or margarita
Add harissa, peri-peri, wasabi, masala, or jerk spice for international flair
The information provided is based on a general industry overview, and is not specific to your business operation. Each business is unique and decisions related to your business should be made after consultation with appropriate experts.
CHOOSE THE RIGHT GLASS
Presentation is key to selling more cocktails and making a splash on social media. Every drink is enhanced by a certain type of glass. Size is important; depending on your pour, drinks should not appear skimpy or brim to the top. Here are key types to stock:
Coffee cups, for the growing category of cocktails featuring espresso and cold brew coffee
Rocks, highball, or Collins; Martini or coupes; shot glasses, hurricane, or tiki mugs
Standard-sized white wine glass can do double duty for many cocktails, beer, and sparklers
Think tiny; offering flights of mini-sized cocktails is trending
KEEPING COOL
Ice is a critical component of cocktails, but one size does not fit all. Shape and size impact chilling speed and dilution as well as presentation.
Mixing – Use standard 1x1-inch cubes in the mixing cup
Rocks – Large cubes or spheres should just fit the glass and melt slowly
Highballs – Spears and shards glitter in G&Ts and whiskey sodas
Crushed ice – Perfect for classics such juleps and swizzles and spritzers
Frozen drinks –  Ice-blended drinks like smoothies and frappés are easy to prepare with concentrate mixes; just add alcohol
TRENDING BEER STYLES
Specialty beers are a great addition to a cocktail program:
Hazy IPA – This unfiltered, juicy ale is easy to drink and looks good on Instagram
Sour Beer – Gose, Berliner weisse, and wild ales have crossover appeal to wine drinkers
Lagers/pilsners – "Session" brews fit low-ABV trend
Confectionary/Dessert Ales – These include for an ice-creamy mouthfeel
Rosé – Pink is today's wine