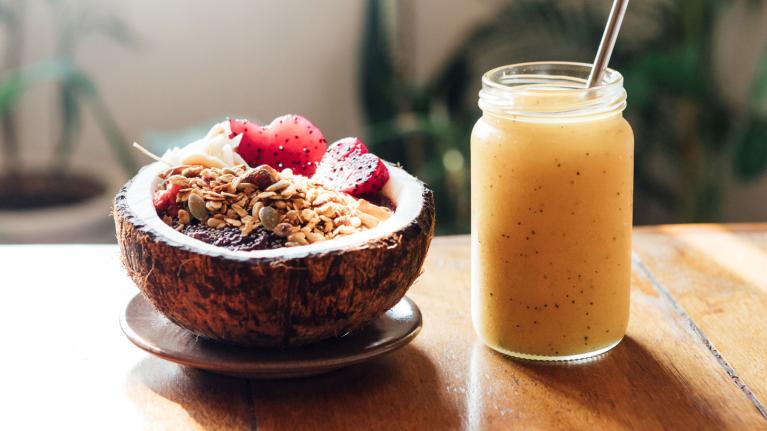 Wake Up to Plant-Based Mornings
February 1, 2022
The plant-forward trend is strong in all dayparts, including breakfast. Wake up to the possibilities of meat and dairy alternatives in the morning. Get details and recipes, here.
When looking to understand whether an emerging food trend has staying power, sometimes the smartest thing to do is follow the numbers. With the buzzy and much-hyped family of meatless and plant-forward foods, the path leads directly to Millennials and Gen Zs, two huge and influential demographic groups born between 1981 and 2012 that together account for roughly 140 million people—about 42% of the total U.S. population. Their behaviors, marked by heavy restaurant use with a strong side of social awareness and activism, point to booming business for plant-based meals.
This interest isn't a vegan or vegetarian thing—only about 5% of the U.S. population1 regularly follows such diets. Instead, it is fed and fueled by diners, mostly Millennials and Zs, who are motivated by values that support more flexitarian and vegan-curious lifestyles. Concerns over sustainability, animal welfare, environmental factors, health considerations, and even a taste for variety are among the drivers of plant-forward meal choices and meat-free meals in foodservice.
Interest has been explosive, with about 70% of consumers estimated to have tried at least one such meat substitute. According to The NPD Group, growth of the category is expected to stay strong through at least 2024 and there's no better time to tap the trend than breakfast, a meal with lots of plant-based choices. Explore the trend and then plant new items on your menu.
Adding plant-based items to breakfast menus is appealingly easy, with eye-opening options to satisfy all appetites.
Beverages
Non-dairy milks such as soy, almond, hemp, oat, rice, coconut, and cashew are among the easy options available to whiten coffee, tea, and hot cocoa.
Chagaccino with chaga tea, cinnamon-vanilla monk fruit, almond milk, and espresso over ice

Dirty masala chai with chai-spiced tea, almond milk, and a shot of espresso
Smoothies
Eschewing milk products and dairy yogurt is pretty simple for this fruit- and veg-forward class of drinks that is easy to amp up with functional ingredients.
Coconut water, spirulina, greens, mango, pineapple, and ginger

Banana, pineapple, avocado, ginger, and carrot juice

Banana, date, spinach, peppermint, maca, chlorella, hemp seed, and raw granola
Bowls
Grainy bases topped with a bounty of fresh fruits and veggies make strong showing for easily eaten, on-the-go breakfasts.
Breakfast burrito bowl with pan-seared chickpeas, black rice, lentils, quinoa, cabbage, guac, and mango salsa

Basmati rice with vegetables seared in coconut oil and seasoned with tamari and topped with marinated kale, sprouts, hemp seeds, and vegan walnut parmesan
Toast and Bagels
Bread, biscuits, muffins, and bagels are edible platforms for a full range of toppings. Avocado toast, still a strong seller on menus, is just for starters.
Almond butter toast on sourdough bread with strawberries, banana, maple, and cacao nibs

Smoked carrot lox and bagel with sesame seed cream cheese, capers, dill, and onion
Breakfast Meats
Popular ground meat products easily sub in for sausage patties and links while seitan, tempeh, wheat meat, and soy take the place of traditional bacon.
Brunch burger with plant-based patty, vegan

c

heddar, tofu scramble, pickles, tomato, onion, and hollandaise aioli

Chimichanga with crumbled plant-based chorizo, tofu, cashew queso, chilies, black beans, rice, guacamole, guajillo sauce, and pico de gallo
Waffles, Pancakes
Ensuring that these carb-happy offerings are meat-free is pretty straightforward; the biggest caveat being that eggs are part of many recipes. Some formulations are egg-free while others are adapted with substitute products.
Almond flour pancakes with banana whipped cream and almond

or cashew

butter

Griddled vegan blueberry cornbread oven cake with scrambled tofu, vegan butter, and maple syrup
Breakfast Sandwiches
Plant-based sausage and chicken analogs as well as seitan, soy, wheat meat, and mung bean-based "eggs" are among the portable and perennially popular A.M. entrée.
Maple-sage plant sausage, American cheese

,

and scrambled egg product on an English muffin

Fried slabs of seasoned tofu and pan-sizzled kale on sourdough bread with vegan garlic-chive mayo

Potato roll split and filled with spicy plantain sausage, scrambled tofu, cashew cheese, and blueberry balsamic jam
Source: GALLUP poll 2018
The information provided is based on a general industry overview, and is not specific to your business operation. Each business is unique and decisions related to your business should be made after consultation with appropriate experts.